Obama And Boehner Can Negotiate, If They Really Want To
There's a way for President Obama and Speaker Boehner to talk out a deal to resolve the current crisis, but they have to want to do it.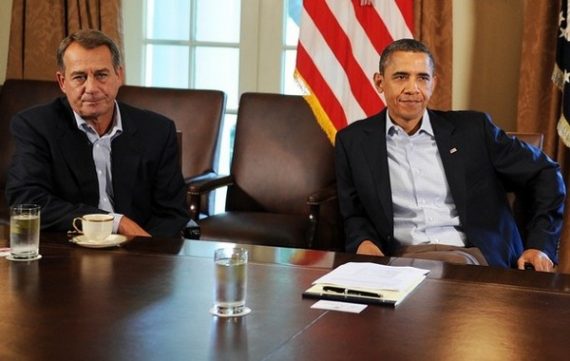 Throughout the ongoing government shutdown crisis and the approaching crisis over the debt ceiling, President Obama has repeatedly made clear that he does not intend to negotiate with Republicans in the House or Senate over either issue until they have passed "clean" bills that both fund the operation of the government for a short period of time and raise the debt ceiling. As I've noted before, there is at least some evidence in the polls that this is a position that could end up becoming politically untenable, especially as we get close to the October 17th date that the Treasury Department has set for when we will reach the limit of out borrowing authority. The response from the Administration and it's supporters has ranged from the idea that the President should not have to negotiate over matters that are unrelated either to government funding or the debt ceiling, and that President Obama is unwilling to bind future Presidents by conceding a point that could give future Congressional "hostage taking." While there is some value in both these points, National Journal's Ron Fournier argues that, for better or worse, the President will have to engage in some form of negotiation if these twin crises are going to be resolved, but that he can do so in a manner that doesn't constitute "caving" to the GOP:
Obama has at least two incentives to talk. First, there is the matter of optics. Voters want to believe that their leaders are open-minded, a trait they particularly expect in a president who promised to change the culture of Washington. Obama simply undermines his credibility by stiff-arming the GOP. Their obstinacy is no excuse for his. During the last protracted government shutdown, President Clinton talked almost every day with GOP rivals Newt Gingrich and Bob Dole.

Second, Obama has an opportunity to deftly steer an embattled and divided GOP away from Obamacare and to an issue worthy of high-stakes negotiations: The nation's long-term budget crisis. While it's true that the deficit has dropped in recent months, nothing has been done to secure Social Security and Medicare beyond the next 10 years. Punting this red-ink quandary to the next president would mar Obama's legacy.

In April, I wrote that both the White House and the GOP House had incentive to strike a deal that would both raise taxes and trim entitlement spending. The story traced the outlines of such a deal, but the moment was lost. Boehner doesn't trust Obama and is worried about a revolt from his no-compromise caucus. Obama doesn't trust Boehner and is worried about a revolt from his no-compromise caucus. The House speaker reportedly raised the idea of a so-called grand bargain at a White House meeting last week, and got laughed at. That is the exact wrong response.

If Obama is going to blink, it should not be over Obamacare. On government debt, however, a little humility and risk in the short-term might earn Obama the nation's gratitude for generations.
Fournier has it largely correct here, I think. Notwithstanding the arguments that the Administration's reasons for not negotiating, it strikes me that a President who says at one point that the nation faces fiscal and economic calamity of action isn't taken soon is not acting very, well, Presidential by saying that he's not going to negotiate until he gets his way. This is, after all, the economy of the United States we're talking about here, not a conversation in Lake Tahoe between Michael Corleone and Senator Geary over a casino license. As the polls seem to be indicating, the American people viewing this from the outside seem to be expecting the people who represent them to, well, represent them, and refusing to talk likely doesn't go over very well with the American people. So, like it or not, I stand by my previous position that, realistically, the President is going to find himself in a position in where he will have to talk whether he likes it or not.
The question is what they ought to be talking about, of course. I agree with those who say that Obamacare should be largely off the table. Not only is it largely unrelated to the fiscal issues raised by the CR and the debt ceiling, but its something that has been politically fought over and litigated for three years now.  It was a prominent part of the Republican campaign in 2010, it was litigated in numerous Federal Courts and before the Supreme Court, and it was a central part of the 2012 Presidential campaign. After all of that, the GOP simply doesn't have the political power it needs to force any real changes in the law beyond something minor like repeal of the medical device tax. This isn't to say that they should give up on the issue, indeed if the law turns out to be as bad as they think it will it should be a central part of the 2014 and 2016 campaigns, however if there are going to be any real changes to the PPACA they are going to have to wait until the GOP wins more elections. That's simple, cold, reality.
This is why Fournier's idea should be appealing to Republicans and why they should set aside for the moment their obsession with the shiny object of Obamacare, which is going to get them nowhere.
One problem with Fournier's idea, of course, is that there is far too little time between now and mid-October for any kind of "grand bargain" that covers topics with as many disagreements between the parties as entitlement spending, tax reform, and the appropriate levels of non-entitlement spending in the future. If such a deal were going to be negotiated, it's something that the parties should have been talking about months ago. No such conversations took place, of course, and it's now kind of late to be talking about such a thing with less than ten days left before we hit a position that threatens to put the nation in a politically and fiscally untenable situation. The only way such discussions could take place, of course, would be if we could delay things with the idea that Congress and the White House will use the intervening time to have serious discussions about this "grand bargain" idea. That's a solution that others started suggested this week, and just today a senior White House official hinted that the President might be open to a short-term debt ceiling increase, along with a short-term CR, in order to buy time to reach a broader and more long term agreement.
There's just one problem, and that's the fact that we've been down this road before. If one searches the news archives, one finds that the only time this entire idea of a "grand bargain" is something that only seems to come up when our political leaders in Washington find themselves with their backs against the wall on a budgetary or debt ceiling issue. Invariably, it's something that they don't seem to get around to talking about until the last possible minute, thus forcing them to punt the issue down the road a couple months at which point the talks, if they even occur, end up proving to be rather pointless. After the 2011 debt ceiling showdown, neither side was willing to cede significant ground because the 2012 elections were around the corner. This time, it's likely to be the 2014 elections that cause both parties to be reluctant to give in on those matters that could be used as campaign issues. So, yes, I think Fournier may be onto something here and this this is a way that Obama and Boehner could approach a resolution of our current unnecessary crisis that would allow both sides to save face. In the end, though, I can't believe that it's going to be any more successful than previous efforts.