Obama Didn't Try To Scare Americans Over Syria, Except When He Did
:Like his predecessors, President Obama's speech last night exaggerated the threat that Syria poses in order to sell his plan to American voters.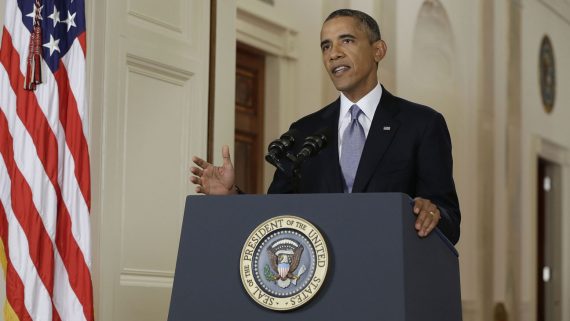 Max Fisher thinks that President Obama deserves credit for not using "scare tactics" to sell the American public on his plans regarding Syria:
There are few more reliable ways to sell Americans on military action than to tell them that they're in danger. That's not a dig on Americans; people of all nationalities are naturally self-interested. Perhaps that was a lesson Obama learned in the Iraq War debacle, when the Bush administration's over-sell of Iraq's alleged threat made the public easier to convince but also badly distorted the debate in ways that still impact U.S. credibility. It's still much easier to argue that the United States has to fight the enemy abroad so it doesn't have to defend against them at home. And, almost 12 years to the day after September 11, 2001, it would have been awfully convenient for Obama to tell Americans that strikes are necessary to prevent terrorism.

But Obama didn't say any of that, even though the political consequences of threat-inflation have proven low in American politics and the tactic often seems to work. Obama himself has not been afraid to refer to direct threats to national security when defending, for example, drone strikes and NSA surveillance. But in making the case for Syria, not only did he mostly demur from following that time-worn path, he actually — amazingly —  went out of his way to argue that Syria is not an immediate national security threat to the United States or even Israel
Fisher goes on to quote this section of Obama's speech last night:
Other questions involve the dangers of retaliation. We don't dismiss any threats, but the Assad regime does not have the ability to seriously threaten our military. Any other retaliation they might seek is in line with threats that we face every day. Neither Assad nor his allies have any interest in escalation that would lead to his demise. And our ally, Israel, can defend itself with overwhelming force, as well as the unshakeable support of the United States of America.
Fisher calls that a "remarkable" thing for the President to say at the same time that he's trying to sell his plan to a skeptical American public, and Andrew Sullivan, who gave the President's speech rave reviews last night, cites Fisher's piece approvingly. What's interesting, though, is in perusing the President's speech for excerpts that support his argument, Fisher managed to miss others:
When dictators commit atrocities, they depend upon the world to look the other way until those horrifying pictures fade from memory. But these things happened. The facts cannot be denied. The question now is what the United States of America, and the international community, is prepared to do about it. Because what happened to those people — to those children — is not only a violation of international law, it's also a danger to our security.

Let me explain why. If we fail to act, the Assad regime will see no reason to stop using chemical weapons. As the ban against these weapons erodes, other tyrants will have no reason to think twice about acquiring poison gas, and using them. Over time, our troops would again face the prospect of chemical warfare on the battlefield. And it could be easier for terrorist organizations to obtain these weapons, and to use them to attack civilians.

If fighting spills beyond Syria's borders, these weapons could threaten allies like Turkey, Jordan, and Israel. And a failure to stand against the use of chemical weapons would weaken prohibitions against other weapons of mass destruction, and embolden Assad's ally, Iran — which must decide whether to ignore international law by building a nuclear weapon, or to take a more peaceful path.
As James Joyner noted in his fisking of the President's speech last night, these assertions by the President are either false or an example of the Slippery Slope Fallacy that has long been engaged in by advocates of interventionism, Republican or Democratic, when responding to their critics. First of all, Syria is not a threat to American national security or the security of America's allies. Not only did the President admit to this in the section of the speech that Fisher cites approvingly, he's stated it before rather explicitly as have other members of the Administration. And yet here he is in the very same speech that Syria and its chemical weapons are a threat to the United States and our allies. Which one is it Mr. President?
Equally absurd is the idea that how we react to Assad's use of chemical weapons will impact how North Korea and Iran act relating to their WMD programs. With respect to North Korea, it's become rather obvious over the years that their military exists as a tool of domestic propaganda and, internationally, for the purpose of engaging in occasional saber rattling designed to either address some internal regime conflict or get some concession from the West. While we most assuredly never let our guard down, it's rather obvious that the leadership in Pyongyang is well aware of the fact that actual aggression against South Korea, Japan, or U.S. military forces would result in immediate and severe retaliation. As far as Iran goes, the Islamic Republic has been engaging in a nuclear weapons research program for decades now and have resisted efforts to deter them from that path for nearly as long. It's simply inconceivable that their behavior is going to be all that influenced  by how we react to Assad's use of chemical weapons. Moreover, as I noted last week, it's simply improper to justify military action against Syria because it would "send a message" to Iran.
All of that aside, though, the fact is that last night the President did exactly what Fisher compliments him for not doing, using slippery slope arguments and outright exaggeration to try to scare the American public into supporting his policy. He exaggerated the non-existent threat that Syria poses to American interests, much in the same way that members of the Bush Administration warned us that we'd see mushroom clouds over American cities if we didn't deal with Saddam Hussein once and for all. So, what is it that Obama deserves credit for exactly?