Obama Gives Up On North Carolina?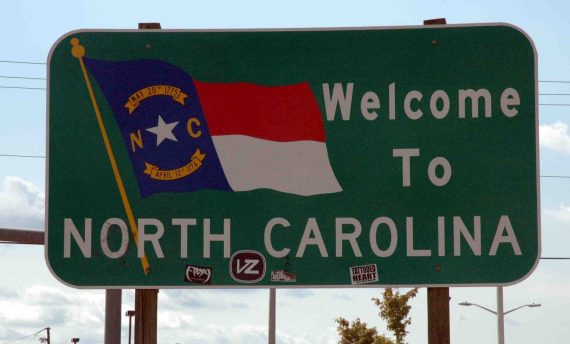 President Obama's victory in North Carolina in 2008 was among the closest of any state that year, only Missouri was closer. For 2012, though, most analysts had doubted that the President would really be competitive there even though the DNC had chosen Charlotte as the location for the party's convention. Inexplicably, though, President Obama continued to remain close to Mitt Romney in the Tarheel State, something which seemed like a bad sign for Romney given that he should have been pulling ahead there. Ever since the first debate, though, Romney has been pulling ahead and there are signs that Democrats may be abandoning the state:
Former Clinton strategist Paul Begala, an adviser to the super-PAC aiding President Obama's reelection efforts, said Monday that it appeared that the president had given up on North Carolina.

Begala was asked whether the president had essentially conceded the state to GOP challenger Mitt Romney, and responded flatly with a "yes" during an appearance Monday on CNN.

"I'm not supposed to say that," Begala continued, after a beat. "I'm working for the pro-Obama super-PAC, so I'm being paid to help re-elect the president, but if you look at where he's spending money, it looks like Gov. Romney is likely to carry North Carolina."
The Obama campaign pushed back against Begala's comments:
When Democratic strategist Paul Begala, an adviser to the pro-Obama super PAC Priorities USA Action, said on CNN on Monday that "it looks like Governor Romney is likely to carry North Carolina," the Obama campaign's Southern Regional press secretary, Addie Whisenant, quickly responded it was "in no way giving up on North Carolina," and in a statement added, "Not only have we registered more voters than in any other state but we have seen an incredible number of the president's supporters voting early over the past four days."
The real sign of the importance the campaign is placing on North Carolina, though, is the fact that neither the President not the Vice-President have visited the state since the convention nearly two months ago, and the fact that the state is not included on the three six Swing State tour that the President is departing on this morning. Indeed, I doubt North Carolinians will see the President at all between now and Election Day. (Romney and Ryan, incidentally, have been been in the state several times since the campaign started.)
RealClearPolitics currently has North Carolina as "Leans Romney" with a poll average of +5.6 in Romney's favor. Absent some radical change, I think the Governor can count on those 15 Electoral Votes being in his corner on Election Night.
Update: Begala is walking back his comments:
Democratic strategist and CNN analyst Paul Begala has walked back his comment that the Obama campaign is conceding that North Carolina will go to Romney in November.

Begala told Talking Points Memo, "I have no contact with the Obama campaign, and I am glad to hear Messina say they're fighting on in NC. Happy to be proved wrong."
As I said, the real test is where the campaign is spending its resources. If neither Obama nor Biden are visiting the state then you can assume they are not putting much hope in winning.