Obama Jobs Plan To Include $447 Billion In Tax Increases
The "how to pay for it" part of the President's jobs plan seems destined to be rejected by the GOP. Which may be exactly what the President wants.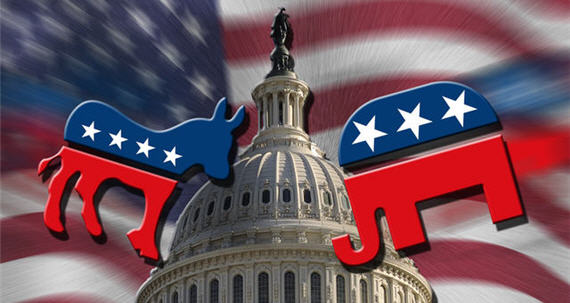 When he announced that he was sending his jobs bill to Congress today, President Obama said that the other half of the plan, which would pay for the plan and include additional deficit reduction next Monday. Details are already coming out, though, and it looks like he's proposing something that I can only characterize as a direct confrontation with the GOP:
The White House said Monday that President Obama wants to pay for his $447 billion jobs bill by raising taxes on the wealthy and businesses.

Jack Lew, director of the Office of Management and Budget (OMB), said the tax hikes would pay for Obama's entire bill, which the administration is sending to Congress Monday evening.

The chief provision announced by Lew would be to limit itemized deductions for individuals who make more than $200,000 a year and families that make more than $250,000, something the Obama administration has previously pushed to do through its budget proposals. Lew told reporters at the White House press briefing that this would raise about $400 billion.

The administration would tax the income investment fund managers make, known as "carried interest," as regular income instead of as capital gains, which has a low 15 percent tax rate. This is another longstanding administration goal that has been resisted by Wall Street as well as some Democrats.

The administration estimates the capital gains change would provide $18 billion in revenue.

The administration also wants to eliminate tax breaks for the oil-and-gas sector, which would raise $40 billion, the administration said.

Another $3 billion would come from changing the way corporate jets depreciate. With a few other revenue increases, Lew indicated the total measures proposed by the administration would bring in $467 billion, $20 billion more than the cost of the bill.
As one commentator noted already, it seems on the face of it as if the President has just given the Congressional and Senate Republicans a reason to defeat his entire jobs bill that has nothing to do with the actual "jobs" part of the bill. If it's the opening round of a negotiating position, I suppose it makes sense for the White House to come out strong. If they're really going for the "all or nothing" approach that has been suggested over the days that have elapsed since the President's speech, though, this would just seem to confirm my suspicion that this entire jobs "plan" is nothing more than a political maneuver aimed at the 2012 re-elect. The White House knows, from bitter experience, how these tax provisions are likely to be treated on Capitol Hill, and they have to know that any chance that they'd be passed as part of an "all or nothing" jobs bill is essentially zero. In fact, Majority Leader Eric Cantor has already ruled any such possibility out:
In a Capitol Hill news conference this afternoon, House Majority Leader Eric Cantor, R-7th, reiterated his desire to work with the presidenton certain elements of his job package, but added a caveat.

"I sure hope that the president is not suggesting that we pay for his proposals with a massive tax increase at the end of 2012 on job creators that we're actually counting on to reduce unemployment," Cantor said.
These comments were made before Jack Lew briefed the press on the President's plan, but I cannot imagine that Cantor would react any differently to this proposal. So, while the possibility of a genuine compromise on the jobs bill was a naive expectation to begin with, this would seem to guarantee that it won't happen at all. There's also the problem that many of Obama's proposals are likely to be opposed by mainline business Republicans as much as the Tea Party crowd. For example, the elimination of "carried interest" is a great concern to real estate and construction groups because of the impact it could have on commercial real estate investment:
The scenario that I have come up with to illustrate the strangeness of this is one that is not entirely unrealistic.  Moe, Larry and Curley form a partnership to develop shopping centers with the idea that the centers will be held for a considerable period.  They will raise equity and borrow money to accomplish this.  They won't put in much of their own money.  They are able to raise equity pretty easily based on their previous track record.  The way it is going to work is that Moe will scout out locations, negotiate purchases and arrrange financing.  Larry will oversee developing, permitting and construction.  Curly will handle operations – hiring the securty guards to chase the mall rats and similar things.  After 15 years of this the partnership liquidates and they each get $2,000,000 as a share of the proceeds.  I think what the Proposed Code Section says is that Larry gets capital gains treatement and that Moe and Curly do not.  Moe and Curly were selecting, acquring  and managing specified assets.  Larry was not.  This is an arguable interpertation.  There will be many such arguable interpretations.  It may be that if there are enough operations the malls will not be considered "real estate held for rental".  One more thing that will have to be defined.

(…)

I asked someone I knew in a real estate related industry if there was much concern in his industry about the possibility of the attack on the hedge funds harming them.  He indicated that the common thought was that it only affected the "big guys".  Someone else told me that there is sentiment among some people in real estate to throw the hedge fund managers under the bus by advocating a more focused solution.  Of course that would not raise as much revenue.
If there is such a negative impact on real estate investment, it would in turn impact the still-slow real estate market and the moribund commercial side of the field particularly badly.
There's another side to this argument, of course. If  you look at the polls, you'll see that the President has public opinion behind him when he talks about increasing taxes on "the rich." If that ends up becoming one of their 2012 campaign themes, which it likely will, then this can be seen in the opening shot in that argument. Whatever the case, though, it seems to me that the White House has just added a poison pill to the American Jobs Act that essentially guarantees that it won't become law. But then, that may be exactly the outcome President Obama's is hoping for.