Obama Presidency Still Polarizing, Bipartisanship Still Dead
American politics is as polarized as ever, and it shows no signs of changing regardless of who wins in November.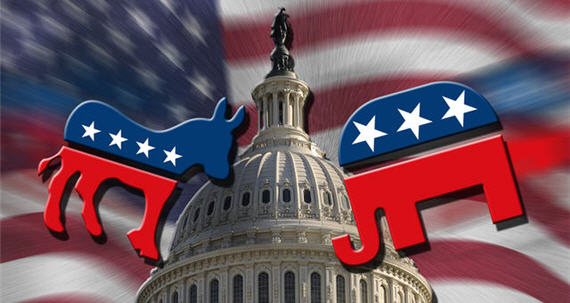 Repeating a survey that they had conducted two years ago, Gallup reported on Friday that, based on their surveys,  the partisan gap between Barack Obama's job approval ratings was once again among the highest it had ever measured:
The historically high gap between partisans' job approval ratings of Barack Obama continued during Obama's third year in office, with an average of 80% of Democrats and 12% of Republicans approving of the job he was doing.

In fact, Obama's Year Three average 68-percentage-point partisan gap is tied for the fourth highest in Gallup records dating back to the Eisenhower administration. Only George W. Bush's fourth, fifth, and sixth years in office showed higher degrees of political polarization. Together, Bush and Obama account for the 7 most polarized years, and 8 of the top 10.

Notably, 3 of the top 10 years coincided with presidents' re-election years, including Bush in 2004, Bill Clinton in 1996, and Ronald Reagan in 1984. In fact, a president's fourth year tends to be the most polarized, as has been the case for each of the last six elected presidents. Since 1953, Eisenhower is the only elected president whose fourth year was not his most polarized; his sixth year — a midterm election year — was the one with the largest gap in his approval ratings by party.
Looking just at 2011, Obama's third year in office and one year before he stands for re-election, Gallup finds that polarization between Republicans and Democrats was higher than it has ever been in any other third year of Presidential term since they became taking measurements: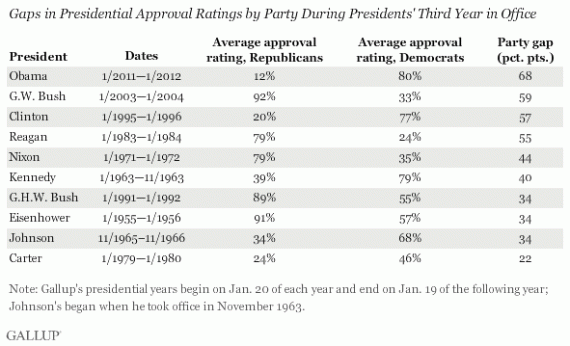 As Gallup notes, one can probably expect polarization to be higher in advance of an election year than at other times during a President's term. Nonetheless, Obama's polarization numbers have been high since the beginning of his term. The gap between Republicans and Democrats on job approval was 65% in 2009 and 68% in 2010, and 68% again in 2011. One can imagine that it would be that high, if not higher, again in 2012. Of course, as James Joyner noted when he wrote about the 2009 Gallup numbers two years ago, the one thing that's most notable is that this increased (above 50%) polarization that started with the Reagan years. Consider this chart of the average partisan gap in job approval numbers for every President from Eisenhower to George W. Bush during their full term in office:
Until we get to Reagan, no President had a partisan gap above 50% during their term. Not Lyndon Johnson during Vietnam. Not even Richard Nixon. There was a slight reversal of the trend during the Presidency of George H.W. Bush, but one imagines that is at least partly due to the massive spike in popularity that he received during and after the Persian Gulf War. His predecessors, though, went right back to the "new" era that started under Reagan, where a President would find himself not just opposed, but despised, by supporters of the opposing party. It's a new development in American politics. If even Richard Nixon couldn't get a 50% partisan gap in the 1970s, what it is that changed in such a short period time that, starting in the 80s, it was not only possible, but now, it seems, commonplace?
Chris Cillizza and Aaron Blake argue that numbers like this are a reflection of the hyper-partisan atmosphere of modern American politics:
We are simply living in an era in which Democrats dislike a Republican president (and Republicans dislike a Democratic one) even before the commander in chief has taken a single official action.

The realization of that hyper-partisan reality has been slow in coming for Obama. But in recent months, he seems to have turned a rhetorical corner — taking the fight to Republicans (and Republicans in Congress, particularly) and all but daring them to call his bluff.

Democrats will point out that Republicans in Congress have played a significant part in the polarization; the congressional GOP has stood resolutely against almost all of Obama's top priorities. And Obama's still-high popularity among the Democratic base also exacerbates the gap.

For believers in bipartisanship, the next nine months are going to be tough sledding, as the already-gaping partisan divide between the two parties will only grow as the 2012 election draws nearer. And, if the last decade of Gallup numbers are any indication, there's little turnaround in sight.
John Harris and Jonathan Allen at Politico point out the extent to which this hyperpartisanship has made the idea of bipartisanship and the so-called legislative "Grand Bargain" pretty much a fantasy at this point:
Every time there is divided government in Washington, there is a revival — among elite journalists, think tank commentators and respectable politicians of all stripes — of a cherished idea about how business should get done in the nation's capital:

Get the most responsible adults of both parties in one room, shoo away the cameras and microphones, and don't let the two sides come out until they have cut a deal on the most pressing problem of the day.

Call it the Split the Difference Scenario — a dream of Washington at its civic-minded best that has flourished for decades, even as the reality of Washington became ever more snarling and contentious.

Sometimes, the dream even came true, in iconic closed-door moments: a bipartisan bargain over Social Security in 1983, a high-drama budget summit at Andrews Air Force Base in 1990, a landmark spending accord between Bill Clinton and Newt Gingrich in 1997.

The striking fact about Washington at the start of 2012 is how many people, in public and private, say they have concluded that the capital is no longer a city of splittable differences.

This sullen judgment is by all evidence driving the political strategy of President Barack Obama, formerly an apostle of a grand bargain to solve the country's fiscal problems.

He's being joined by a critical mass of Washington influentials — witnessing the inability of the two parties to find common ground on the budget in 2011 — who are ready to discard the old ideal: Politicians huddling behind closed doors to cut deals is no longer viewed as necessarily even a desirable scenario, much less a plausible one.

"This election is built to have a fight," Rep. Kevin McCarthy, a California Republican and the House majority whip, told POLITICO. "If you watch from the rise of the tea party [on the right] to the rise of the Occupiers [on the left]—in '08, our country said they wanted a little more government. In 2010, they said, 'Whoa, that was too much.' I think 2012 is going to be the argument for the size and scope of what they want America to be, and that is healthy. We should have the debate of what we want this country to look like."
We hear this about every Presidential election, of course. This year, we've been told that the 2012 election is about "the soul of the country," and some on the right have gone so far as to say the very fate of America as anything other than a "European Socialist Welfare State" hangs in the balance. As I've noted in the past, the idea that any single Presidential election is so important as to be transformative is, just based on history, usually wrong. The 2012 elections will be important, of course, as all elections are but they aren't anywhere near being the "most important election ever" as some  have suggested. More importantly, though, Republican paranoia over what Barack Obama what Barack Obama might do in a second term, motivated mostly by foolish notions of the President as some sort of force of evil, are largely overblown.
In all likelihood, the 2012 elections will result in marginal changes at best regardless of which side wins. On the Presidential side specifically, it's similarly unlikely that we'd see the kind of definitive election that McCarthy, and others no doubt, seems to be hoping for. Presidential elections are seldom decided on such bright line issues. In fact, one can only point to a few examples in American history where that was actually the case. If the Republican nominee (most likely Mitt Romney) wins, it will be because voters decided they didn't want to give the incumbent the reigns of office for another four years. If Obama wins, it will be because they did. None of the big issues dividing the parties will have been resolved by the outcome of a single election, although that will certainly be the way that the winner will try to spin things as they claim their "mandate." As we've learned repeatedly over the past decade or so, though, mandates are fleeting and often fall apart quickly upon the rocks of Washington politics.
The real question, though, is whether the outcome of the 2012 election would make bipartisanship and the so-called "grand bargains" more or less likely. The answer seems to me to be a rather clear no regardless of what the results happen to be. If the President is re-elected, and regardless of what happens with Congress, the odds that Republicans will find it in their interest to be more conciliatory toward the White House seem pretty low, especially given that the President would likely take re-election as an endorsement of his agenda. A compromise on tax reform between a Democratic President and Republicans in Congress? Not likely. Similarly, a  Republican victory in November is likely to lead Democrats to follow the example that Republicans set in 2009 and 2010. If Republicans manage to gain control of the Senate in 2012, Harry Reid can play the filibuster game just as well as Mitch McConnell has. So, regardless of who wins, the odds that Washington will actually veer from the course that it has been on for the past 20 years or so seems to be somewhere between slim and none.
The explanation for how we ended up here will vary depending on which side of the political aisle one sits on, but at the very least it seems rather clear that the 365/24/7 nature of our political culture has tended to increase polarization rather than bringing people together to work on common problems. That may change someday, but one wonders if it might not take some kind of existential crisis to bring it about.