Obama's Budget Proposal: Is It A Trap?
You don't have to be Admiral Akbar to suspect that the President's refusal to deal with entitlements in his budget proposal is a trap for the GOP.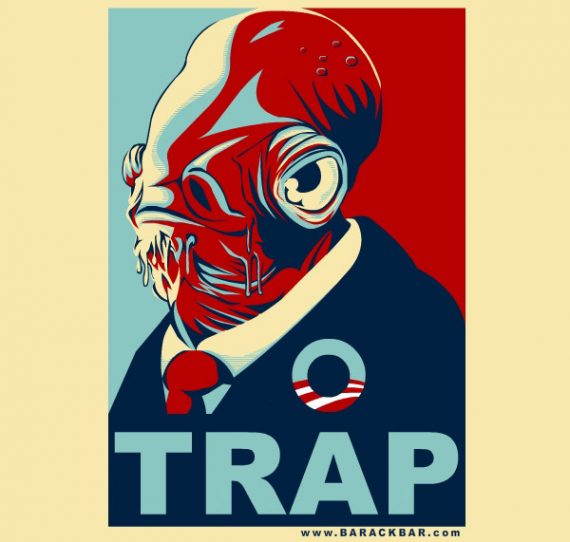 Over at Politico, Glenn Thrush speculates that President Obama's underwhelming budget plan, and his decision not to propose anything regarding entitlements, is actually a cleverly laid political trap for the GOP:
Obama's decision to avoid entitlements was instantly deemed as irresponsible. Progressive blogger Andrew Sullivan interpreted the message as "screw you, suckers" to future generations. The usually Obama-friendly Washington Post editorial page pithily described him as "Punter-in-Chief." Republicans expressed outrage.

But for Hill Democrats — so often at odds with Obama for the past two years — this omission was no sin. It was a gift, in their view, the setting of a political trap for a Republican Party divided between conservatives pushing for major changes to Medicare, Medicaid and Social Security and a GOP leadership wary of the political peril of tinkering with Americans' retirement security.

With Obama refusing to offer his own plan for entitlements, congressional Republicans — as the president noted — rushed in to fill the vacuum.

"I was glad to see yesterday Republican leaders say, 'How come you didn't talk about entitlements?'" said Obama at his news conference Tuesday, repeatedly rebuffing reporters' attempts to get him to offer his own entitlement reforms. "I think that's progress."

And, in fact, Republican leaders have ruefully agreed to unveil their own list of "significant, not around-the-edges" reforms, according to a GOP aide.

"They are suckers," said one senior Democratic congressional aide of the House GOP plans to release the first detailed proposals to reduce entitlement spending. "They have painted themselves into a corner."
Of course, if you listen to what the President is saying you get a different story:
"Part of the challenge here is that this town — let's face it, you guys are pretty impatient," Obama said. "If something doesn't happen today, then the assumption is it's just not going to happen, right? … [T]he fiscal commission put out a framework. I agree with much of the framework; I disagree with some of the framework."

Instead of offering specific proposals, Obama suggested a political path, arguing that bipartisan deals on stopgap funding measures and the 2012 budget — still distant prospects — could pave the way for a longer-term partnership.

"I'm confident we can get Social Security done in the same way that Ronald Reagan and [late Speaker] Tip O'Neill were able to get it done, by parties coming together, making some modest adjustments," Obama said. "I think we can avoid slashing benefits, and I think we can make it stable and stronger for not only this generation but for the next generation."
That's all well and good, but while President Obama is talking the talk of bipartisanship and working together to avert a national crisis, his fellow Democrats on Capitol Hill are already preparing to declare political war the moment that any Republican pokes their head up out of the tall grass and suggests anything resembling reform of Medicare, Medicaid, or Social Security. In fact, we already know the script:
Democrats are likely to portray whatever the GOP produces as the Son of Privatization, and Sen. Charles Schumer (D-N.Y.) previewed that strategy Tuesday night, saying the Republicans' "idea of entitlement reform will be privatizing Social Security and turning Medicare into a voucher system."
It's the standard Democratic play any time there's talk of "entitlement" reform. Back during the Reagan Administration, we were told that the President's plans would lead to old people starving or eating cat food. When George W. Bush made his half-hearted, largely ineffectual, and completely feckless effort to reform Social Security, the knives came out almost immediately, and Democrats in Congress cheered loudly when the President expressed regret that his efforts had ended in failure.  If the past is any indication, then we can expect the same cynical political game to be played if and when the GOP releases a budget that includes "entitlement" reform, even if that reform is very modest.  It would be, after all, politics as usual.
There's just one problem. We can no longer afford politics as usual. We're fast approaching the point where dealing with our fiscal problems will no longer be a matter of choice, but a matter of necessity. If we wait until then to address our problems, the choices we"ll be faced with will be far more limited and far more painful. It would be better to deal with them now, when there are more options available, and more time to implement them. Instead, we seem destined to end up playing the same stupid political games we always do. It is, as Chris Christie noted today at AEI, fairly ridiculous:
New Jersey Gov. Chris Christie (R) took aim at both Democrats and Republicans during his speech in Washington on Wednesday, which sparked further speculation he could seek higher office.

Chrtistie knocked both parties for shying away from drastic measures to solve the country's fiscal woes. The outspoken governor mocked President Obama's proposals for high-speed rail and broadband as "the candy of American politics" and also criticized Republicans in Congress for not putting forth a bold proposal on entitlement reform.

You cannot fix these problems without talking about them," he said during a speech at the conservative American Enterprise Institute (AEI). "And I look at what's happening in Washington, D.C., right now and I'm worried. I'm worried."

Obama is not talking about entitlements because he is waiting for the Republicans, Christie said, "And our new bold Republicans in the House of Representatives … are not talking about it because they are waiting for him to talk about it.

"Whatever game that is being played down here, is irresponsible, it's dangerous."
We need to deal with this issue like adults. That means talking about things like lowering benefits, increasing the retirement age, means testing, and, yes, some form of privatization.
Sacrifices will  have to be made, and they will have to be made by all sides and by all players. The idea of a fully funded government-run retirement system needs to go out the window. People need to recognize that Social Security is, at best, a supplement and that they are primarily responsible for planning for their retirement and that Medicare cannot fund every single medical procedure they are going to need from the day they retire to the moment they die. In 2009, Medicare spent $55 billion related to doctor and hospital visits during the last two months of a patients life. Partly, this is because most Americans seem adverse to having discussions with their doctors and loved ones about end-of-life care before its too late, meaning that it when the time comes all possible measures are taken without any regard to who's paying the bill. Call it rationing if you want, call them death panels, but it's a topic we need to talk about, and we would if were willing to act like adults.
In the end, this is all our fault. We voted in the people in Congress who are refusing to address the problems that everyone can see as clearly as an on coming train. To a large degree, the . And in the end, we aren't really being clear with them about what we want so they're just acting accordingly. At some point we're going to be forced to deal with these problems, but I have a feeling  it's not going to happen until we start feeling the pain that we could ward off if we'd just grow up already