Boehner, House GOP About To Take A Huge Risk On Entitlement Reform?
Republicans are about to take a walk along the third-rail of American politics.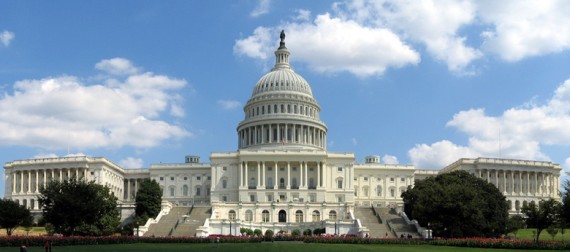 The Wall Street Journal reports today that John Boehner and the House GOP are planning to make a move toward entitlement reform when they present their budget in the Spring:
WASHINGTON—House Speaker John Boehner said Thursday that he's determined to offer a budget this spring that curbs Social Security and Medicare, despite the political risks, and that Republicans will try to persuade voters that sacrifices are needed.

In an interview with The Wall Street Journal, Mr. Boehner said House Republicans would offer a budget for the next fiscal year that sets goals for bringing the programs' costs under control. But he acknowledged that Americans aren't yet ready to embrace far-reaching changes to Social Security and Medicare because they aren't aware of the magnitude of the financial problems.

"People in Washington assume that Americans understand how big the problem is, but most Americans don't have a clue," Mr. Boehner said, speaking in his Capitol office. "I think it's incumbent on us, if we are serious about dealing with the big challenges, that we go out and help Americans understand how big the problem is that faces us."

He added, "Once they understand how big the problem is, I think people will be more receptive to what the possible solutions may be."
It makes economic sense. Medicare and Social Security comprise some 60% of the Federal Budget and both programs will run out of money within 25 years if nothing is done. However, as usual, Americans are adopting an 'if it isn't broken at this very moment, let's pretend we don't have to fix it' attitude when it comes to so-called "entitlements." When Alan Simpson and Erskine Bowles proposed relatively modest entitlement reforms as part of their proposal to the President's Commission On The National Debt, the plan was roundly denounced by both left and right. In fact, that plan has now pretty much disappeared from the public arena to be filed among along with other much-ballyhooed but ultimately pointless commission reports.
Most recently, of course, there was the NBC News/Wall Street Journal that came out this week that showed the usual public reluctance toward "entitlement" cuts of any kind:
Less than a quarter of Americans support making significant cuts to Social Security or Medicare to tackle the country's mounting deficit, according to a new Wall Street Journal/NBC News poll, illustrating the challenge facing lawmakers who want voter buy-in to alter entitlement programs.

In the poll, Americans across all age groups and ideologies said by large margins that it was "unacceptable" to make significant cuts in entitlement programs in order to reduce the federal deficit. Even tea party supporters, by a nearly 2-to-1 margin, declared significant cuts to Social Security "unacceptable."

(…)

Asked directly if they thought cuts to Medicare were necessary to "significantly reduce" the deficit, 18% of respondents said yes, while 54% said no; the rest were not sure or had no opinion. On Social Security, 22% said cuts would be needed, while 49% said they weren't.

The results cannot be compared easily to prior polling, but they suggest durability to the support for entitlement programs. In 1995, when Congress was considering cuts to Medicare, 36% said in a Journal/NBC poll that they supported a plan to cut Medicare spending and devote the money to deficit reduction. Some 52% called for maintaining Medicare at its existing level.
The results aren't all bad, though, because that same poll showed that a sold majority supported reducing Social Security benefits for wealthier recipients and gradually increasing the age at which retirees are eligible for benefits to 69. While those two reforms wouldn't solve all our problems, and would do nothing to solve the problems with Medicare, they'd certainly be a start. Nonetheless, this poll, along with others that have been conducted in the wake of the Simpson-Bowles report show that there isn't a lot of public support for entitlement reform when that "reform" is characterized as benefits cuts. That's what makes even the GOP's limited plan to emphasize entitlement reform politically risky.
Reading the interview, Boehber seems to think that Republicans will be able to educate the public on the need to address the problems with Social Security and Medicare now rather than waiting a decade or two when we've got no choice in the matter, but past experience suggests otherwise. When President Bush put forward the idea of reforming Social Security by allowing people to having private accounts, the plan was immediately denounced by Democrats. There was no discussion or debate, there was only American politics as usual. Because, as the polls indicate, the public has its head in the sand on this issue. It will be much easier to demagogue the issue and set up the 2012 race than to engage in an honest discussion over a problem that needs to be dealt with sooner rather than later. That, sadly, is what American politics has come to.
So, I wish the Republicans luck in their efforts but, just as President Bush abandoned his Social Security reform proposal as soon as it came under serious criticism, I have little confidence that they'll be able to withstand the fire to come.