OTB Caption Contest Winners
The Santa Central Edition OTB Caption ContestTM is now over.
The Santa Central Edition OTB Caption ContestTM is now over.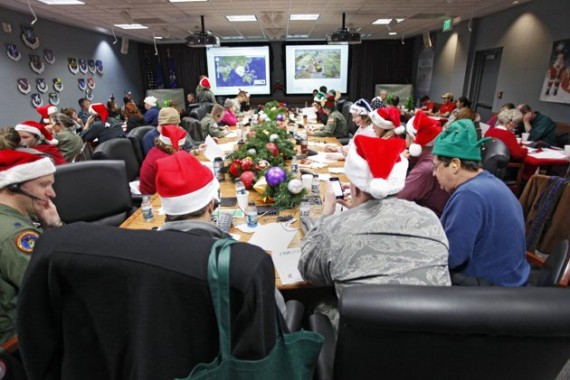 ✰ THE WINNERS ✰
First: JKB – That's the problem with everything these days, too many Santas and not enough elves.

Second: John425 – Staffers of the newly-anointed Kim Jong Un prepare somber funeral for his Dad.

Third: David – Which one of you secret Santas wrapped up the predator drone? BEST PRESENT EVER!!!
HONORABLE MENTION
Michael Hamm – Global warming alarmists dress for the "unexpected" drop in worldwide temperatures.

Linton – Oh, you meant a War BY Christmas not a a War ON Christmas.

Chris – Pentagon contingency planning, Al Queda Santa Claus assassination plot edition. Hate the War on Terror yet?

Doug Mataconis – On second thought, calling everyone into the White House Situation Room during the annual Christmas Party may not have been a good idea.

Dazedandconfused – "We must not allow a Reindeer Gap!"

OzarkHillbilly – Newt's campaign staff work feverishly on their wish list for Santa: "The Iowa Caucuses, South Carolina primary, Virginia primary, Florida…."
ℛODNEY'S BOTTOM OF THE BARREL
"Yes, I tell you… coming down the chimney is a terrorist attack!"

The Story behind the assassination of Osama bin Ladin continues to unfold.

Committee to plan Michelle's Hawaiian Christmas Vacation.

National Lampoon's Hawaiian Christmas Vacation
The Thursday Contest has already been castigated by Ralph Nader.