Pakistan Claims It Did Its Part To Catch Bin Laden
The question of how the world's most wanted man could've hidden in plain sight in Pakistan continues to be asked.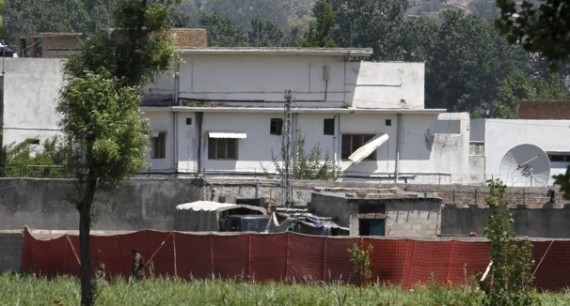 Pakistan's government  is apparently a slightly upset that we nabbed Osama bin Laden while he was staying at his Abbottabad safe house:
Pakistan says it is deeply concerned over what it said was an "unauthorized" American raid that killed Osama bin Laden.

The government statement Tuesday said the raid should not serve as a precedent for future U.S. actions in the country.
Somewhat paradoxically, Pakistan's President said today in The Washington Post that his country did all it could to bring bin Laden to justice:
Pakistan, perhaps the world's greatest victim of terrorism, joins the other targets of al-Qaeda — the people of the United States, Britain, Spain, Indonesia, Afghanistan, Turkey, Yemen, Kenya, Tanzania, Egypt, Saudi Arabia and Algeria — in our satisfaction that the source of the greatest evil of the new millennium has been silenced, and his victims given justice. He was not anywhere we had anticipated he would be, but now he is gone.

Although the events of Sunday were not a joint operation, a decade of cooperation and partnership between the United States and Pakistan led up to the elimination of Osama bin Laden as a continuing threat to the civilized world. And we in Pakistan take some satisfaction that our early assistance in identifying an al-Qaeda courier ultimately led to this day.

Let us be frank. Pakistan has paid an enormous price for its stand against terrorism. More of our soldiers have died than all of NATO's casualties combined. Two thousand police officers, as many as 30,000 innocent civilians and a generation of social progress for our people have been lost. And for me, justice against bin Laden was not just political; it was also personal, as the terrorists murdered our greatest leader, the mother of my children. Twice he tried to assassinate my wife. In 1989 he poured $50 million into a no-confidence vote to topple her first government. She said that she was bin Laden's worst nightmare — a democratically elected, progressive, moderate, pluralistic female leader. She was right, and she paid for it with her life.

Some in the U.S. press have suggested that Pakistan lacked vitality in its pursuit of terrorism, or worse yet that we were disingenuous and actually protected the terrorists we claimed to be pursuing. Such baseless speculation may make exciting cable news, but it doesn't reflect fact. Pakistan had as much reason to despise al-Qaeda as any nation. The war on terrorism is as much Pakistan's war as as it is America's. And though it may have started with bin Laden, the forces of modernity and moderation remain under serious threat.
Despite Zadardi's denials, it's quite clear that this entire mission was executed in secrecy because the United States didn't trust Pakistan:
In his first interview since commanding the mission to kill Osama bin Laden, CIA chief Leon Panetta tells TIME that U.S. officials feared that Pakistan could have undermined the operation by leaking word to its targets. Long before Panetta ordered Vice Admiral William McRaven, head of the Joint Special Forces Command, to undertake the mission at 1:22 p.m. on Friday, the CIA had been gaming out how to structure the raid. Months prior, the U.S. had considered expanding the assault to include coordination with other countries, notably Pakistan. But the CIA ruled out participating with its nominal South Asian ally early on because "it was decided that any effort to work with the Pakistanis could jeopardize the mission. They might alert the targets," Panetta says

(…)

The aftermath of the mission has been productive. The U.S. collected an "impressive amount" of material from bin Laden's compound, including computers and other electronics, Panetta says. Panetta has set up a task force to act on the fresh intelligence. Intelligence reporting suggests that one of bin Laden's wives who survived the attack has said the family had been living at the compound since 2005, a source tells TIME.

That will raise questions about the Pakistani government's possible awareness of bin Laden's location in recent years.
Indeed it will. There are already calls for investigations of Pakistan's involvement or knowledge in bin Laden's seclusion coming from the White House and all sides in Congress, which is likely one of the reasons that Pakistan's government is looking to hire K Street lobbyists to plead its case on Capitol Hill.
As I noted yesterday the suggestion that someone of authority in Pakistan had no idea that Osama bin Laden was holed up in a house a half mile from the country's premier military academy simply strains credulity. Is it possible they didn't? Yes, I suppose so, but then that would make this observation by Dave Schuler pretty much spot-on:
To my eye the most benign explanation for an inability of Pakistan's intelligence apparatus to locate Bin Laden there is that they weren't looking very hard. Other possible explanations are incompetence or that the ISI was deliberately conniving to protect him. Questions are bound to be asked.
Which of course leads one to ask how you can consider a nation an ally when the only explanations for its behavior are incompetence, lack of concern over a terrorist in their midst, or active cooperation with that terrorist by some members of the government.