Pakistan Reportedly Gave Chinese Access To Stealth Copter Used In Bin Laden Raid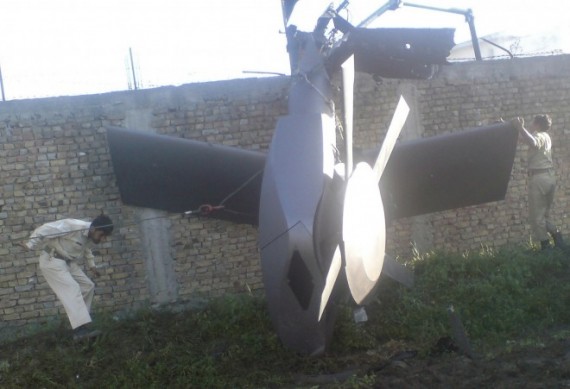 One of the first things we learned about the raid that resulted in the death of Osama bin Laden was that at least one of the helicopters used was a previously secret stealth helicopter. After delaying for several weeks, Pakistan finally turned over the wreckage of the copter in late May, but not before dropping not so subtle hints about giving their other friends the Chinese access to the remnants of the craft. Well, it turns out that they apparently did:
ISLAMABAD, Pakistan — Pakistan gave China access to the previously unknown U.S. "stealth" helicopter that crashed during the commando raid that killed Osama bin Laden in May despite explicit requests from the CIA not to, the Financial Times reported Sunday.

The disclosure, if confirmed, is likely to further shake the U.S.-Pakistan relationship, which has been improving slightly of late after hitting its lowest point in decades following the bin Laden killing in a Pakistani garrison city.

During the raid, one of two modified Black Hawk helicopters, thought to employ unknown stealth capability, malfunctioned and crashed, forcing the commandos to abandon it.

"The U.S. now has information that Pakistan, particularly the ISI, gave access to the Chinese military to the downed helicopter in Abbottabad," the paper quoted a person "in intelligence circles" as saying on its Web site.

The ISI, the Inter-Services Intelligence Directorate, is Pakistan's top spy agency.

The report said Pakistan, which enjoys a close relationship with China, allowed Chinese intelligence officials to take pictures of the crashed aircraft as well as samples of its special "skin," which allowed the helicopter to evade Pakistani radar.

One U.S. official, speaking on the condition of anonymity, told Reuters that there was reason to believe that Pakistan had let the Chinese inspect the aircraft. But the official could not confirm whether it had happened.
American officials said that the story, if true, "doesn't make us happy." You know what doesn't make me happy? That we're sending billions of dollars a year in aid to a country that allies itself with our adversaries and works against our interests, while other elements of its government work closely with terrorists. That's what doesn't make me happy.