Penn State Students Riot Over Joe Paterno Firing
The firing of legendary Penn State football coach Joe Paterno led to a full-blown riot by outraged students.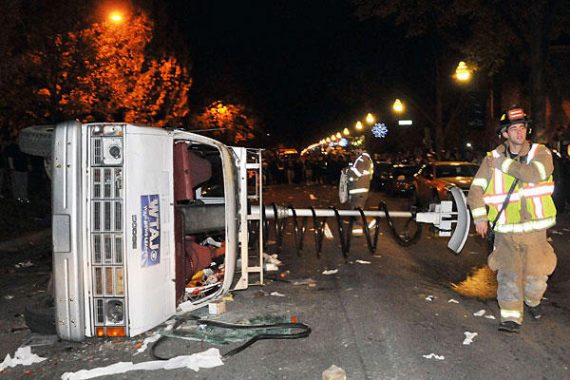 The firing of legendary Penn State football coach Joe Paterno led to a full-blown riot by outraged students.
CSM ("Penn State riot: Students react to Joe Paterno firing"):
More than 1,000 protesting Penn State University students poured into the streets around campus on Wednesday after head football coach Joe Paterno was fired in fallout from a child-abuse scandal at the school.

Chanting "Hell no, Joe won't go" and "We want Joe back," they also cursed former assistant coach Jerry Sandusky, who was charged on Saturday with sexually abusing eight young boys over a period of nearly 15 years.

[…]

The students filled two city blocks near the campus and turned over a media van before earth-moving equipment was brought in to right the vehicle. Members of the crowd also damaged at least two light poles.

Scores of police and state troopers, some in riot gear, tried to clear the streets, and some officers used a chemical spray to disperse the demonstrators. Crowds thinned somewhat after a light rain began to fall.

At least three people were escorted away by police but it was not immediately clear if they were arrested. A police spokeswoman had said she was not aware of any arrests.

"I haven't seen this kind of student outrage about anything since I've been here," said Caroline Celoquin, a senior from Westchester, Pennsylvania.

Asked how she felt about Paterno being fired, Nicole Atlak, a freshman from Toms River, New Jersey, said: "Absolutely disgusted. From a student's perspective, it's like where do we go from here? We no longer have a president. We no longer have a 45-year legacy."

A student with a bullhorn addressed the crowd, saying: "I think it's only fair to let him (Paterno) ride out the season because this is the house that Joe built."
ABC News ("Joe Paterno Fired: Penn State Students Riot in Protest"):
Thousands of enraged Penn State students tore through the streets of State College, Pa., overnight to protest the firing of Joe Paterno after the longtime head football coach was removed from his position effective immediately.

Amid chants of "We want JoePa," "One more game" and "F*** the media!," rioting students flipped over a television van, knocked a lamppost onto a car, threw toilet tissue and rocks at police and set off fireworks.

Police met the rioting crowds with tear gas as it became clear that the army of officers, who were out in riot gear, were far outnumbered by students. Every local police department in the county contributed officers to the effort to control the crowd, along with state police and the county sheriff's department.

Several students directed their rage at the media by overturning over a satellite van belonging to a local CBS affiliate, breaking its windows and threatening to burn it amid chants.

At least two students were arrested and at least one injury was reported after a girl who was hit in the head with a rock was taken to the hospital.

By 3 a.m. the crowd had mostly dissipated as the cold, rainy conditions in State College likely encouraged many students to return home. A small group of students gathered at the Paterno statue at Beaver Stadium to sing the school's alma mater after the mob disbanded.

[…]

Paterno, 84, announced Wednesday that he was "absolutely devastated" by the scandal and would retire at the end of the season, will not get to leave on his own terms. Penn State's head coach of nearly five decades will not coach another game, according to the trustees.

"Right now, I'm not the football coach, and that's something I have to get used to," Paterno said, according to The Associated Press. As he spoke, people gathered at Paterno's house and were seen crying. Paterno eventually came out to suggest the students go home and study, and thanked them for their continued support. "I am disappointed with the board of trustees' decision, but I have to accept it," he said in a statement. "A tragedy occurred, and we all have to have patience to let the legal process proceed. I appreciate the outpouring of support but want to emphasize that everyone should remain calm and please respect the university, its property and all that we value."
Paterno went from saintly icon to being fired under incredibly ugly circumstances in only five days, so one can understand that it's taking a while for his fans to adjust. But, even accounting for the immaturity of college students and the strong probability that alcohol was involved, this reaction is just shameful, further tarring the image of the university.
The Daily Beast has collected a lot of photos and reactions.
Video of the incident is here: