Pete Buttigieg Takes The Lead In Bellwether Iowa Poll
More good news for Mayor Pete.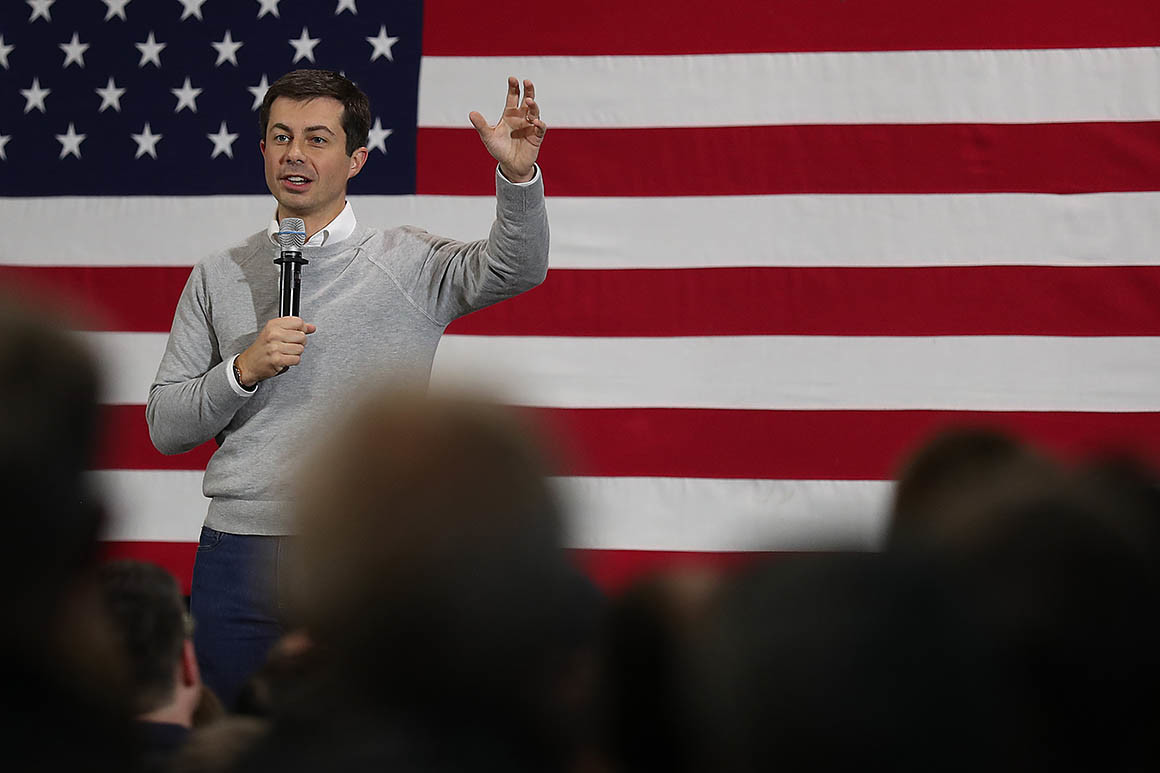 For the second time in a week, a new poll out of Iowa shows South Bend, Indiana Mayor Pete Buttigieg surging in the Hawkeye State to the point where he is now leading the Democratic field in the first electoral test of the primary season:
There is a new Democratic front-runner in Iowa, and his name is Pete Buttigieg.

The mayor of South Bend, Indiana, holds a clear lead in the first-in-the-nation caucus state, climbing to 25% in a new CNN/Des Moines Register/Mediacom poll of likely Iowa caucusgoers. That marks a 16-point increase in support for Buttigieg since the September CNN/DMR poll. This survey comes on the heels of other recent polls that have shown Buttigieg joining the top tier of the Democratic primary race in Iowa.

Behind Buttigieg, there is a close three-way battle for second with Massachusetts Sen. Elizabeth Warren at 16%, and former Vice President Joe Biden and Vermont Sen. Bernie Sanders each at 15%. Since September, Warren dropped six percentage points and Biden slipped five points, while Sanders gained four points.

Surveying the rest of the field, no other candidate gets double-digit support. Minnesota Sen. Amy Klobuchar lands at 6%, while five candidates register 3% — Sens. Cory Booker of New Jersey and Kamala Harris of California, Rep. Tulsi Gabbard of Hawaii, investor Tom Steyer and businessman Andrew Yang. Former New York Mayor Michael Bloomberg, who has yet to officially announce a 2020 bid, gets 2%. The rest of the field receives 1% or less.

Buttigieg's significant rise comes in the wake of a heavy investment of time and money in Iowa. Over the last few months he has built one of the largest on-the-ground operations in the state, supplemented by a robust advertising campaign and strong public appearances, including a speech at the Democratic Party's biggest event of the year earlier this month in Des Moines.

His elevated standing in Iowa is grounded in steady support across different demographic groups. He does roughly as well with self-identified Democrats as he does with independents. He also performs about the same with previous caucusgoers as first-timers. And his support is nearly even in cities, suburbs, towns and rural areas.
More from The Des Moines Register:
Pete Buttigieg has rocketed to the top of the latest Des Moines Register/CNN/Mediacom Iowa Poll in the latest reshuffling of the top tier of 2020 Democratic presidential candidates.

Since September, Buttigieg has risen 16 percentage points among Iowa's likely Democratic caucusgoers, with 25% now saying he is their first choice for president. For the first time in the Register's Iowa Poll, he bests rivals Joe Biden, Bernie Sanders and Elizabeth Warren, who are now clustered in competition for second place and about 10 percentage points behind the South Bend, Indiana, mayor.

Warren, a U.S. senator from Massachusetts, led the September Iowa Poll, when 22% said she was their first choice. In this poll, her support slips to 16%. Former Vice President Biden, who led the Register's first three Iowa Polls of the 2020 caucus cycle, has continued to slide, falling 5 percentage points to 15%. Sanders, a U.S. senator from Vermont, also garners 15% — a 4 percentage point rise.

Those four candidates began to pull away from the crowded field of Democrats and separate into a top tier of contenders in June's Iowa Poll. Biden, Warren and now Buttigieg have all taken turns atop the poll, with Sanders consistently in the top four

This latest poll underscores that separation. The group's next-closest competitor, U.S. Sen. Amy Klobuchar of Minnesota, trails well behind, at 6%.

"This is the first poll that shows Buttigieg as a stand-alone front-runner," said J. Ann Selzer, president of Selzer & Co., which conducted the poll.

"There have been four candidates that have sort of jostled around in a pack together, but he has a sizable lead over the nearest contender — 9 points. So this is a new status for him."

At 3% are U.S. Sen. Cory Booker of New Jersey, U.S. Rep. Tulsi Gabbard of Hawaii, U.S. Sen. Kamala Harris of California, billionaire businessman Tom Steyer and entrepreneur Andrew Yang.

Former New York City mayor and billionaire Michael Bloomberg, who moved toward a late entry into the presidential primaries last week, is at 2%.

U.S. Sen. Michael Bennet of Colorado follows at 1%. Montana Gov. Steve Bullock, former housing secretary Julián Castro and former U.S. Rep. Joe Sestak of Pennsylvania round to 0%.

Former U.S. Rep. John Delaney of Maryland and author Marianne Williamson were not named as a first choice by any poll respondents.
More respondents — 30% now, compared with 20% in September — say they have a first choice and their minds are made up. That still leaves ample opportunity for more surges and slides in the two-and-a-half months before the caucuses: 62% say they have a first choice but could still be persuaded, 1% are unsure and 7% have not made a first choice. In September, 16% of caucusgoers said they had not made a first choice.
This poll from The Des Moines Register is considered the bellwether poll in the Hawkeye State, so the fact that it is showing the same Buttigieg surge that we've seen elsewhere is most certainly significant. As noted, it shows that Mayor Pete has gained sixteen points from the last such poll just two months ago, which suggests that the time he's been spending on the ground there has been beyond off. By contrast, the same polling also shows that Kamala Harris, who has been virtually living in Iowa since September, has seen her numbers in the state go from 6% in that September poll to 3% now. That's not a good sign for a campaign that is essentially relying on a good performance in the Hawkeye State to resurrect her campaign. Another notable number from the poll comes for Minnesota Senator Amy Klobuchar, who went from 3% in the last Register poll to 6% now. Her numbers bear watching in the coming months.
The RealClearPolitics average for Iowa, meanwhile shows the following:
Pete Buttigieg — 21.0%
Elizabeth Warren — 19.0%
Joe Biden — 16.5%
Bernie Sanders — 16.0%
Amy Klobuchar — 5.0%
Kamala Harris —- 3.3%
Andrew Yang — 3.0%
Tom Stever — 2.8%
Tulsi Gabbard — 2.5%
Cory Booker — 2.0%
Mike Bloomberg — 1,0%
All other candidates under 1%
You can also see Buttigieg's rise in the RealClearPolitics average, where Buttigieg is represented by the purple line: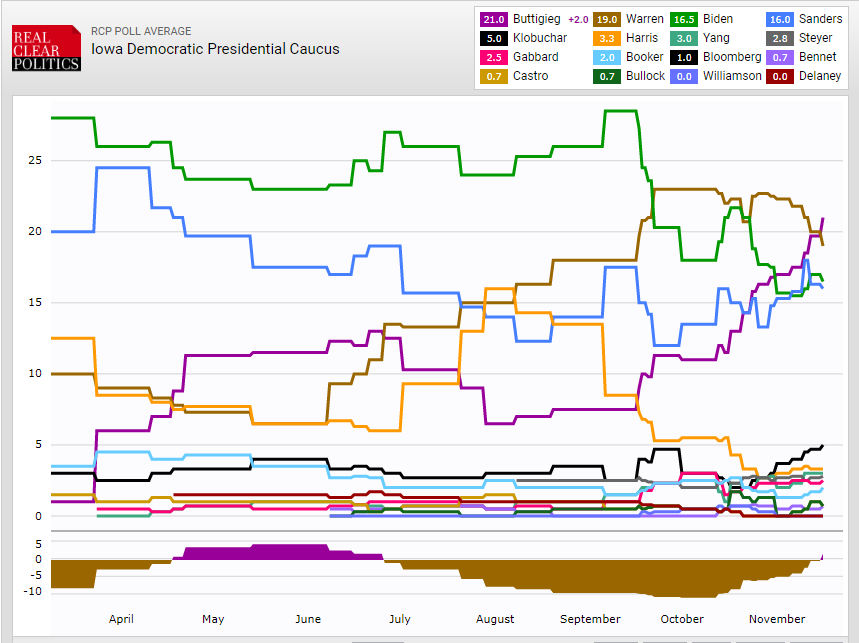 This is the third poll inside of roughly two weeks to show Buttigieg with the lead in Iowa, and the fourth to show him in the top three in either first or second place. It also matches similar numbers from New Hampshire that show Mayor Pete among the four candidates polling double digits in the Granite State. Despite this, Buttigieg continues to underperform in both Nevada and South Carolina, largely due to the fact that he has yet to connect with minority voters in any significant respect. However, the fact that he now surging in the first state to vote in 2020 could mean that he'll start getting a second look elsewhere. In any case, the numbers are falling into place for Buttigieg, and they are doing so at just the right time. Whether he'll be able to capitalize on them remains to be seen.