Poll: Obama And Romney Roughly Even In Early Voting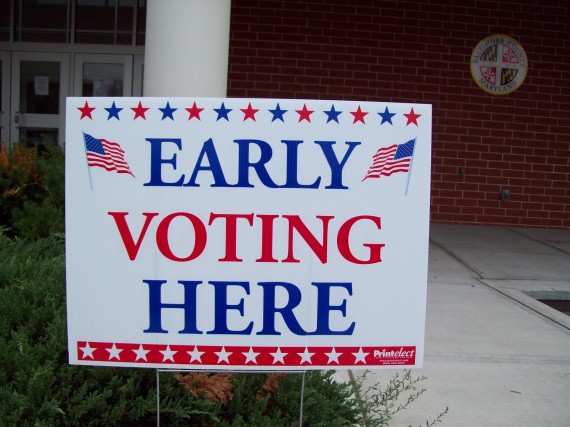 According to a new Gallup poll, people who are voting early are divided roughly equally between Barack Obama and Mitt Romney:
Fifteen percent of registered voters have already cast their ballots, according to a poll released Tuesday.

Neither candidate has an edge among early voters nationally, the Gallup survey found. One-third of Barack Obama backers plan to vote early, as do 34 percent of Romney supporters. So far, 15 percent of Obama voters have shown up at the polls, compared to 17 percent of Romney voters.

Forty-four percent of elderly voters and 43 percent of voters with post-graduate degrees plan to vote early. Those numbers decline steadily for younger and less educated voters.

The differences are more stark by region. A majority of Western voters — 55 percent — plan to vote early, joined by 40 percent in the South, and 23 percent in the Midwest. But in the East, a mere 9 percent are going to vote early.
There are likely differences on a state by state basis, though, and  if you look at the votes actually coming in you can see them:
In two of the most competitive states in the U.S. presidential race — Iowa and Nevada — Democrats are building a significant advantage in early voting.

Who has the edge is more muddled in the bigger swing states of Ohio and Florida, while Republicans have a narrow lead in Colorado. Early, in-person voting started in Florida over the weekend, and dozens of Democrats in Tallahassee marched five blocks from a church to an early-voting site yesterday, chanting "Vote early."

Almost 15 million people have already cast ballots nationwide, according to the United States Elections Project at George Mason University in Fairfax, Virginia. Both parties are spinning their versions of what the turnout means as they seek to project momentum in a contest where more than a third of the nation's vote probably will be cast before Election Day, Nov. 6.

"The data are confirming what we are seeing in the polling, which is that these state races are going to be narrower than in 2008," said Michael McDonald, a professor at George Mason who studies early voting.

In Iowa, more than 470,000 people had cast ballots through Oct. 27, according to the Iowa secretary of state's office. If as many people vote this year as did in 2008, that would represent 30 percent of the total vote. Registered Democrats have cast 44.6 percent of the ballots so far, compared with 32 percent by Republicans and 23.3 percent by independents.
Four years ago, Obama won Iowa largely because he overwhelmingly beat Senator McCain in the early voting there. It appears as though that may be happening there again, as well as in Nevada. That may end up being just enough to eke out a victory for the President in what is looking like a photo finish election.
Update: As has been noted in the comments below, the Gallup poll also shows Romney ahead among those who have already voted:
Romney currently leads Obama 52% to 45% among voters who say they have already cast their ballots. However, that is comparable to Romney's 51% to 46% lead among all likely voters in Gallup's Oct. 22-28 tracking polling. At the same time, the race is tied at 49% among those who have not yet voted but still intend to vote early, suggesting these voters could cause the race to tighten. However, Romney leads 51% to 45% among the much larger group of voters who plan to vote on Election Day, Nov. 6.
Leaving aside the questions that have been raised about the fact that Gallup's Daily Tracking Poll seems out of step with everyone else, these numbers would seem to be good news for Romney, assuming there accurate. Even if the margin isn't that large, though, it's clear that Romney is far more competitive in early voting that John McCain was four years ago.