Polls That Include Cell Phones More Likely To Show Obama Leading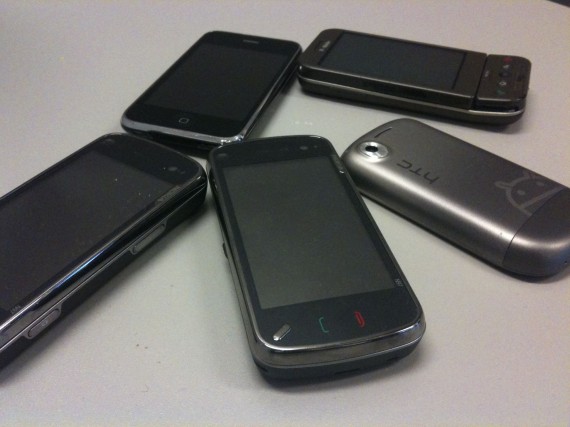 Nate Silver looks at recent polling and finds that President Obama performs better in polls that include people who only have cell phones:
As I observed on Tuesday, and as The New Republic's Nate Cohn also found, Barack Obama seems to have received a much clearer bounce in some types of polls than others.

Although there are exceptions on either side, like the Gallup national tracking poll, for the most part Mr. Obama seems to be getting stronger results in polls that use live interviewers and that include cellphones in their samples — enough to suggest that he has a clear advantage in the race.

In the polls that use an automated dialing method ("robopolls") or which exclude cellphones, Mr. Obama's bounce has been much harder to discern, and the race looks considerably closer.

The difference seems especially pronounced at the state level. Mr. Obama got very strong results in a series of NBC News/Marist College polls last week in Ohio, Florida and Virginia, which included cellphones and used live interviewers. Likewise, Tuesday morning's series of New York Times / CBS News / Quinnipiac polls had reasonably good news for Mr. Obama in Virginia and Wisconsin.

By contrast, the automated polling firm Rasmussen Reports has recently released polls showing Mr. Obama two points behind Mitt Romney in New Hampshire and three points behind in Colorado — the worst results that it has shown for him in those states all year. Another automated polling firm, Gravis Marketing, recently put Mr. Obama at a five-point deficit in Virginia, in contrast to three traditional polls that put him ahead by margins ranging from four  to eight  points there. A third automated polling firm, Public Policy Polling, has shown stronger results for Mr. Obama, but they also had him with good results before the conventions, and so haven't shown him gaining much ground.
The robo-calling distinction is important because firms that used that kind of technology, whether they are polling firms or commercial businesses, cannot use that type of technology to call cell numbers. They can use automatic dialers that call a number and then connect to a human operator if someone picks up, but they are not supposed to use robo-dialiers with automated messages. Along with his obviously pro-Republican sampling, this may be one reason that Scott Rasmussen's polls so often seem to be so different from other pollsters. A properly done poll, even by a robo-calling firm, would include statistical adjustments that account for these differences, but if you're working from a skewed sample to begin with, that may not make much of a difference. For that reason alone, it's perhaps best to be just a little bit skeptical about any poll from to a robo-calling firm.
At this point, though, it seems almost absurd for any poll to exclude cell phone only people:
Roughly one third of American households rely solely on mobile phones and do not have landlines, meaning they will simply be excluded by polls that call landlines only. Potential voters who rely on cellphones belong to more Democratic-leaning demographic groups than those which don't, and there is reasonably strong empirical evidence that the failure to include them in polls can bias the results against Democrats, even after demographic weightings are applied.
I'm part of that 1/3 of American households. I haven't used a landline phone since 2006 or so and, quite honestly, haven't really missed it. I don't fall into the "more Democratic" cohort, but I'm sure that this group is only going to grow, and polls that don't take them into account are going to start becoming as unreliable as the polls that predicted that Tom Dewey would easily defeat Harry Truman in 1948.