Presidential Experience Redux
Is Mitt Romney the least experienced major-party presidential nominee since1940?
In yesterday's post, "Obama vs. Romney: Experience Factor," I argued that it's rather amusing for the Obama campaign to argue that we can't afford to turn our foreign policy over to someone as inexperienced as Mitt Romney, given how incredibly inexperienced Barack Obama was at this point last cycle. Steve Benen notes that the Republican National Committee is going further, though, and arguing that Obama is "Still Not Ready." As I noted in yesterday's post–as well as a June 2010 post titled "Obama's Executive Experience"–that's a really dumb argument. Like it or not, Obama has been presidenting for quite some time now and there's no better preparation for the White House than that.
Benen goes further, though,  arguing that, "Romney is the least experienced major-party presidential nominee since Republican Wendell Wilkie lost to FDR in 1940. If Romney wins, he'll be the least experienced president since Woodrow Wilson, who won exactly 100 years ago, despite only having been governor of New Jersey for two years before his national campaign." Just off the top of my head, that's obviously absurd but here's Benen's proof: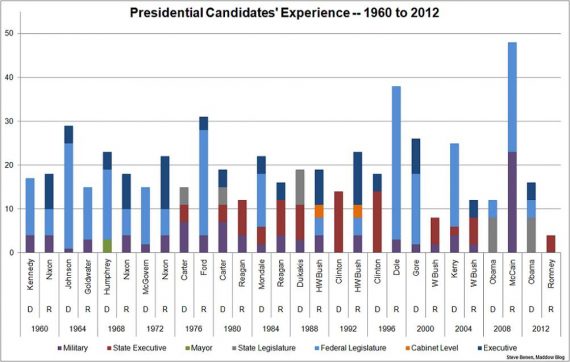 You see what he did there?
He's treating as equal everything from military service to positions as a "state executive," mayor, state legislator, presidential cabinet, and "executive" experience, the last presumably meaning the vice presidency. That's, to say the least, a stretch. You have to go back a long way, indeed, to find a president who didn't have one of the following on his resume: Vice President of the United States, state governor, United States Senator, or Army four-star rank.
Certainly, I don't think time as a state legislator counts. It has next to no bearing on the presidency.
For that matter, neither does low level military experience; I say that as someone with service as a junior officer.  That John Kennedy was a war hero counted as a bonus for him but it's hardly the same thing as Eisenhower's running World War II. I'd say only experience as a general or flag officer "counts." (And, yes, I said the same thing about John McCain. His heroic conduct as a prisoner of war was a huge bonus on the character front. But tactical level experience really doesn't translate into grand strategy.) It turns out that many of Benen's readers agree.
"State executive" is pretty tricky. Certainly, a governorship counts. Indeed, it seems to be the voters' favorite resume item. Lieutenant governor? Attorney general? Secretary of state? Agriculture commissioner? Let's just say they're steeply discounted, moreso in smaller states.
Mayor is tricky. Running New York City, Los Angeles, or Chicago is probably harder than running most states. Running, say, Wasilla, Alaska . . . less so. Yes, it's executive experience. But it's much lower down the totem pole than a major governorship.
Presidential cabinet service? I'd say it counts, although probably on a sliding scale. That is, Secretary of State and Secretary of Defense are big time executive jobs, service in which definitely helps prepare one for president. Ditto non-cabinet roles (or, occasional cabinet roles) like CIA Director or National Security Advisor. Running, say, the Department of Veterans Affairs or Housing and Urban Development, though, probably ranks somewhere between being mayor of a medium sized city and a lieutenant governorship.
As I noted during the last cycle, I'm also willing to give serious credit to First Lady, at least in cases like Hillary Clinton where they clearly played a key advisory role to their husbands.
Yes, I think Romney's business experience is meaningful. For that matter, so was Obama's experience as a law professor and as a community organizer. They help hone skills that are useful to a politician. But we have to weight experience differently, with the big ticket items being the vice presidency and a governorship, with exceptions for things like Senate Majority Leader, Secretary of State or Defense, Chairman of the Joint Chiefs of Staff, or running WWII.
Obama's chartable experience in 2008 was a little under four years in the Senate–the vast bulk of which he spent campaigning for president. And, as I've noted multiple times now in multiple posts, it doesn't seem to much matter. While I disagree with a lot of his policy decisions, he's been a very effective leader, assembled a solid team, and done a creditable job as president. There have been flubs along the way, some of which might have been avoided if he'd been more seasoned, but that's just the nature of our system: we tend to hire relative amateurs to the presidency.
And, to reiterate, if we're running the 2012 election on the basis of who's most experienced, Obama wins. Three-plus years as a wartime president trumps four years as governor of a small state. Romney's only chance is to convince people that Obama has demonstrated that he doesn't deserve four more years, not that he's wet behind the ears.
An earlier version of this posting gave Obama credit for only two years in the Senate.