Presidential Overreach Should Be More Than Just Another Partisan Fight, But That's What It Will Be
There are legitimate issues regarding Presidential overreach and separation of powers that President Obama's actions while in office have raised. But none of that will be discussed in our hyperpartisan political culture.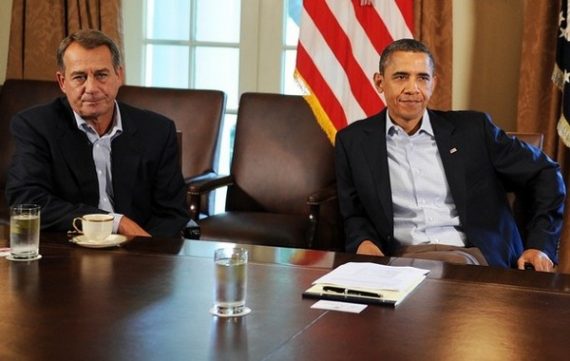 Late last month, Speaker of the House John Boehner announced that he would be seeking authority, which will obviously be granted, from the Republican controlled House of Representatives to file a lawsuit against President Obama over what he claimed were abuses of executive power and usurpation of the duties and powers assigned to Congress by the Constitution. Yesterday, Boehner posted an Op-Ed at CNN setting out in more detail the basis for this planned lawsuit. Boehner doesn't go into much more detail about the factual or legal basis for any planned lawsuit than he had before, obviously, and because of that and the way that the relationship between the President and the House Republicans has gone these past four years, it's easy to dismiss this as a political stunt. Although I think that many of the issues that a lawsuit like this could raise are vitally important and in need of discussion by American voters and the media, that's essentially the take I took in my initial reaction to Boehner's announcement. This conclusion seems to be backed up by the fact that it seems unlikely that a Federal Court is going to be all that eager to even reach the case on the merits, instead it would be likely to dismiss it under the "Political Question" Doctrine.
It's also the position that President Obama took last week when he was asked about Boehner's announcement:
(CNN) - President Barack Obama called House Speaker John Boehner's plans to file a lawsuit over the President's use of executive action "a stunt," in an interview with ABC News Chief Anchor George Stephanopoulos.

"You notice that he didn't specifically say what exactly he was objecting to. I'm not going to apologize for trying to do something while they're doing nothing," the President said.

"You know, the suit is a stunt. But what I've told Speaker Boehner directly is, 'If you're really concerned about me taking too many executive actions, why don't you try getting something done through Congress?'"

The interview aired on ABC's "Good Morning America" Friday morning. It was conducted Thursday during the President's trip to Minneapolis, where Obama held a town hall meeting.

(…)

He repeated his frustrations about the immigration reform bill passed a year ago by the Senate that's been stalled in the House, and having to use executive action.

"The majority of American people want to see immigration reform done. We had a bipartisan bill through the Senate, and you're going to squawk if I try to fix some parts of it administratively that are within my authority while you are not doing anything?'" the President added.

Responding to Obama's comments, Boehner spokesman Michael Steel said Friday in a statement that "the American people, their elected representatives, and the Supreme Court have all expressed serious concerns about the President's failure to follow the Constitution. Dismissing them with words like, 'smidgen' or 'stunt' only reinforces their frustration."
George Washington University Law Professor Jonathan Turley, who is hardly a conservative, criticizes the President's flippant dismissal of the idea of a lawsuit that raises claims based on Constitutional overreach, and points out why its important to raise these issues:
The moment was reminiscent of George W. Bush's taunting Iraqi insurgents over 10 years ago by saying, "Bring 'em on."

It was irresponsible bravado from a man who was not himself at the receiving end of IEDs and constant attacks that would go on to cost us thousands of military personnel. I imagine some lawyers at the Justice Department may feel the same way about Obama's "sue me" taunt. They are the ones being hammered in federal courts over sweeping new interpretations and unilateral executive actions.

The renewed promise to go it alone is a familiar refrain from this President. He even pledged to take unilateral action to circumvent Congress in front of both Houses, in his State of the Union address this year — to the curious delight of half of Congress, which applauded wildly at the notion of being made irrelevant.

The President was as good as his word. When Congress failed to pass the Dream Act loosening immigration laws for certain groups, the President ordered the same result unilaterally. His administration also ordered massive changes in Obamacare — from lifting statutory deadlines, to exempting classes of business, to shifting hundreds of millions of dollars from appropriated purposes to other uses.

The political slogan of "no compromise" has migrated into legal strategy with disastrous results. That is precisely what happened in the recess appointments decision in NLRB vs. Canning. I testified on the President's recess appointments in Congress after they were made and said that the nominations in my view were flagrantly unconstitutional.

The fact that the administration decided to force a confrontation on such a weak case shows not just a lack of judgment but a cavalier attitude towards the costs of such losses. While he clearly has authority to set enforcement priorities in areas like immigration law, Obama has repeatedly stepped well over the line of separation.

These acts of defiance of Congress often come with chest-pounding acclaim, but they also come with costs. For example, by violating the Constitution on recess appointments, a huge array of rulings out of the National Labor Relations Board could be invalid — creating havoc in the area.

Likewise, the President's recent loss in the Hobby Lobby case, regarding contraception provisions of Obamacare, will require huge changes in such coverage . In a case that may be issued any day now in Halbig vs. Burwell, the D.C. Circuit could strike down another unilateral policy on tax credits under Obamacare that would mean that the administration wrongly committed billions of dollars without authority. That decision could jeopardize the very viability of health-care reform.

In our system, there is no license to go it alone. Rather, the Republic's democratic architecture requires compromise. The process is designed to moderate legislation and create a broader consensus in support of these laws.

Nor is congressional refusal to act on a particular prescription of how to fix the economy or repair immigration laws an excuse. Sometimes the country (and by extension Congress) is divided.

When that happens, less gets done. The Framers understood such times. They lived in such a time.

While Obama did not create the uber-presidency, he has pushed it to a new level of autonomy and authority. It is a model that Democrats may soon regret. Just as Obama has unilaterally rewritten federal laws and ordered the nonenforcement of others, the next President could use the same authority to gut environmental or employment discrimination laws. An uber-President is only liberating when he is your uber-President.
While I still believe that Boehner's lawsuit is nothing more than a politically motivated stunt that is unlikely to find much success in the Federal Courts when it is filed, Turley raises important points here. President Obama is most certainly not the first President to accumulate more power in the Executive Branch, and to seek ways to make end runs around Congress when the Legislative Branch is blocking his agenda, that certainly doesn't make the actions justifiable. President Obama's response to the threat of a Separation Of Powers lawsuit is both cavalier and in appropriate for the President of the United States. His comments that he only 'goes around' Congress because Congress refuses to act on issues like immigration reform is quite simply irrelevant. As Turley has noted, when the Founders drafted the Constitution they created a system where conflict was not only possible but, in some sense, an inherent part of the system itself. Ideally, the Executive and Legislative Branches should not be "working together" so much as they should be working to represent their respective constituencies. At times, such as now, when the nation is deeply divided politically, that's going to mean it will be hard to get things done. However, that type of gridlock is a feature, not a bug. As Steven Taylor has pointed out in many posts he has done on the topic before, most recently here and here, institutions matter and there's certainly an argument that thing would work differently if our political system was organized differently. However, we have the system we have and it strikes me that we ought to be more concerned with Presidents of any party who use their executive powers to do things that, properly, ought to be left to the legislature. We have the system we have, however, and it strikes me as inappropriate for the President to respond to serious concerns about a core Constitutional issues in such dismissive tones.
NBC News's Perry Bacon notes that there are definite political benefits for the President in picking a fight with Congress right now, and it's also blindingly obvious that there are similar political benefits for the House GOP to pick a fight at this time as well. Both sides are choosing positions that will appeal to their base voters as we head toward the upcoming midterms. The President aiming for both Democratic voters and independents who have a negative view of Congress, and Speaker Boehner is aiming for the Republican base voters and their negative opinions of President Obama. In the end, then, it's obvious that this entire lawsuit idea will become just another political football rather than an opportunity for a serious conversation about a serious issue. Both Speaker Boehner and President Obama will be to blame for that.