Presidential Race As Tight As It's Ever Been
With sixteen days to go, the race for President is tied.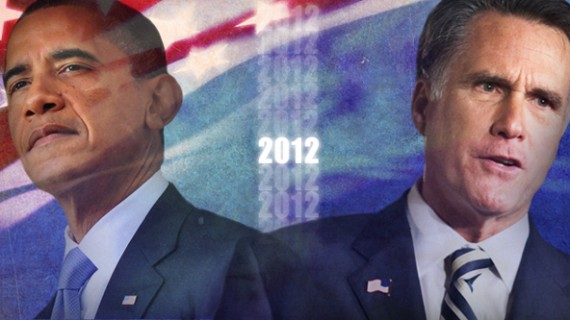 The new NBC News/Wall Street Journal poll shows a race that that is tied with a mere sixteen days to go before the election:
A late surge in support for Republican presidential candidate Mitt Romney has put him in a dead heat with President Barack Obama with just over two weeks to go before the election, according to a new nationwide Wall Street Journal/NBC News poll released Sunday.

Among likely voters, the candidates are now tied, 47% to 47%, in a race that appears on track to be one of the closest in U.S. history.

Mr. Romney has pulled abreast of the president for the first time all year in the Journal poll, erasing a three-point lead among likely voters that Mr. Obama had in late September and a five-point lead earlier that month. Mr. Romney's surge followed his strong debate performance in Denver early this month and a contentious second debate with Mr. Obama last week.

With the contest deadlocked and just 5% of voters undecided, the campaigns will now turn heavily to state-by-state efforts to rouse their base and get out the vote.

The poll found Mr. Romney with a wide lead among men, 53% to 43%, while Mr. Obama continues to maintain an advantage among women, 51% to 43%. Mr. Romney's edge among men has grown over the past month, while Mr. Obama's lead among women has slightly diminished.
This poll is essentially consistent with the other national polls that have come out over the past several weeks, even before the second Presidential debate. Most of these polls have shown either Obama or Romney leading by a single digits within the margin of error. The one exception to that has been the Gallup Daily Tracking Poll which in its latest iteration released on Saturday showed Romney leading by six. When you see a different like that between a single poll and all the other polls there are only two conclusions you can reach, either all the other polls are wrong or there's something off about the Gallup poll. Experience tells us that the second conclusion is typically the correct one, so it's likely the case that this race is as close as the NBC poll, and the others, has it.
Indeed as of today, the RealClearPolitics poll average is at exactly the same 47%-47% as the NBC poll. That's just a statistical quirk, of course, and it's likely to change later today when the latest iteration of the Gallup poll gets added into the mix, but it unscores the fact that we're dealing with the tightest Presidential race we've seen since 2000: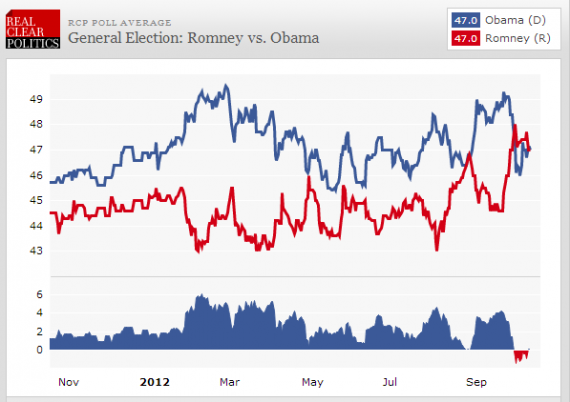 Things are similarly close in the Electoral College, where Governor Romney currently has a slight lead in the state projections: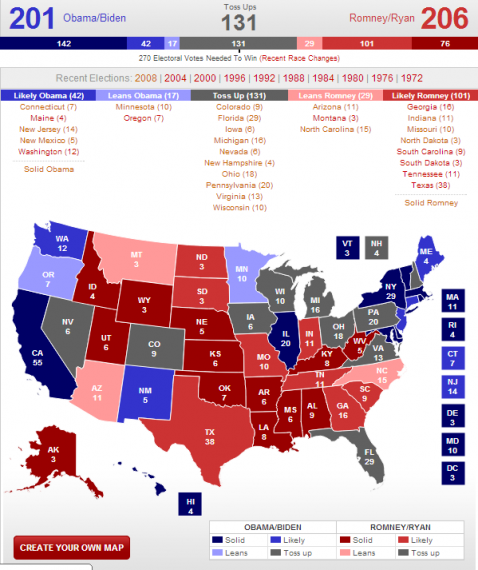 If you get rid of the toss-ups and give those states to whomever happens to be leading at the moment, you have Obama winning the Electoral College, but by the slimmest of margins: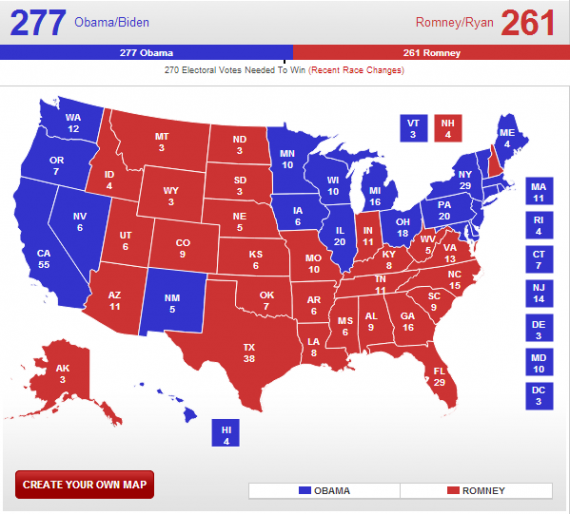 Given this map, it wouldn't take much for the President to lose. A loss in Wisconsin or Ohio would certainly do it, as would losing Iowa and Nevada. And, obviously the states that are currently solid for each candidate, especially Florida, Virginia, and Ohio will be contested until the bitter end of this race. As things stand right now, though, it really does look like either one of these men could win this election and that haasn't really been true for quite some time.