Press Corps Demanding Press Conference
President Biden is being pressured to face the music after the midterms.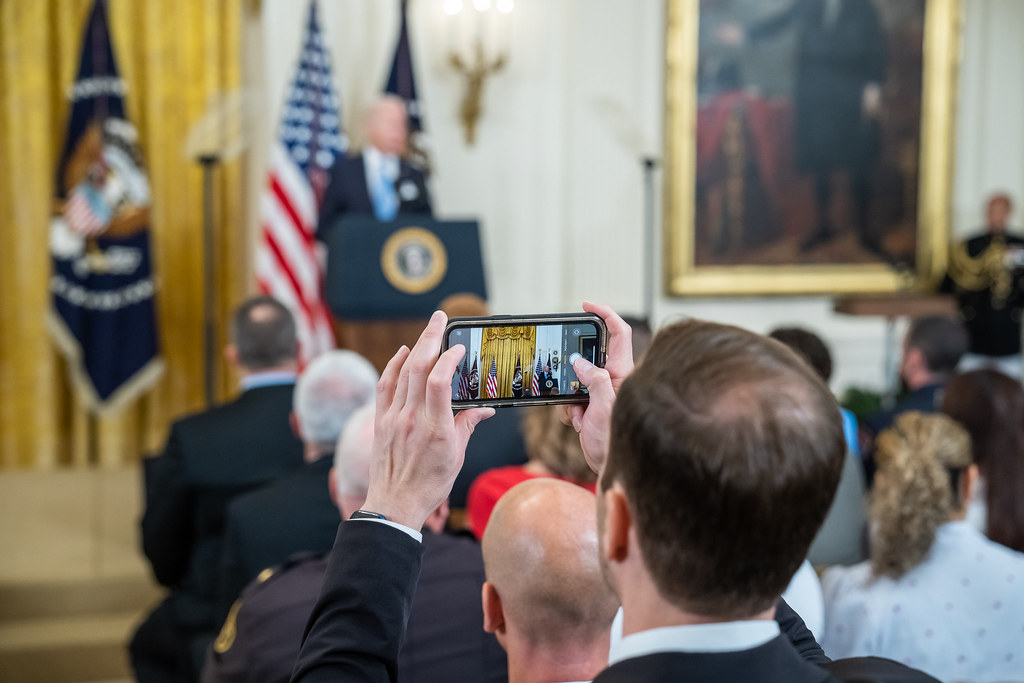 POLITICO ("Will Biden take his medicine?"):
n 2006, President GEORGE W. BUSH called the Democratic takeover of Congress in that year's midterm cycle "a thumping" during a 42-minute East Room press conference the next day.

Four years later, when President BARACK OBAMA saw control of Congress swing back to the GOP, he called it "a shellacking" during a 56-minute presser in the White House Cross Hall. Humbled, Obama reflected on how he failed to address the curse of incumbent presidents losing ground in midterm years — and the long tradition of these leaders facing the music afterward.

"This is something that I think every president needs to go through, because, you know, the responsibilities of this office are so enormous," he said. "This is a growth process."

After his own midterm pummeling in 2018, President DONALD TRUMP held forth for nearly 90 minutes in the East Room. He was, not surprisingly, less chastened than his predecessors, blaming his party's losses on Republicans who didn't support him ardently enough.

With polls showing the current election landscape tilting in favor of Republicans, it's still unclear whether President JOE BIDEN is going to participate in the ritual of a post-midterm press conference. Or, more to the point, whether his aides see any upside in putting him out there.

The White House has yet to commit to Biden holding a press conference next Wednesday after all the votes are cast. And it's not for lack of trying by the White House Correspondents Association.The group's president, NPR's TAMARA KEITH, and others have been pushing press secretary KARINE JEAN-PIERRE about the matter for months, first in routine meetings and, just weeks ago, in a written letter formalizing the request.

"There is a long tradition of presidents, whether their party wins or loses, addressing the American people and answering questions at length from the press the day after a midterm election," Keith said in a statement to West Wing Playbook. "We are disappointed that despite this precedent and repeated requests from the WHCA, the White House has thus far failed to commit to the traditional post-midterms press conference."

Biden's schedule for Wednesday, the White House said, is still up in the air. But in a statement to West Wing Playbook, a White House spokesperson confirmed that Biden will deliver some kind of election response — it just might not be in the form of a press conference.
Given that it's quite possible we won't even know who won key races Wednesday, scheduling a press conference that day seems premature. But the tradition of the President talking to the American people through the press after the midterms is a good one.
Indications as to whether and how he'll do it are mixed:
"As WHCA knows, and as Karine has repeatedly confirmed from the podium, the president will speak to the elections the day afterward," the spokesperson said. "He takes questions from the press nearly every day, which has not been the 'norm' for past presidents. We will have additional information to share next week."

An indication that Biden will face the music in some fashion came weeks ago, when his planned departure for an upcoming trip that'll take him to three international summits were quietly pushed back from Wednesday night to Thursday. The move forced some of his travel schedule — which will include stops in Egypt, Cambodia and Indonesia — to be compressed, but was driven by a recognition he would need to focus Wednesday on the election fallout, according to a person familiar with the situation.
The hesitancy of the staff is understandable:
And yet, aides remain split on what to do. Many in the president's inner circle are leery of a full press conference for several reasons: giving reporters a chance to grandstand, Biden's propensity for verbal slip-ups and, above all, the increasing probability that he won't have much good news to discuss. The moment, some worry, is also ripe for questions about whether Biden will run again in 2024, a topic the president isn't currently eager to discuss.

One idea that has gained traction is to avoid an extended formal news conference on Wednesday but to address the press — and possibly take a few questions — in another setting, either at an event or even when he departs the White House on Thursday for Egypt en route to Asia.
Democrats losing control of both Houses of Congress would be a completely normal occurrence, one that has been predicted since the outset. The President's party almost always loses seats in the midterms and their margins were already razor thin.
Biden's propensity for verbal gaffes is, of course, a reason for concern. A press conference is not his best showcase. But public speaking is a chief component of the presidency.
As to questions about whether he's running for re-election, they're perfectly reasonable. All indications are that he plans to do so.
Regardless of form or format, the sentiment among some inside the building is that Biden must engage the press corps, in part to squash any stories that he is ducking them, but also to get it out of the way before he leaves for the hugely consequential Asia trip. Those aides argue that addressing the election before Air Force One lifts off will make it far more likely that the media will focus more fully on the trip itself – which will include a meeting with China's XI JINPING and efforts to rally the world against Russia's VLADIMIR PUTIN.
The American press corps is hardly known for its decorum. So, yes, if Biden hasn't exhausted their appetite to ask election-related questions before his departure, they will certainly spring them on him abroad. That's just a bad look.