Press Coverage and Team Trump's Coup Talk
Or, more accurately, the lack thereof.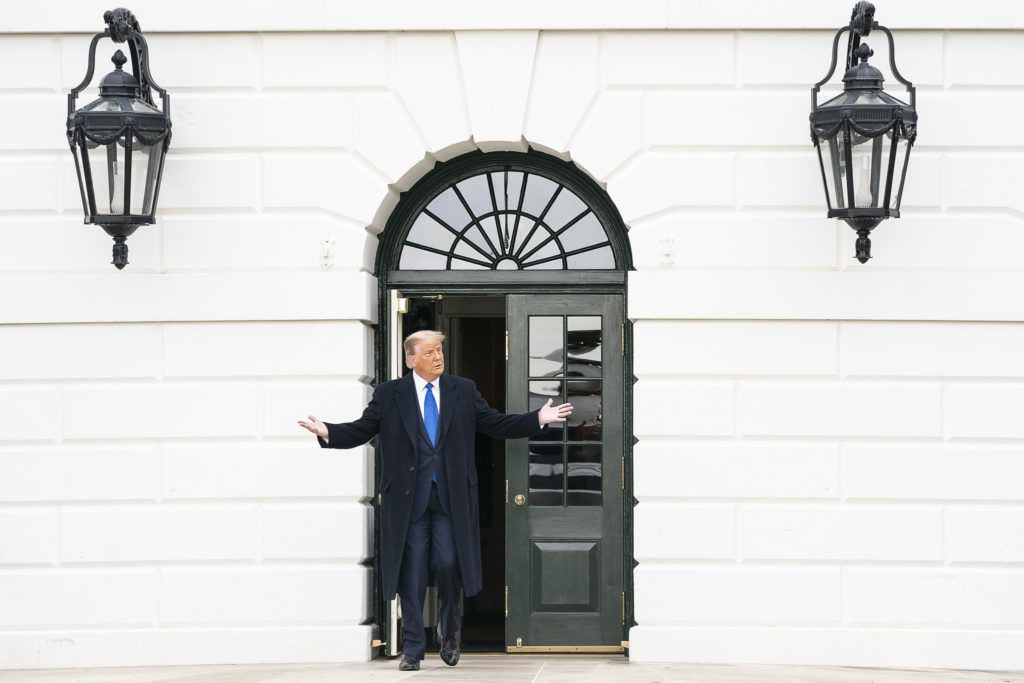 Over the weekend I noted two stories about highly disturbing conversations about actions that can only be characterized as coup-plotting (or, at least, coup fantasizing). The first was a clip of Michael Fynn on Newsmax actually suggesting a military coup to rerun the election in some states. The second was an NYT report about possibly using DHS to seize voting machines.
Let me note that I use the term "fantasizing" above not to downplay anything, but rather to simply note that for a coup plot to have any reality to it, the actors needed to pull off the coup, e.g., the military, DHS, etc., would have to actually have actors willing to help. As best I can tell, only Trump inner-circle types are willing to even discuss this stuff. People like Flynn, Giuliani, and Sidney Powell have all demonstrated themselves to be either delusional, grifters, or both. Dangerous fantasies are still dangerous, even if they have no real chance of happening.
Also, let me note that I have been part of the "not a coup" side of the semantic argument up to this point, so for me to start throwing around terms like "coup plot" and such is not hyperbole (and don't let the title of my second post linked above ("Coup Plotting II: The Giuliani Boogaloo") be interpreted as flippancy about the situation and think of it mores as gallows' humor.
This situation is serious and the only comfort (and an important one) is that there is no path for a successful coup (hence my usage of "fantasizing" above). But let me be clear: to have a sitting president have a meeting in the White House wherein he entertains extralegal activities as a means of staying in power is a blight on our history no matter how low the probabilities of success might be.
I would note that the Flynn story, despite being simply a clip from Newsmax, is more disturbing than the NYT piece only because he is openly discussing a coup on video. There is no ability ro dismiss this as being the fruit of anonymous sourcing. He is not even being coy, but is saying the quiet part out loud. And the fact that he and his attorney (Powell) have been part of these meetings at the White House gives credence to the anonymous sources about the content of those meetings.
As such, the lack of urgency in reporting on this subject is disturbing. I noted the buried lede in the NYT piece in my post on Sunday (again, the notion that Trump considered/is considering naming Sidney Powell to be a special counsel is nuts and newsworthy, but it pales in comparison to the notion that Giuliani called DHS, perhaps at Trump's behest, to discuss seizing voting machines).
All of this is preface to say that I agree with Eric Boehlert's piece criticizing the NYT, and the pres in general, for their coverage of this story: Trump plots martial law from White House — the press shrugs.
Incredibly though, the Times did not run its martial law story on page one on Sunday. Instead it was tucked inside on page 28. (It was also buried on the paper's website.) Additionally, the military coup aspect of the report — the fact the President of the United States might want to enlist armed players to destroy free and fair elections — wasn't even included in the Times headline, or in the lede of the story.

[…]

It's like the Normalizing Olympics — the press has spent four years turning often-seditious Trump behavior into 800-word stories that run on page 28.

The Times was not alone in basically shrugging a White House meeting that has likely never taken place in American history before. On Sunday morning, the Washington Post homepage included no mention of Trump considering the idea of imposing martial law. I couldn't find a single major newspaper that ran the story on the front page over the weekend.
The piece goes on to note the lack of interest displayed on the Sunday Shows about any of this.
I recognize that the story in the NYT needs additional confirmation and reporting, but treating this as just another day in the life of Trump is, as Boehlert calls it, "the Normalizing Olympics." This kind of activity cannot be treated as normal or a passing example of Trump being Trump. At a bare minimum, we need to be fully apprised of what it looks like when an emotionally stunted amateur is allowed into office and what can happen when he surrounds himself with loony sycophants. Moreover, we need to think through what might happen when a competent authoritarian with less loony sycophants sits behind the Resolute Desk.
Boehlerty correctly concludes:
All through Trump's unprecedented crusade against democratic elections the press, time and again, has refused to acknowledge the severity of his actions and the deep Republican support he enjoys when he attacks the democratic process. It's sadly fitting that after four years of failing to call out Trump, much of the press downplayed the White House talk of martial law. The normalizing never stops.
I know we all just want to move on. I know that reporting on Trump is exhausting and that we are in the time of the year wherein people are taking time off, but this is all very serious and demands more attention than it is getting.
Need I remind the Washington Post of their masthead slogan, "Democracy dies in the dark"? I guess I do.
Meanwhile, add these stories to the mix:
Via Axios: Trump turns on Pence, McConnell and White House counsel Cipollone in desperate final days.
And
Via CNN:  Trump threatens 30-day reign of destruction on the way out of office.
I know we are all tired of Trump at this point, but we need to stay focused, as 30 days is a lot of time to do a lot of damage.