Primary Turnout And The 2014 Midterms
Turnout to date for the 2014 primaries is at record lows, but its unclear what that tells us about November.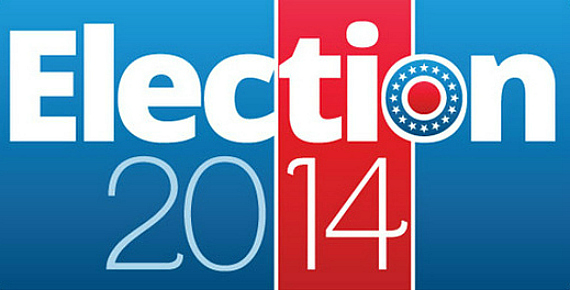 As we head into another midterm election, we are once again seeing numerous polls that show public approval of Congress is at record low levels. Despite that fact, as I sit here today I will confidently predict that the vast majority of the members of the House and Senate members who run for re-election will in fact be re-elected. For the House, the re-election rate will be well north of 90% yet again. In the Senate, the number will likely be below that given the fact that there are a number of incumbents, most of them Democrats, who are vulnerable to defeat. Even in the Senate, though, the number is still likely to be fairly high, and most likely well above the low of 55% that was hit in 1980 when Republicans grabbed control of the Upper Chamber on the coattails of Ronald Reagan's landslide win over President Carter. As Aaron Blake explains,a good deal of that is true because even though a lot of people are mad at Congress, most of them are not going to vote:
A new study shows that Americans are on-track to set a new low for turnout in a midterm election, and a record number of states could set their own new records for lowest percentage of eligible citizens casting ballots.

The study, from the Center for the Study of the American Electorate, shows turnout in the 25 states that have held statewide primaries for both parties is down by nearly one-fifth from the last midterm, in 2010. While 18.3 percent of eligible voters cast ballots back then, it has been just 14.8 percent so far this year. Similarly, 15 of the 25 states that have held statewide primaries so far have recorded record-low turnout.

Ouch.

This is all the more depressing when you realize that, less than 50 years ago, primary turnout was twice as high.
This chart shows just how badly primary turnout has dropped off: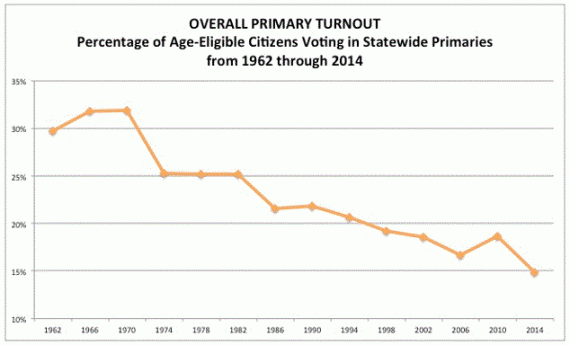 There has been a similar drop in voter turnout in General Elections in midterm election years over the same period. Voter turnout in the 1962 midterms, for example, was 47.3%. By 1974, which was the first midterm after the adoption of the 26th Amendment, turnout dropped to 38.8%, which was not dissimmilar to the turnout drop seen between the 1968 (60.8%) and 1972 (55.2%) Presidential elections. In general, though, turnout has stayed at this post-Amendment stage for the past forty years. The low point came in  1986 and 1998 when turnout hit 36.4%. More recently, we've actually seen a steady but small up-tick in mid-term turnout from 37.0% in 2002, to 37.1% in 2006, and 37.8% in 2010.1 If that trend continues, then we might see a slight uptick again this year, or otherwise we can expect it to reaming consistent with the numbers we've seen since 1972. The important point, though, is that turnout for the midterm General Election has been more or less stable for 40 years even as turnout for primaries has fallen precipitously.
Given this, I am not sure that you can draw any conclusions about how high turnout will be in the General Election based on the figures for primaries since there are obviously different things motivating Primary voters and General Election voters. The biggest factor, of course, is the fact that Primary Elections are held at different times of the year, often times when people are either not paying attention to politics at all or are busy with other activities. This is especially true of primaries that take place in June, July, and August when many people are on vacation. Beyond scheduling, though, I suspect that the main people that turnout in primaries is low can be traced to the fact that very few of them are actually competitive and the ones that are competitive tend to appeal mainly to people who are either party stalwarts or strongly ideological. In some sense, that what makes the recent runoff election in Mississippi so unique; because Senator Thad Cochran was able to use his ties to the states African-American community, which have always been quite good, to get people who otherwise would not vote in a Republican Primary to come out and vote for him. Ordinarily, you simply don't see that, which is why primaries usually end up with a result where the incumbent wins easily or where someone on the ideological extreme ends up pulling off a surprise victory. Races like that are unlikely to appeal to most middle of the road voters, and they certainly aren't going to appeal to independents.
There is one aspect in which midterm primary turnoff may be significant, and that comes when you look at how it breaks down by party, because when you do that there seems to be some bad news for Democrats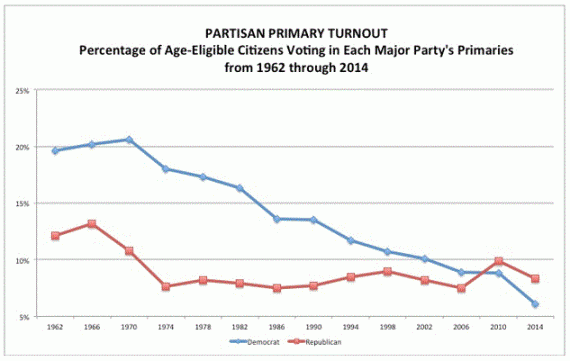 Republican primary turnout has been relatively steady, while it has been dropping like a stone for Democrats for the past forty years. I'll leave it to others to try to figure out why this has happened, but I suspect part of it has to do with the fact that many voters who tend to vote Democratic also tend not to vote in midterms to begin with and the fact that, at least in recent years, we haven't seen the kind of high-profile primary battles in Democratic races that have become common in the GOP lately. Those are the kind of races that draw people out to vote in primaries, and they're also the kind of people more likely to come out and vote in General Elections. Additionally, being able to identify who came out to vote in a primary is an important tool that "get out the vote" operations use in determining which voters to target with advertising and telephone calls leading up to the General Election. As Blake notes, that discrepancy in primary turnout is one reason why Democrats should be worried this year.
1 Source for turnout figures can be found here.