Prosser Regains Lead As Wisconsin Supreme Court Vote Counting Continues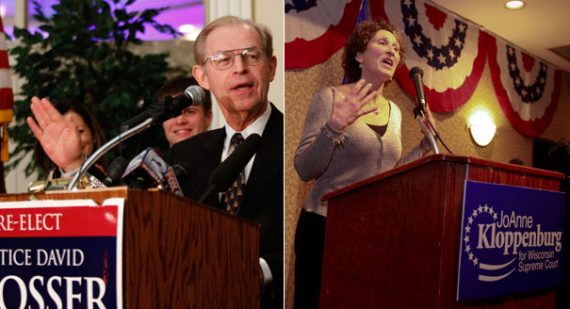 The race between David Prosser and JoAnne Kloppenburg for a seat on the Wisconsin Supreme Court isn't quite over yet:
Madison – Wisconsin's whipsaw of a Supreme Court election kept jiggling Thursday, as the first statewide recount in two decades loomed and the ongoing process of officially counting ballots appeared to swing the unofficial winner from the challenger to the incumbent.

Around the state, elections officials Thursday were tweaking unofficial results from the day before that had put challenger and Assistant Attorney General JoAnne Kloppenburg ahead of incumbent David Prosser by a razor-thin 204 votes. But the new figures appearing to put Prosser ahead were also far from final and could change multiple times before the contest is finished.

Brian Nemoir, campaign manager for Prosser, said he expects the totals to remain fluid.

"Everything we're hearing right now indicates that we're going to be in a recount," Nemoir said. "There's not anything that's going to decide this today or tomorrow."
Indeed not.
Update: Now there are reports that an Election Day computer error may have made this result seem closer than it really is:
After Tuesday night's Wisconsin Supreme Court election, a computer error in heavily Republican Waukesha County failed to send election results for the entire City of Brookfield to the Associated Press. The error, revealed today, would give incumbent Supreme Court Justice David Prosser a net 7,381 votes against his challenger, attorney Joanne Kloppenburg. On Wednesday, Kloppenburg declared victory after the AP reported she finished the election with a 204-vote lead, out of nearly 1.5 million votes cast.

On election night, AP results showed a turnout of 110,000 voters in Waukesha County — well short of the 180,000 voters that turned out last November, and 42 percent of the county's total turnout.  By comparison, nearly 90 percent of Dane County voters who cast a ballot in November turned out to vote for Kloppenburg.

Prior to the election, Waukesha County Clerk Kathy Nickolaus was heavily criticized for her decision to keep the county results on an antiquated personal computer, rather than upgrade to a new data system being utilized statewide. Nickolaus cited security concerns for keeping the data herself — yet when she reported the data, it did not include the City of Brookfield, whose residents cast nearly 14,000 votes.
If this is for real, then Prosser not only wins but Kloppenburg loses her statutory right to a recount.
By the way, if there is any better example of the need for reform in the way we conduct elections, its the fact that the City of Brookfield, Wisconsin was apparently keeping track of its election figures on "an antiquated personal computer."