Putin's Failed Gambit
He's turned Russia from a G-8 member to an international pariah.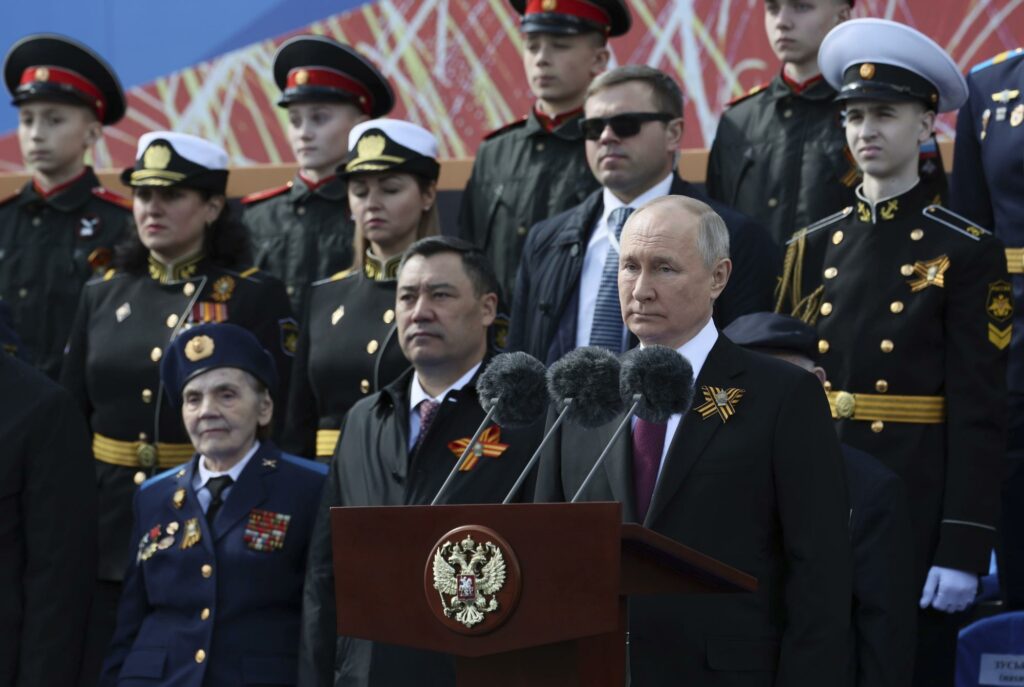 Even the dangerous fight over the U.S. debt ceiling and its potential to wreck the global economy took a back seat to Ukraine at the G-7 Summit.
AP ("Ukraine's Zelenskyy at center of last day of high-level diplomacy as G7 looks to punish Russia"):
World leaders ratcheted up pressure Sunday on Russia for its war against Ukraine, with Ukrainian President Volodymyr Zelenskyy at the center of a swirl of diplomacy on the final day of the Group of Seven summit of rich-world democracies.

Zelenskyy's in-person attendance at one of the world's premier diplomatic gatherings is meant to galvanize attention on his nation's 15-month fight against Russia. Even before he landed Saturday on a French plane, the G7 nations had unveiled a slew of new sanctions and other measures meant to punish Moscow and hamper its war-fighting abilities.

[…]

Bolstering international support is a key priority as Ukraine prepares for what's seen as a major push to take back territory seized by Russia in the war that began in February last year. Zelenskyy's visit to the G7 summit closely followed the United States agreeing to allow training on potent American-made fighter jets, which lays the groundwork for their eventual transfer to Ukraine.

"Japan. G7. Important meetings with partners and friends of Ukraine. Security and enhanced cooperation for our victory. Peace will become closer today," Zelenskyy tweeted after his arrival.

U.S. national security adviser Jake Sullivan said that President Joe Biden and Zelenskyy would have direct engagement at the summit. On Friday, Biden announced his support for training Ukrainian pilots on U.S.-made F-16 fighter jets, a precursor to eventually providing those aircraft to Ukraine.

"It is necessary to improve (Ukraine's) air defense capabilities, including the training of our pilots," Zelenskyy wrote on his official Telegram channel after meeting Italian Premier Giorgia Meloni, one of a number of leaders he talked to.

Zelenskyy also met on the sidelines of the summit with Indian Prime Minister Narendra Modi, their first face-to-face talks since the war, and briefed him on Ukraine's peace plan, which calls for the withdrawal of Russian troops from the country before any negotiations.

[…]

Russian Foreign Minister Sergey Lavrov criticized the G7 summit for aiming to isolate both China and Russia.

"The task has been set loudly and openly: to defeat Russia on the battlefield, but not to stop there, but to eliminate it as a geopolitical competitor. As a matter of fact, any other country that claims some kind of independent place in the world alignment will also be to suppress a competitor. Look at the decisions that are now being discussed and adopted in Hiroshima, at the G7 summit, and which are aimed at the double containment of Russia and China," he said.

The G7, however, has vowed to intensify the pressure.

"Russia's brutal war of aggression represents a threat to the whole world in breach of fundamental norms, rules and principles of the international community. We reaffirm our unwavering support for Ukraine for as long as it takes to bring a comprehensive, just and lasting peace," the group said in a statement.

Another major focus of the meetings was China, the world's No. 2 economy.

There is increasing anxiety that Beijing, which has been steadily building up its nuclear weapons program, could try to seize Taiwan by force, sparking a wider conflict. China claims the self-governing island as its own and regularly sends ships and warplanes near it.

The G7 said they did not want to harm China and were seeking "constructive and stable relations" with Beijing, "recognizing the importance of engaging candidly with and expressing our concerns directly to China."

They also urged China to pressure Russia to end the war in Ukraine and "support a comprehensive, just and lasting peace."
This all reinforces an excellent recent analysis by AP's Dasha Litvinova ("Diplomatic tour by Ukraine's Zelenskyy highlights Putin's stark isolation"):
While the world awaits Ukraine's spring battlefield offensive, its leader, Volodymyr Zelenskyy, has launched a diplomatic one. In the span of a week, he's dashed to Italy, the Vatican, Germany, France and Britain to shore up support for defending his country.

On Friday, he was in Saudi Arabia to meet with Arab leaders, some of whom are allies with Moscow.

President Vladimir Putin, meanwhile, was in the southern Russian city of Pyatigorsk, chairing a meeting with local officials, sitting at a large table at a distance from the other attendees.

The Russian president has faced unprecedented international isolation, with an International Criminal Court arrest warrant hanging over his head and clouding the prospects of traveling to many destinations, including those viewed as Moscow's allies.

With his invasion of Ukraine, "Putin took a gamble and lost really, really big time," said Theresa Fallon, director of the Brussels-based Centre for Russia Europe Asia Studies. "He is an international pariah, really."

It was only 10 years ago when Putin stood proudly among his peers at the time -– Barack Obama, Angela Merkel and Shinzo Abe – at a Group of Eight summit in Northern Ireland. Russia has since been kicked out of the group, which consists of Canada, France, Germany, Italy, Japan, Britain and the United States, for illegally annexing Crimea in 2014.

Now it appears to be Ukraine's turn in the spotlight.

[…]

There's uncertainty over whether Putin can travel to South Africa in August for a summit of the BRICS nations of Brazil, Russia, India, China and South Africa.

Moscow has long showcased the alliance as an alternative to the West's global dominance, but this year it is already proving awkward for the Kremlin. South Africa, the host of the summit, is a signatory to the ICC and is obligated to comply with the arrest warrant on war crimes charges.

South Africa has not announced that Putin will definitely come to the summit but has been planning for his possible arrival. South African President Cyril Ramaphosa has appointed an inter-ministerial committee, led by Deputy President Paul Mashatile, to consider South Africa's options with regard to its ICC commitment over Putin's possible trip.

While it is highly unlikely the Russian president would be arrested there if he decides to go, the public debate about whether he can is in itself "an unwelcome development whose impact should not be underestimated," according to Gould-Davies.

Then there are Moscow's complicated relations with its own neighbors. Ten days ago, Putin projected the image of solidarity, with leaders of Armenia, Belarus and Central Asian states standing beside him at a Victory Day military parade on Red Square.

This week, however, the leaders of Kazakhstan, Kyrgyzstan, Tajikistan, Turkmenistan and Uzbekistan flocked to China and met with leader Xi Jinping at a summit that highlighted the erosion of Russia's influence in the region as Beijing seeks to make economic inroads into Central Asia.

Xi is using the opportunity "of a weakened Russia, a distracted Russia, almost a pariah-state Russia to increase (China's) influence in the region," Fallon said.
While I at least somewhat understand Putin's sense that Russia's fall from superpower status has led to disrespect and that the way to regain respect is through fear, it has, regardless, failed spectacularly.
Russia's dependence on energy exports for so much of its economic power means that its status is dependent on wildly fluctuating commodity prices. It is currently the 11th-ranked country in the world in terms of nominal GDP but it would still be in the G-8 had it not flouted international law with the 2014 Crimea putsch. And now Putin can't even travel to any country worth traveling to, or have its leaders visit him, with the possible exception of China and Xi Jinping.