Putin's War Gets Closer to NATO
Strikes near the Polish border show the real possibility of escalation.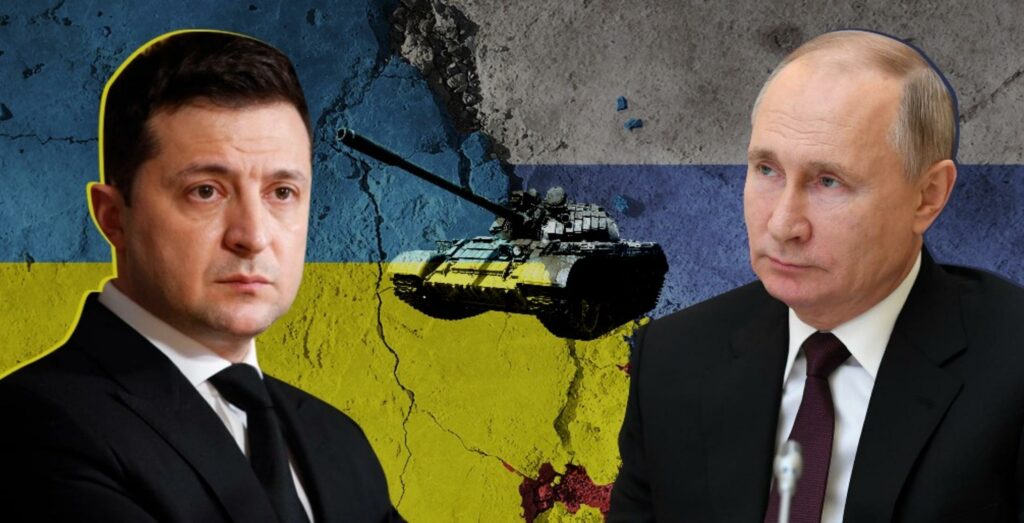 The News:
WaPo ("Russian strike on military site near Poland kills at least 35, injures 134"):
At least 35 people were killed and 134 injured early Sunday when a barrage of Russian missiles slammed into a military facility in Western Ukraine about 15 miles from the border with Poland, a NATO member.

The Yavoriv military range near Lviv, also known as the International Peacekeeping and Security Center, has for years been used for exercises by NATO troops and Ukrainians, with Americans on-site as recently as February. Ukrainian officials said they were working to ascertain whether foreigners were present Sunday. The airstrike came a day after the Kremlin warned that it viewed Western weapons shipments as "legitimate targets," heightening the possibility of a direct conflict with the West.
Spiegel ("Poland warns Russia against using chemical weapons"):
Polish President Andrzej Duda warned on Sunday that the use of chemical weapons would be a "game changer". In this case, the NATO states would have to examine a reaction carefully, Duda told the BBC. "NATO and their leaders, led by the US, will then have to sit down and really think seriously about what needs to be done. Because that's when it starts to get dangerous," the Polish politician explained.
Some Opinions:
Evelyn Farkas, Obama's top Russia person at Defense from 2012 to 2015, WaPo ("We can do more to help Ukraine without provoking World War III"):
The conventional wisdom is that the United States and other NATO allies can supply lethal weapons such as Javelin and Stinger missiles to incinerate tanks and planes while avoiding an escalation into direct war with Russia (whose military doctrine includes a lower threshold than NATO's for the use of nuclear weapons). Under unofficial rules worked out during the Cold War, such proxy warfare is deemed acceptable, while any direct engagement — for instance, between a NATO fighter jet and a Russian aircraft — is out of bounds. In rejecting the Polish offer, U.S. and NATO allies also decided that providing jets to Ukraine from NATO territory would be too risky.

But the logic of that position is not clear. Russia is fully aware that lethal weapons furnished by the NATO powers are being used to kill Russian troops and destroy their equipment, quite effectively in some cases. And those weapons travel over borders from NATO countries to Ukraine, just as any new donations of aircraft would. Russian President Vladimir Putin hasn't responded to those arms deliveries as if the United States were entering the war directly, even though Pentagon officials estimate conservatively that at least 3,000 Russian troops have died already. Moreover, Putin and his advisers have their own reasons not to engage in a war with a militarily superior NATO. That suggests there is an opportunity to do more to help Ukraine — and to more quickly end the war with a stalemate or a Russian retreat.

[…]

We need to make our own judgments about what counts as escalation and what counts as a reasonable step to help Ukrainians, and not defer to Putin on these questions. After all, he has already asserted that economic sanctions amount to a "declaration of war" (and yet he has not responded as if he believes this). And when considering whether a NATO move would be "provocative," it is important to remember that Putin provoked all of this — he chose to launch this unjustified war against Ukraine.

Ultimately, we must weigh the dangers of escalation against what is at stake: the real possibility — given the brutal nature of the war so far — of the slaughter of civilians that could rise to the level of genocide. And we should weigh those dangers against what the United Nations calls the "responsibility to protect." While there are risks in helping Ukraine survive the Russian onslaught, there are also risks in letting Putin's expansionist aggression go unchecked. If he sees that NATO will sit back and let him take Ukraine, he is likely to turn next to other neighboring former Soviet republics that aren't in the alliance, such as Moldova and Georgia (which he already invaded once, in 2008).
Michael Crowley and Edward Wong, NYT ("Ukraine War Ushers In 'New Era' for U.S. Abroad"):
The war in Ukraine has prompted the biggest rethinking of American foreign policy since the Sept. 11, 2001, attacks, infusing the United States with a new sense of mission and changing its strategic calculus with allies and adversaries alike.

The Russian invasion has bonded America to Europe more tightly than at any time since the Cold War and deepened U.S. ties with Asian allies, while forcing a reassessment of rivals like China, Iran and Venezuela.

And it has re-energized Washington's leadership role in the democratic world just months after the chaotic U.S. withdrawal from Afghanistan ended 20 years of conflict on a dismal note.

But the new focus on Russia will come with hard choices and internal contradictions, similar to ones that defined U.S. diplomacy during the Cold War, when America sometimes overlooked human rights abuses and propped up dictators in the name of the struggle against communism.

"It feels like we're definitively in a new era," said Benjamin J. Rhodes, a former deputy national security adviser in the Obama White House. "The post-9/11 war on terror period of American hubris, and decline, is now behind us. And we're not sure what's next."

The attack by President Vladimir V. Putin of Russia on his neighbor has become a prism through which nearly all American foreign policy decisions will be cast for the foreseeable future, experts and officials said.

In recent weeks, Western officials have spoken in terms that often echo the grand declarations that followed the 2001 terrorist attacks. On Friday, President Biden said that "the free world is coming together" to stand up to Mr. Putin — a phrase reminiscent of President George W. Bush's talk of how "the entire free world" was at war against terrorism.

In the near term, Russia's aggression is sure to invigorate Mr. Biden's global fight for democracy against autocracies like Moscow, making vivid the threats to fledgling democracies like Ukraine. Yet three increasingly authoritarian NATO nations — Poland, Hungary and Turkey — play key roles in the coalition aiding Kyiv. And the United States is grappling with internal assaults to its own democracy.

The war lends urgency to Mr. Biden's climate change agenda, reinforcing the need for more reliance on renewable clean energy over the fossil fuels that fill Russian coffers. Yet it has already generated new pressure to increase the short-term supply of oil from the likes of Venezuela's isolated dictatorship and Saudi Arabia's authoritarian monarchy.

And it creates a powerful new incentive for the United States to find ways of prying President Xi Jinping of China away from Mr. Putin, who is likely counting on diplomatic and economic lifelines from Mr. Xi amid crushing Western sanctions. But some administration officials see China as a lost cause and prefer to treat China and Russia as committed partners, hoping that might galvanize policies among Asian and European allies to contain them both.
My Two Cents:
To the extent that any of Putin's war is legal, he's right that weapons shipments are "legitimate targets." We are supplying his enemy and he can certainly treat that as an act of war and respond in kind. But, of course, doing so inside Poland—a NATO ally—would be a dramatic escalation. Further, as Farkas (writing well before this latest incident) suggests, it would be unusually provocative given that we have studiously played by the unofficial rules of the game.
Whether Putin is seriously contemplating the use of chemical weapons, I haven't the foggiest. Clearly, Poland's leadership is concerned. And, while President Obama infamously made their use in Syria a "red line" and then failed to enforce it, one imagines Putin realizes that NATO is a different kettle of fish.
I put Crowley and Wong under Opinions rather than News because their report is analysis and speculation rather than fact. We shall see the longer-term impacts of all of this. I do, however, agree that NATO is reinvigorated in a way we haven't seen in a long time and I do believe that will remain the case long after this dispute is resolved. As I frequently argued, to the annoyance of most of my Atlantic Council colleagues, we can cajole the Europeans until we're blue in the face about their underinvestment in defense but, until they actually perceive a security threat, they're not going to sacrifice social spending; the domestic constituency simply wouldn't stand for it. Putin has changed that calculus for the foreseeable future.