Racial Gerrymandering and Idiots
Cynthia Tucker regrets her support for majority-minority districts.
Cynthia Tucker, the longtime editorial page editor for the AJC, has issued a retraction.
I won't procrastinate. I'll get the most difficult part of this column over right now: I was wrong. I was shortsighted, naïve and narrow-minded to endorse the concept of drawing Congressional districts to take racial demographics into account.

In 1982, the Voting Rights Act,  with its emphasis on Southern states, was amended to encourage the creation of awkwardly named "majority-minority" districts in order to give black voters the strength of a bloc. I believed that drawing such districts was a progressive political tactic, a benign form of affirmative action that would usher more black members into a Congress that had admitted only a handful.

The tactic worked. In 1980, there were only 18 blacks in the U.S. House of Representatives. Now, there are 44, many of them elected from districts drawn to meet the mandates of the Voting Rights Act.

Unfortunately — like so many measures designed to provide redress for historic wrongs — those racially gerrymandered districts also come with a significant downside: They discourage moderation. Politicians seeking office in majority-black or -brown districts found that they could indulge in crude racial gamesmanship and left-wing histrionics.

While black-packed districts yielded some quite respectable pols — including U.S. Rep. John Lewis (D-Ga.) and U.S. Rep. James Clyburn (D-S.C.), the third-highest ranking Democrat in the House — they also launched the Congressional careers of clownish legislators such as former Congresswoman Cynthia McKinney, last heard cozying up to the savage dictator Moammar Gadhafi.

Hemming most black voters into a few districts also had a deleterious effect on surrounding areas, now "bleached" of voters whose interests tend toward equality of opportunity. Their absence encourages pols in districts left overwhelmingly white to use the "Southern strategy" of playing to the resentments of white voters still uncomfortable with decades of social change.

As Richard Harpootlian (cq), chairman of the South Carolina Democratic party, told me: "When the only issue is race, idiots win, black and white."
Much of this was not only predictable but predicted.
I lived in Alabama's 7th Congressional District when it redrawn in 1992 as a majority-minority district, encompassing the counties in the state's Black Belt and the predominantly black parts of Birmingham and Tuscaloosa. Quite literally, I was on the wrong side of the street, with the poor and black parts of Tuscaloosa cleaved off from the affluent areas. The same was done in Birmingham.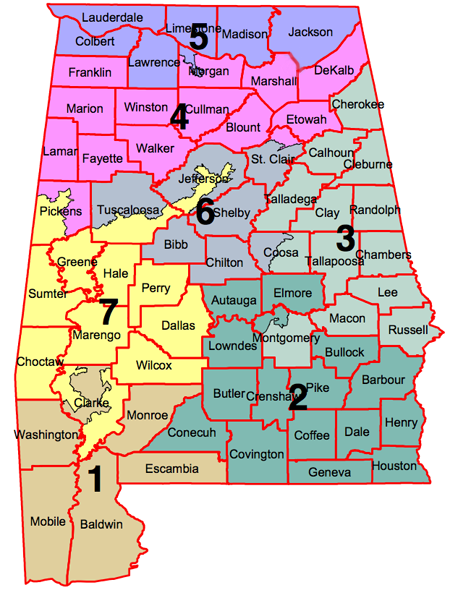 The results were predictable and predicted: The 7th became a safe black seat and far and away the most liberal district–indeed, the only liberal district–in the state while the 6th became the whitest and most conservative. Oh, and something else: Stark differences in poverty.
Food hardship in Alabama's congressional districts, 2010:

7th Congressional district – 29.3 percent
4th Congressional district – 27 percent
3rd Congressional district – 25.8 percent
1st Congressional district – 25.1 percent
2nd Congressional district – 24.8 percent
5th Congressional district – 21.2 percent
6th Congressional district – 18.3 percent
But, strangely, the elections in the 7th — which, for all practical purposes, means the Democratic primary contests — weren't over the best way to help the poor but over which candidate was the blackest. Oh, they were all African American. But, for example, the original holder of the seat, Earl Hilliard, successfully warded off his first challenge from his eventual successor, Artur Davis, by arguing that all his opponent, a US Attorney, had ever done for black folks was put them in jail. Davis tried to make the campaign over Hilliard defying sanctions against Libya and taking a junket there.  These were highly accomplished men, graduates from Howard and Harvard Law School, respectively.
While artificially created majority-minority districts have tended to produce that sort of bizarre politics, the "bleaching" effect on neighboring districts has created something almost as bad: fighting over who loves Jesus more, how big the monuments to the 10 Commandments should be, and the like.
Of course, racial gerrymandering isn't the sole cause of this. Old fashioned gerrymandering along party lines to carve out safe seats for incumbents and/or to benefit the party that controls the state legislature the cycle after the Census can do the same thing. By removing the need to appeal to a wide range of views, politics devolves into battles over personality and minor issues, since there's no real policy disagreement among the candidates. Either way, idiots win.