Religion and the Capitol Attack
What we know about those arrested for the 6 January insurrection.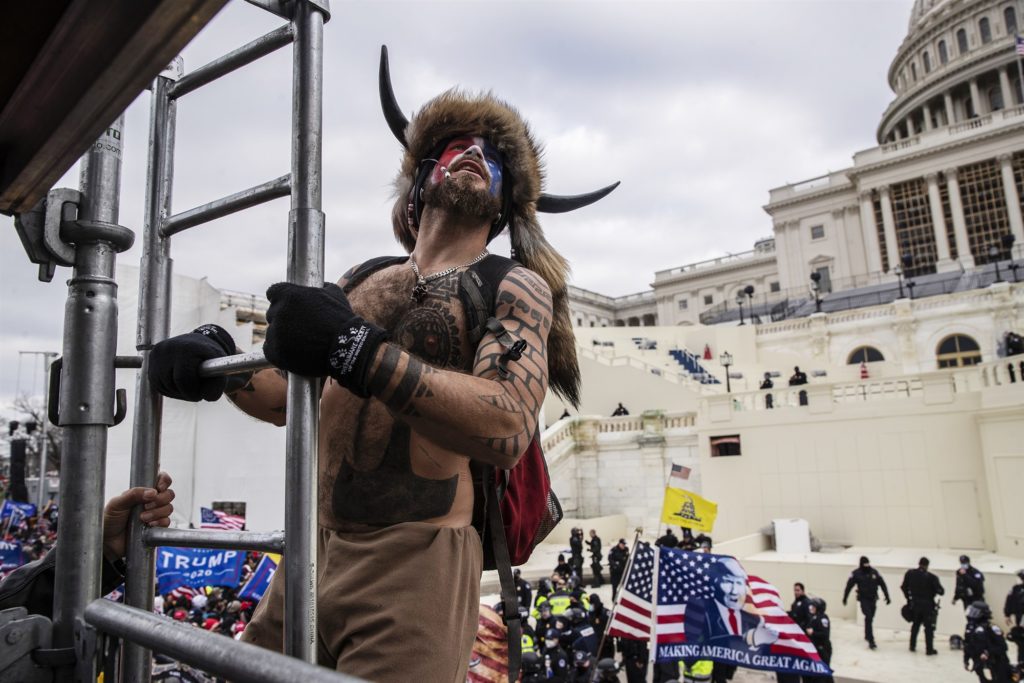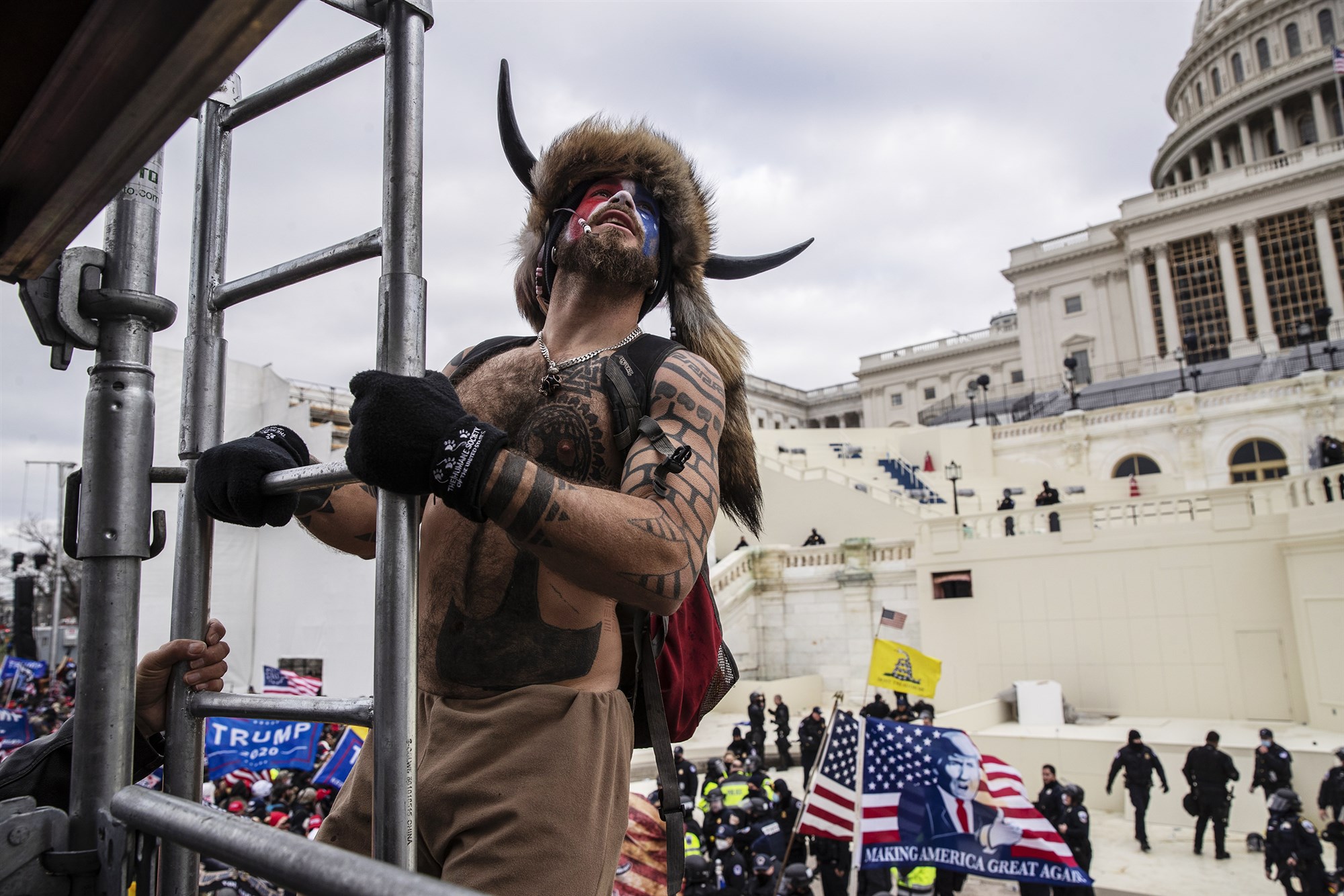 Michelle Boorstein, WaPo religion reporter, provides a fascinating if anecdotal picture in her report "A horn-wearing 'shaman.' A cowboy evangelist. For some, the Capitol attack was a kind of Christian revolt."
Late last month, one of the accused Jan. 6 Capitol insurrectionists told a D.C. judge that she didn't recognize his authority and was making a "divine special appearance." Another one of the accused streams a solo religious service each week that he calls "Good Morning Sunday Morning." A third runs a 65,000-subscriber YouTube channel where she shares Bible verses and calls herself a "healer of deep inner wounds."

Pauline Bauer, Stephen Baker and Jenna Ryan were among the thousands who descended on the Capitol in protest of what they falsely called a stolen election, including some who saw themselves engaged in a spiritual war. For many, their religious beliefs were not tied to any specific church or denomination — leaders of major denominations and megachurches, and even President Donald Trump's faith advisers, were absent that day. For such people, their faith is individualistic, largely free of structures, rules or the approval of clergy.

Many forces contributed to the attack on the Capitol, including Trump's false claims of electoral victory and American anger with institutions. But part of the mix, say experts on American religion, is the fact that the country is in a period when institutional religion is breaking apart, becoming more individualized and more disconnected from denominations, theological credentials and oversight.

That has created room for what Yale University sociologist Phil Gorski calls a religious "melee, a free for all."

"There have been these periods of breakdowns and ferment and reinvention in the past, and every indication is we're in the middle of one of those now," he said. "Such moments are periods of opportunity and creativity but also of danger and violence."

Some scholars see this era as a spiritually fertile period, like the ones that produced Pentecostalism or Mormonism. Others worry about religious illiteracy and the lack of supervision over everything from theological pronouncements to financial practices.

Even before Jan. 6, some sociologists said the fastest-growing group of American Christians are those associated with independent "prophets" who largely operate outside denominationalism. Less than half of Americans told Gallup in March that they belonged to a congregation, the first time that has happened since Gallup started asking in the 1930s.

Many Christians at the Capitol on Jan. 6 were part of more conventional, affiliated faith, including pastors, Catholic priests and bused-in church groups. But what researchers studying Jan. 6 find remarkable are the leaderless, idiosyncratic expressions of religion that day. Among them are those of Bauer, who wrote to a judge last month that she's a "free living soul" and an "ambassador of Christ," and of Jake Chansley, the "QAnon Shaman" who prayed to Christ at a dais in the Senate and calls himself a "multidimensional being."

"Those who are unmoored to a local church body are subject to the danger of allowing politics or business or sports or any other matter to become an inordinate focus of their lives. This problem is compounded by the effort to 'bless' such actions with a religious patina," Adam W. Greenway, president of Southwestern Baptist, one of the seminaries of the Southern Baptist Convention, told The Washington Post of the trend of DIY Christianity. "Pastors help their members keep matters in perspective and avoid Lone Ranger Christianity in which they are unaccountable to fellow believers."

Some have found in recent years a growing overlap between White Americans who put a high value on individualism and libertarianism and those who embrace Christian nationalism, a cultural belief that America is defined by Christian identity, heritage and social order and that the government needs to protect it. They are now looking at the way Trump's presidency united disparate groups — largely White— under the umbrella of Christian nationalism.

But Christian nationalists are not necessarily religious by conventional metrics, such as going to church, being part of a religious organization or scripture reading. Several studies in recent years have found differences between Christian nationalists who are religious and those who are less so.

Americans who have Christian-nationalist beliefs who do not attend church are more likely to have voted for and support Trump, compared with those who attend more regularly, said Paul Froese, a sociologist at Baylor University who published a paper on the topic in January.

For such people, Froese's paper says, affirming a kind of "mythical or even sacred" Christian nationalism can become a key part of their religious observance, one that comes from sources outside traditional church.

"You have people who have these idiosyncratic relationships with God — you're sort of taking off on your own," Froese told The Post. "You can say, 'God told me whatever.'"

Robert Pape, a University of Chicago political scientist who studies political violence, said his research on the Jan. 6 insurrectionists suggests what he has seen with other extremist movements: Where religion plays a role, it's not due to deep indoctrination or education.

Such individuals "tend to have a thin knowledge and understanding of their religion," Pape said. "Recruits tend to be making individual decisions about the ideologies they want to follow and even what it means. It's very much at the level of the individual."
What's not evident from this report is how many of the 500-odd people charged with crimes in relation to the 6 January Capitol attack were Christian nationalist* folks. Was it a predominant characteristic of the group? Or a mere handful?
My strong guess is that it's the latter and that Boorstein is straining to view the attack through a religious lens. Indeed, the cited report by Samuel Stroope, Paul Froese, Heather M. Rackin, and Jack Delehanty is an analysis of Trump voters in the 2016 election and has no mention of the Capitol attacks; indeed, it was likely submitted to the peer review process long before that incident. The abstract:
Prior research found that Christian nationalism was strongly associated with voting for Trump in the 2016 U.S. presidential election. However, the effects of Christian nationalism may depend on voters' religiosity. Using national data, we assess whether the association between Christian nationalism and Trump support differed for churchgoers and nonchurchgoers and find that Christian nationalism is not significantly associated with Trump support among churchgoing voters. Instead, Christian nationalism is only significantly associated with Trump support among unchurched voters. These results suggest that while religious sentiments remain key correlates of political attitudes and behavior in the United States, these ties may have less to do with embeddedness in traditional religious organizations and more to do with the ways people use religious narratives in everyday life to construct and defend symbolic boundaries. At a time when fewer Americans attend religious services, religious narratives about Christian nationhood may have their strongest political effects when, and perhaps because, they are detached from religious institutions.
The Pape report, by contrast, focused on the Capitol attack but hardly says anything at all about religion. It is almost entirely about white fears of a Great Replacement by Blacks and non-white Hispanics. Additionally, his team found that the early group of those arrested are quite different from those arrested in other rightwing violence: they were much less likely to be associated with a known militia or gang, they were much more likely to be from a county that voted for Biden, they were older, and they were relatively well off socioeconomically.
Turning to the larger society, Pape's team found that, while 74 million Americans (29%) believe the election was stolen, "only" 10 million (4%) believe violence is justified to rectify the situation. What separated that 4% from the rest? Far and away the biggest drivers were a belief in the Great Replacement and the consumption of more than 7 hours of social media on a daily basis. Indeed, the latter by a factor of 632%. Conversely, they were only modestly more likely to be Christian but, surprisingly considerably less likely to believe the End Times were near.
The bottom line, then, is that, while there seems to be good reason to believe that there is less adherence to traditional religious denominations and an increase in those looking for something to replace that, there's not much evidence that this has much at all to do with the riots. The only actual study cited of the rioters, in fact, found that it was a mobilization by then-President Trump of people who spent a lot of time on social media who believed in a Great Replacement.
*A previous version of the post used "Christian Identity," which is an overlapping but different movement.