Republican Congressional Leaders Skipping Selma Anniversary
Another tone deaf action from leading Republicans.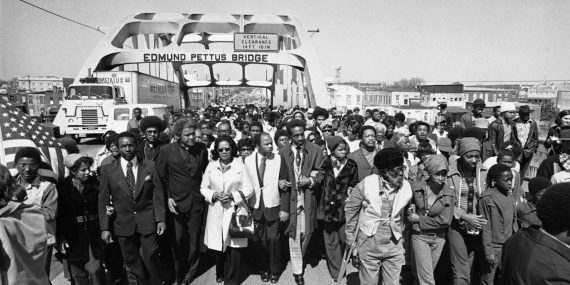 This weekend, President Obama, former President George W. Bush, and countless numbers of other Americans will gather in Selma, Alabama to mark the 50th anniversary of one of the most significant events of the Civil Rights Era, but there won't be any representatives from the Republican leadership in either the House or the Senate there:
Scores of U.S. lawmakers are converging on tiny Selma, Alabama, for a large commemoration of a civil rights anniversary. But their ranks don't include a single member of House Republican leadership — a point that isn't lost on congressional black leaders.

None of the top leaders — House Speaker John Boehner, Majority Leader Kevin McCarthy or Majority Whip Steve Scalise, who was once thought likely to attend to atone for reports that he once spoke before a white supremacist group — will be in Selma for the three-day event that commemorates the 1965 march and the violence that protesters faced at the hands of white police officers. A number of rank-and-file Republicans have been aggressively lobbying their colleagues to attend, and several black lawmakers concurred.

"It is very disappointing that not a single Republican leader sees the value in participating in this 50th commemoration of the signing of the Voting Rights Act. I had hoped that some of the leadership would attend, but apparently none of them will," said Congressional Black Caucus Chairman G.K. Butterfield of North Carolina. "The Republicans always talk about trying to change their brand and be more appealing to minority folks and be in touch with the interests of African-Americans. This is very disappointing."

Former CBC Chair Marsha Fudge (D-Ohio) agreed.

"Not only do they have an opportunity to participate in something that is historic in this country, but certainly they've lost an opportunity to show the American people that they care," she said. "Their loss."

Black leaders in Congress pressured Scalise to attend the Faith and Politics Institute event after news reports revealed that the Louisiana Republican gave a speech to a group connected with Ku Klux Klan leader David Duke when Scalise was still serving in the state Legislature. Scalise said late last month that a scheduling conflict would keep him from Selma this year but that he hoped to attend in 2016.

McCarthy has attended in the past but won't make the trip this year. Senate Majority Mitch McConnell (R-Ky.) will also miss the event.

Still, a number of rank-and-file Republicans are attending. Sen. Tim Scott, a South Carolina Republican, is a co-sponsor of the event along with Rep. Martha Roby of Alabama. Scott is the first African-American Republican elected from the South since the end of Reconstruction.

Roby's office said Thursday 23 Republican House and Senate members are registered to attend the pilgrimage.

Roby and Scott pressed a number of their GOP colleagues to attend the event in Alabama, which is expected to draw more than 100 members of Congress.
When I heard this report, immediately after I finished shaking my head in amazement at this latest example of political cluelessness on the part of the GOP, I was reminded of the 50th Anniversary of the March On Washington back in 2013, which was also marked by ceremonies and a large public gathering attended by many prominent public figures. Back then, both Speaker John Boehner and then Majority Leader Eric Cantor declined invitations to speak publicly at the event. As with that event, it seems short-sighted and stupid for Republican leaders to ignore something like this, or to ostensibly turn it into a partisan even by default. The events that occurred in Selma 50 years ago were a turning point in the Civil Rights Movement, a seminal event in post-World War Two American history. It makes as little sense for national leaders from either political party to ignore a significant anniversary of that events as it would for them to ignore the anniversary of the September 11th attacks, which of course no Republican would do. The fact that nether Boehber, McCarthy, Scalise, nor McConnell is showing up, or at least sending some kind of official representative, is pretty pathetic.
To be fair, it's worth noting that there will be Republicans at the event this weekend. As noted. former President George W. Bush will be speaking and South Carolina Senator Tim Scott will be there as well, to pick just two examples. However, the lack of any kind of representation from Republican leadership will be conspicuous, and it will cause some people to make conclusions about how much Republicans actually care about the minority community in this country. Whether the conclusions that they will draw are fair or not, Republicans will have nobody to blame but themselves for reinforcing the stereotype of a party that would rather pander to white Americans that reach out to minorities.