Republicans and Democratic Backsliding
When winning is the only acceptable outcome.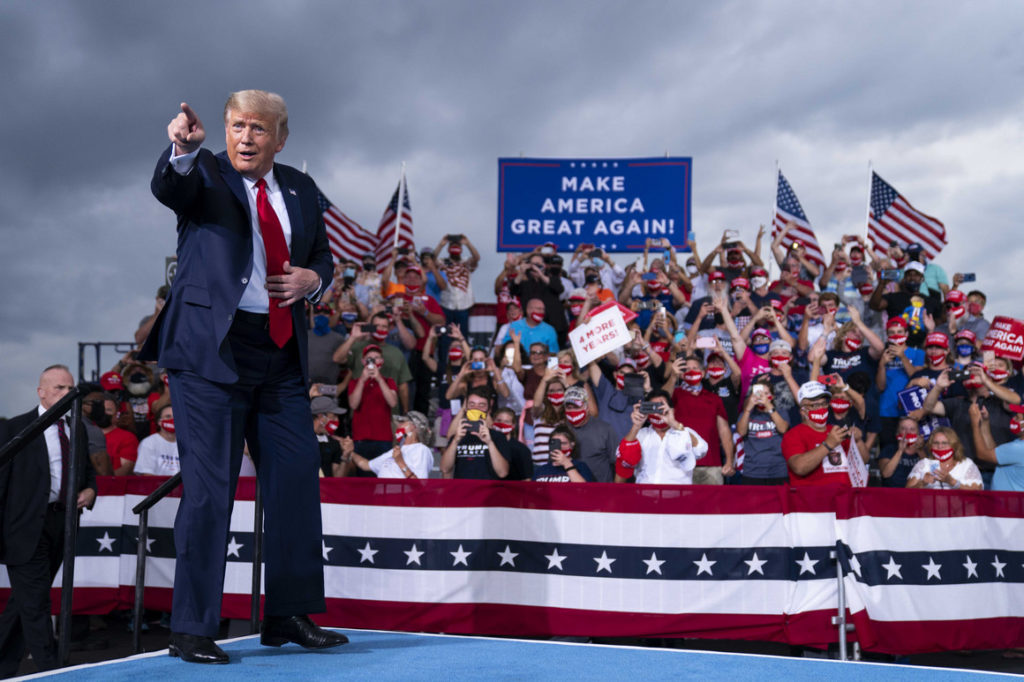 For decades, going back to at least Newt Gingrich's heyday, Republican leaders and affiliated talking heads made a practice of referring to the opposition as the "Democrat Party." While I always considered it childish, I at least understood it: "Democratic" has positive connotations in a way "Republican" hasn't in several generations and both parties,* after all, were committed to democratic principles.
Fast forward three decades and that's simply no longer the case. While partisan gerrymandering is a longstanding, bipartisan practice, Republicans at the state level increasingly resorted to desperate, undemocratic measures to make it harder for folks likely to vote for Democrats to vote. In the Trump era, things got radically worse, with any outcome other than a Republican victory deemed illegitimate. This, of course, culminated in the attempt to steal the 2020 election when it didn't go Trump's way.
This mindset has metastasized to the point where attempts to overturn legitimate democratic outcomes have become routine. There are multiple instances just in the overnight news.
The (Nashville) Tennessean ("Expulsion vote thrusts Tennessee politics onto the national stage, could set precedent"):
Tennessee's Republican supermajority is poised to take the unprecedented move of expelling three Democrats as punishment for violating House decorum rules by using a bullhorn on the House floor to lead a protest calling for gun reform.

House members are expected to vote Thursday to remove Reps. Gloria Johnson, D-Knoxville, Justin Jones, D-Nashville, and Justin Pearson, D-Memphis, from elected office after the trio brought the chamber to a halt for nearly an hour last week by speaking out of order following the deadly shooting at The Covenant School – a move House Speaker Cameron Sexton later likened to "an insurrection."

"What they did was try to hold up the people's business on the House floor instead of doing it the way that they should have done it, which they have the means to do," Sexton said. "They actually thought that they would be arrested. And so they decided that them being a victim was more important than focusing on the six victims from Monday. And that's appalling."

House leadership has never overridden a member's election for simply violating House rules. Only two House members have been expelled from the chamber since the 1800s, both after either criminal charges or sexual misconduct allegations. Both of those times, in 1980 and 2016, followed special committee inquiries and were bipartisan votes.
NBC News ("A liberal just won the Wisconsin Supreme Court race. Republicans are already talking about impeaching her."):
Janet Protasiewicz may have just won a seat on the Wisconsin state Supreme Court, flipping the ideological balance of the court to the bench's liberal bloc for the first time in 15 years.

But if a newly elected Republican state senator gets his way, that could all come crashing down.

A GOP win in another Wisconsin race this week — the state Senate's 8th District — gave Republicans a supermajority in the chamber. With that power, Republicans there will have the ability to pursue removal proceedings of certain elected officials if the Assembly votes to impeach them.

In the closing days of his campaign, Republican Assemblyman Dan Knodl, who won that exurban state Senate district outside Milwaukee, said that he would consider impeaching Protasiewicz from her current position as a judge on the Milwaukee County Circuit Court.

Now, with Protasiewicz's victory Tuesday, the comments quickly spurred concerns among Democrats in the state that Republicans in the Legislature would make a move against Protasiewicz's seat in the Supreme Court.

[…]

Knodl — one of 15 Wisconsin GOP state lawmakers who urged then-Vice President Mike Pence to refuse to certify the 2020 presidential election results — narrowly won election, The Associated Press projected Wednesday morning. The seat had been left vacant after Republican incumbent Alberta Darling retired in November. Because her retirement took place after Election Day, Evers scheduled a special election.

Knodl's win gave Republicans 22 votes in the Senate — an amount equivalent to a two-thirds majority in the chamber of 33 seats. This affords the party the ability to override vetoes from the governor, if the state Assembly also votes to do so, as well as to convict and remove officials in impeachment trials.

Under the Wisconsin Constitution, the state Assembly can impeach with a simple majority "all civil officers of this state for corrupt conduct in office, or for crimes and misdemeanors." The Wisconsin Supreme Court has previously ruled that those civil officers include the governor, lieutenant governor and judges.
New York Post ("At least two Republican DAs want to prosecute Bidens: Rep. James Comer"):
At least two local GOP prosecutors are looking at ways to charge President Biden and his family amid Manhattan District Attorney Alvin Bragg's prosecution of former President Donald Trump, House Oversight Committee Chairman James Comer revealed Wednesday.

"I had two calls yesterday, one from a county attorney in Kentucky and one from a county attorney in Tennessee," Comer (R-Ky.) told "Fox & Friends." "They were Republican, obviously, both states are heavily Republican. They want to know if there are ways they can go after the Bidens now."

Comer is leading a House Republican investigation into Joe Biden's role in his family's international business dealings in countries such as China and Ukraine. The lawmaker's staff recently reviewed Suspicious Activity Reports filed by banks to the Treasury Department regarding possible criminal activity by the Biden family.

There are a number of possible legal theories under which President Biden and his relatives could face non-federal criminal charges — after Bragg, a Democrat, unfurled a novel legal theory Tuesday to charge Trump, who is the leading candidate to run against Biden in the 2024 election.

[…]

Republican legal activists last week told The Post they expect Republican prosecutors to target the Bidens after Bragg made history by bringing the first-ever criminal case against a former president — perhaps by citing uncharged federal offenses, as Bragg did.

"You can be sure that there are prosecutors across Florida and Texas right now who are looking for a state law hook into the Biden family," said Judicial Watch president Tom Fitton. "And if they're not, they're not doing their jobs."

Mike Davis, a former chief counsel for nominations on the Senate Judiciary Committee and president of the Article III Project, floated legal theories for possible prosecutions.

"I think our Republican AGs and DAs should get creative," Davis said.

"You just need probable cause. A grand jury can indict a ham sandwich. We just saw that in New York. And the Bidens actually committed real crimes. These are real crimes that the Bidens committed. There is smoking-gun evidence that the Bidens were corruptly and illegally on Chinese and Ukrainian oligarchs' payrolls."
Let's stipulate that only the first of these is about something imminent; the other two are potentially just people spouting off. But the fact of the matter is that they're doing so because they believe, with good cause, that anti-democratic messaging will play well with their base.
Politics in a representative democracy is supposed to be a clash over public policy. To be sure, personality, value signaling, and cultural fights have always been part of the mix. But there was a time, not long ago, when losing parties in our elections graciously conceded their defeat and then went back to the drawing board to figure out why their message wasn't persuading the voters.
I honestly can't explain why this shift occurred. Partly, it's a function of the extreme sorting of the two parties. We've gone from two catch-all parties, where Northern Republicans were more liberal than Southern Democrats, to essentially a rural-religious party and an urban-professional party. Losing becomes existential in that scenario and both sides are less inclined to lose graciously.
Still, there's a categorical difference between being a sore loser, claiming that the election was rigged or showing up in droves to proclaim a Resistance to the winner, and trying to overturn the outcomes by chicanery or violence. While neither is healthy for the polity, the latter is potentially fatal.
_________
*UPDATE: By this, I mean the adjectives themselves, not their association with the two parties. "Democratic" is still a word in common usage outside the partisan context, whereas "Republican" is essentially never heard other than as the name of the political party, save perhaps by political scientists. Indeed, this is true of the noun forms as well. Aside from the tiresome "we're a Republic, not a democracy" argument, when was the last time you heard someone use the word? Yet "democracy" is used all the time.