Republicans Just Can't Quit Donald Trump
Republicans are going to find it difficult to distance themselves from Donald Trump.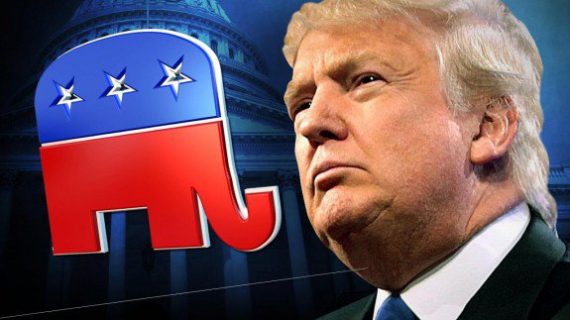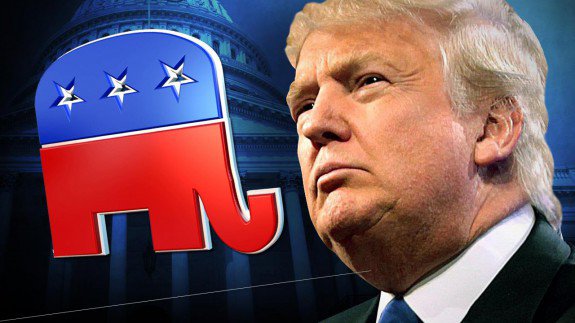 Donald Trump is consistently being caught in lies. His Administration deals in half-truths and outright fabrication with an ease unseen since the Nixon Administration. In terms of leadership, he's proving himself to be an utter failure, and on the international stage, he's proving to be an embarrassment given his recent meetings with leaders such as British Prime Minister Theresa May and German Chancellor Andrea Merkel. His Administration is being investigated by the Federal Bureau of Investigation for contact with Russian officials before the November election as part of a broader investigation of Russia's efforts to influence that election. Along with all of this, his Job Approval and personal favorability numbers are headed in the wrong direction for a newly elected President. Despite all of this, Donald Trump continues to be defended by most Republicans.
Despite all of this, and rather than calling for immediate investigations and speaking out against him, most Republicans continue to defend the President of the United States. This is true both of rank and file Republicans and Republicans on Capitol Hill who remain reluctant to openly defy him in apparent fear of retaliation and instead continue to defend him from attack and, of course, criticism by pundits on the left and the right. When you think about it logically, it makes little sense. Trump has no history with the GOP before 2015 and in the past has identified himself as both a Democrat and an Independent. His position on policy issues are about as far removed from traditional conservatism as you can get in a number of respects, and his poll numbers clearly indicate that he is likely to become an albatross around the party's neck in the future. And yet, as Paul Waldman notes, Republicans just can't quit Donald Trump:
[E]very time Trump says something ridiculous, Republicans have to ask themselves: Do I help him on this or not? Some lies he tells are exaggerated versions of the lies they themselves tell, like the idea that three million people voted illegally. Republicans have all invested in the lie that says there is massive voter fraud; most just are careful enough not to put any numbers on it.

Other lies, though, are purely personal to Trump, like the idea that he had the largest inauguration crowd in history. They don't justify a policy or serve some other collective purpose; they're just about Trump feeling good. Defending him on that does nothing to help you with anyone but Trump himself.

Then there are questions that aren't about policy, but threaten the administration to a profound enough degree that Republicans may feel they have no choice but to rally to Trump's defense. The ever-widening Russia scandal falls into that category, which is why we've seen only a few Republicans admit that there's something troubling about a hostile foreign dictator manipulating our election, or that a report that the president's campaign manager had a $10 million per year contract with a Russian oligarch to advance Vladimir Putin's political interests might raise some alarming questions.

If Republicans are tempted to distance themselves from Trump over the Russia scandal, they'll probably be stopped by the realization that any serious threat to his presidency quickly becomes an equally serious threat to their agenda. A president crippled by a major scandal will be far less able to deliver on tax cuts for the wealthy or deregulation for corporations.

And that was the reason almost every Republican lined up behind Trump in the first place: They may have had their reservations about him, but he'd help them do all the things they'd been yearning to do for eight years. Yet now they can't escape the devil's bargain they made.

There are some Republicans more enthusiastic about Trump than others and some that are more sycophantic toward him. But sooner or later, almost all of them will wind up defending him, whether it's about particular lies he's told or scandals he's embroiled in. The stain of cooperating with Donald Trump will be on all of them, and it will never wear off,
In other words, Republicans have gone so far in selling their souls and tying their agenda to Donald Trump that it's essentially too late to step back now and try to disentangle the two. The process really began long before Trump took office, of course. While there was a nascent "Never Trump" movement that tried to stop Trump from winning the Republican nomination, that movement was far too little, far too late. For one thing, the opposition remained largely silent until it was too late to make a difference because we had reached a point where Trump gaining a majority of the delegates to win the nomination outright was essentially an inevitability. Before that point, many people on the right either didn't take Trump seriously or remained quiet in the hope that ignoring him rather than confronting him would somehow make it all go away while others backed candidates such as Marco Rubio who were clearly incapable of taking on Trump directly. Still others backed bizarre schemes to force an open convention or back an unnamed third-party candidate in the General Election that clearly lacked any planning or logical thought on the part of those advancing the ideas. To be fair, any of the original "Never Trump" crowd was genuine in its opposition to Trump and remains so to this day. Once it became clear that Trump was going to win despite those efforts, though, more and more of them, and more and more Republicans who had remained on the sidelines dutifully lined up behind their party's nominee. Now that he's the President, that sense of blind partisan loyalty kicked in even further, whether lawmakers who had previously refused to endorse Trump such as Paul Ryan dutifully lining up behind Trump notwithstanding what had been said about him in the past, in some cases by the same politicians now defending him.
The reasons for this are numerous, of course. In some cases, it's a matter of pure and simple opportunism. The GOP holding both Congress and the Presidency gives Republicans an opportunity they haven't had since the 2006 election to enact their agenda with little if any ability on the part of Democrats to block them, so if the price to pay for that is supporting a man like Trump many see it as a price worth paying. In other cases, it's a matter of pure personal opportunism since there is always a personal advantage to having a relationship with the White House even with a President as unpopular as Trump. Others, as Waldman suggests, are under the illusion that they can use Trump to pass their agenda without worrying that the taint of his Administration will rub off on them. As polling is already showing, that probably isn't going to be the case. Finally, there's the fact that many of these Republicans agree with Trump's positions even if they don't want to publicly admit it. Whatever the reasons, though, by so closely identifying with an already unpopular President this early, Republicans guarantee that they will be held politically responsible for what happens down the line. In the seemingly unlikely event that things turn out well, they'll get the credit. In the far more likely event that things turn out badly, they'll be tarnished at least as badly as they were after George W. Bush, and possibly as badly as they were in the aftermath of the resignation of Richard Nixon in 1974. At that point, it will be too late to do anything about it, indeed it may already be took late. The Republicans have made their choice, now they have to live with it.