Republicans Win House Big; Tea Party Costs Them Senate
The enthusiasm for Tea Party candidates likely helped the House Republican wave. But it also likely cost the GOP four Senate seats that it would otherwise have won -- and thus the majority.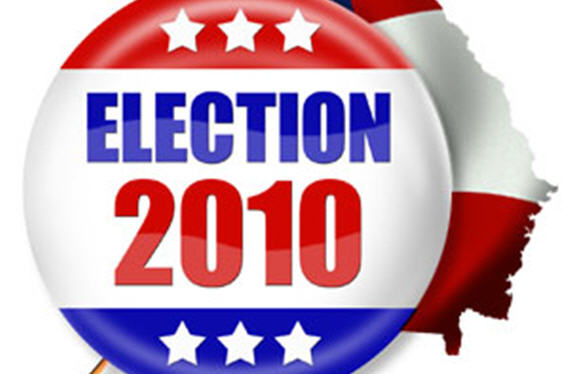 With several close races still to be counted, it's appearing that the Republicans will gain 60-65 seats in the House, exceeding the polls by 5-10 seats.  Also as expected, they'll fall short of taking back the Senate.   The enthusiasm for Tea Party candidates likely helped the Republican wave.  But it also likely cost the GOP four Senate seats that it would otherwise have won — and thus the majority.
NYT's Michael Cooper's analysis is titled "Victories Suggest Wider Appeal of Tea Party."  It's in inapt title.
The Tea Party victories by Rand Paul of Kentucky and Marco Rubio of Florida underscored the extent to which Republicans and Democrats alike may have underestimated the power of the Tea Party, a loosely-affiliated, at times ill-defined, coalition of grass-roots libertarians and disaffected Republicans.

In exit polls, four in 10 voters expressed support for the Tea Party Movement. And Mr. Paul called his win part of "a tea party tidal wave" in his victory speech.

But other races showed the clear limits of the Tea Party's appeal. The movement cost the Republicans a chance to pick up Vice President Joseph R. Biden's old Senate seat in Delaware when Christine O'Donnell, a Tea Party favorite who was put on the defensive by her colorful past, lost as expected to Christopher Coons, the Democrat. And in the Colorado governor's race Dan Maes, the Tea Party-backed candidate who won the Republican nomination, finished third in a three-way race. Republicans feared that they might be among several outspoken, highly conservative Tea Party candidates who could cost them other races they had thought they could win.

Still, the early victories in Kentucky and Florida — along with the victory of Nikki Haley, a Tea Party-backed candidate, as the governor of South Carolina — showed a strength to the movement that seemed unlikely just a year ago.
The problem with this analysis is that Kentucky, Florida, and South Carolina would surely have gone Republican with a more traditional candidate.  And Colorado, which seems to be on the verge of electing a Republican Senator (the race is still too close to call definitively) would certainly have been more competitive.
The most disappointing loss of the night was in Nevada, where Senate Majority Leader Harry Reid was ridiculously unpopular.   So much so, that it appeared that a crazy, stupid woman was going to beat him.   A candidate who's handlers basically spent the whole period after the primaries telling her to stop making public appearances lest more people find out what a stupid loon she is.
In Delaware, Mike Castle would have cruised to victory.  He's a Republican In Name Only, of course.   But that would have been a vote for Mitch McConnell as majority leader.   Instead, we got a very liberal candidate who'll vote for Harry Reid.   (The same Harry Reid, whom you'll recall from earlier, would surely have lost running against any other conceivable candidate but the stupid, crazy woman the Tea Partiers backed.)
In West Virginia, where the GOP had hoped to take the seat held since roughly the Civil War by Robert Byrd, Democratic Governor Joe Manchin beat Republican Joe Raese by a much-wider-than-expected margin.
Still, the Republicans took back Pennsylvania, which they lost when Arlen Specter switched to save his ass.  It didn't work.  Pat Toomey has won by 80,000-odd votes out of nearly 4 million cast.  They beat Russ Feingold in Wisconsin.   Mark Kirk won Barack Obama's Senate seat!
Three other races which were expected to be close were and are yet to be decided:
In Colorado, incumbent Democrat Michael Bennet holds a narrow lead over Republican Ken Buck with 88% reporting.  Again, this is a case where a more mainstream Republican would likely have won easily.  Buck's a global warming denialist and thinks homosexuality, like alcoholism, is a choice.
In Washington, with 65% reporting, it's a 50-50 tie between Democrat Patty Murray and perpetual candidate Gino Rossi, who always seems to lose in recounts
In Alaska, Tea Party Republican Joe Miller is doing much less well than he was polling and is badly trailing "write-in candidates, including Lisa Murkowski" with 76% reporting.  That one may take a while to sort out.