Sanders And Clinton Split Victories, Clinton Has Nomination In Sight
Hillary Clinton and Bernie Sanders split victories in Kentucky and Oregon last night, and Clinton is now less than 100 delegates away from an historic victory.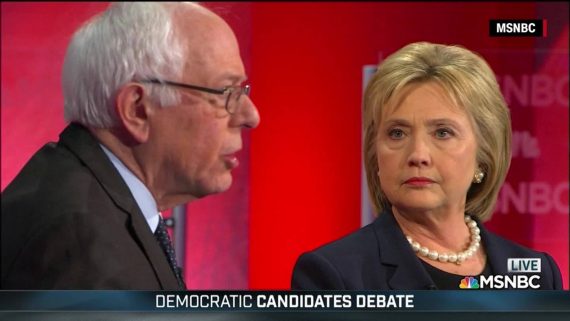 Bernie Sanders won the Oregon primary as expected and Hillary Clinton pulled off what appears to be a narrow victory in Kentucky last night, but once again the real story of the night is Hillary Clinton coming one step closer to becoming the first woman to win the Presidential nomination of a major political party in American history:
Senator Bernie Sanders prevailed over Hillary Clinton on Tuesday in the Oregon primary, according to The Associated Press, while Mrs. Clinton claimed victory in a tight race in Kentucky, the day's other contest.

Mrs. Clinton raced around Kentucky in the two days before the primary, hoping to fend off Mr. Sanders in a state that she won easily in 2008. In unofficial results late Tuesday night, Mrs. Clinton edged Mr. Sanders by about 1,900 votes, or less than half a percentage point, with all counties reporting. The Associated Press had not declared a winner by midnight.

The close result meant that she and Mr. Sanders would effectively split the state's delegates. Nonetheless, winning Kentucky would give her a symbolic triumph that could blunt the effect of her loss in Oregon as she turns her attention to Donald J. Trump, her likely general election opponent.

With a lead in delegates that is almost impossible for Mr. Sanders to overcome, Mrs. Clinton is moving closer each week to claiming the Democratic nomination. But her march has been encumbered by Mr. Sanders's persistence in the race and his success in recent contests, including victories in Indiana's primary on May 3 and West Virginia's last week.

His continued strength has put a spotlight on her vulnerabilities as she heads toward a likely general election matchup with Mr. Trump, and on a lack of unity, and even fractiousness, within the Democratic Party.

Last weekend, bitter feelings from Mr. Sanders's supporters spilled into view at Nevada's state convention, which descended into chaos, prompted death threats against Nevada's Democratic chairwoman and raised the prospect of discord at the national convention in July in Philadelphia. The fury was sparked after a dispute over convention rules and delegate qualifications that supporters of Mr. Sanders saw as unfair.

With Mr. Sanders pressing on with his campaign and Mr. Trump now the presumptive Republican nominee, Mrs. Clinton has been campaigning against two opponents at once, trying to defeat Mr. Sanders in state after state while also building an argument against Mr. Trump.

Her task was on display as she campaigned on Sunday and Monday in Kentucky, where she spoke at a pair of black churches in Louisville, greeted patrons at a smoky diner in Paducah and held a series of rallies where she warned about Mr. Trump while urging voters to support her on Tuesday.

In an acknowledgment that she was still engaged in a primary battle, she faulted Mr. Sanders for voting against the auto industry bailout, a claim that is not as clear-cut as she suggested it was.

But she was more expansive in taking aim at Mr. Trump, calling him a "loose cannon" and warning about his views on foreign policy, which she said "will be a big part of the general election."

"I'll tell you this," she told patrons at the diner on Monday, "I'm not going to give up on Kentucky in November."

Mr. Sanders also spent time in Kentucky, with rallies over the weekend in Bowling Green and Paducah.

He, too, looked toward the general election, arguing that he, not Mrs. Clinton, was the more formidable candidate to take on Mr. Trump, citing polls of hypothetical matchups.

Speaking on Tuesday night at a rally in Carson, Calif., Mr. Sanders said: "There are a lot of people out there, many of the pundits and politicians, they say, 'Bernie Sanders should drop out. The people of California should not have the right to determine who the next president will be.'"

"Well, let me be as clear as I can be," he continued. "We are in till the last ballot is cast."
More from The Washington Post:
Democratic front-runner Hillary Clinton declared victory in the Kentucky primary on Tuesday, potentially disrupting a string of expected primary losses this month that had threatened to weaken her even as she turned her focus to her likely matchup against Republican Donald Trump in the general election.

Sen. Bernie Sanders of Vermont, meanwhile, was declared the winner of Oregon's Democratic primary.

The outcomes will do little to change the dynamics in the race. In Kentucky, Sanders had hoped to continue a state winning streak that began in Indiana and West Virginia this month.

With 99.8 percent of precincts counted, Clinton was ahead by less than 1 percentage point, and the Associated Press declared the race too close to call. Asked whether Sanders would consider seeking a recount, spokesman Michael Briggs said in an email: "We'll take a closer look at the numbers in Kentucky and make a decision on Wednesday."

Although Sanders had been favored to win Kentucky in recent polls, Clinton's advisers sensed an opportunity to pull out a victory and invested heavily in the state in recent days. Clinton campaigned in Kentucky throughout the weekend and sent surrogates to appear on her behalf, including former president Bill Clinton.

Sanders drew large audiences across the state, while both Clintons at times faced unfriendly crowds in a state that once supported Bill Clinton overwhelmingly but that, in part because of the decline in the coal industry, has evolved into a redder state.

Sanders also spent time and money in recent days in other primary states, including Oregon and California. At a rally in Carson, Calif., late Tuesday, Sanders said: "It appears tonight that we're going to end up with about half of the delegates from Kentucky."

He also declared that winning the nomination remained possible. "No one can predict the future, but I think we have a real shot to win the primaries in a number of the states coming up," he said. "Don't tell the secretary of state. She might get nervous. I think we're going to win here in California."
Notwithstanding Senator Sanders' optimism, which is bordering on the delusional, the story of this week in the Democratic race mirrors the story that we have seen for the past two months or more. Regardless of whether or not Bernie Sanders continues to pick up victories here and there, the advantage that Hillary Clinton gained with her early victories in the south beginning in South Carolina, combined with delegate allocation rules that tend to undercut the value of the big victories that Senator Sanders has had in some states since this race began, mean that she is moving forward with an advantage in the delegate count that is essentially unstoppable at this point. With last night's results and the estimated delegate distributions from Oregon, where Sanders' victory appears to have only given him a four delegate advantage, and Kentucky, where the candidates appear to be evenly splitting the delegates for the most part, Hillary Clinton is now only 91 delegates away from clinching the Democratic Presidential nomination. More likely than not, her victory will become official by the end of the night on June 7th regardless of the outcome of the individual races, although Clinton's campaign would obviously prefer to end the race with victories in states like California and New Jersey rather than winning the nomination even though Sanders managed to win several more primaries. As for Sanders, he stands at more than 850 delegates away from being able to claim the nomination, which means he'd have to win an effectively impossible 90% of the remaining delegates or convince the vast majority of Superdelegates to support him notwithstanding the fact that Hillary Clinton has garnered more delegates and more popular votes than he has. Neither one of these things is going to happen, and it strikes me that it's long past time for Senator Sanders to start being honest with his supporters and stop deceiving them with claims about victory that simply aren't going to come true.
One result of Sander's lack of honesty with his supporters has been a sense of growing conflict inside the Democratic Party over the outcome of the nomination fight between him and Clinton that could portend problems at the convention in Philadelphia. Hints of what could come became apparent last weekend at the state Democratic convention in Nevada, which erupted into shouting and violence as Clinton and Sanders supporters clashed over the selection of delegates to the national convention. Those events, combined with the fact that Sanders has increasingly been directing his rhetoric against the Democratic Party as a whole, have led many top Democrats to worry that restive Sanders supporters could cause problems at a convention that, not too long ago, most people assumed would be a coronation for Hillary Clinton. At some point, it seems clear that Sanders is going to have to tell his supporters that they must face reality and rally behind Clinton, or he will end up doing more harm than good to the causes he purports to represent. The choice is his at this point.