Return of the Technocrats? Or Sinking in the Swamp?
Policy wonks are seeing a refreshing return to the normal order. Some believe that's a bad thing.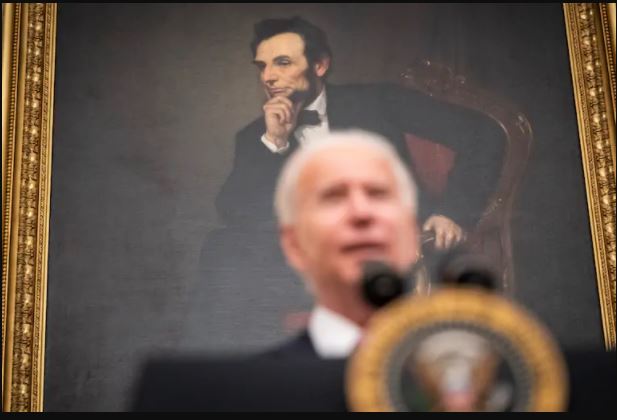 At WaPo, reporters Annie Linskey and Ashley Parker examine the first few days of the Biden administration in "Return of the technocrats: Biden aims for 'normal' after four years of tumult."
After discussing the flurry of Executive Orders already signed, the proclaim,
The technocrats, in other words, are back — complete with their return to regular order and aspirations of rigorous monotony.

The whirlwind of activity, both public and private, was part of a planned launch of Biden's presidency that began in late April — before he had formally clinched the Democratic nomination — designed to showcase Biden's promise to restore what he and his aides view as normalcy to the White House.

"They are running normal policy processes," said Neil Bradley, executive vice president and chief policy officer at the U.S. Chamber of Commerce. "For those of us who've been in Washington a long time, it is the normal policymaking process that we've been familiar with for a long time. And that, from our perspective, seems to produce better, more informed policy."

But if Biden and his team view his mantra of "Build Back Better" as a lofty goal, many Republicans see it as a return of the swamp. Former president Donald Trump's rise was fueled by voters who viewed Washington as a town of bureaucrats and elites removed from the struggles of their daily lives — and who appreciated Trump's disdain for the usual way of doing things.

"I'm not sure what a new normal looks like, because I think the Trump way of doing things and his nonpolitical approach has a certain appeal to voters, and that's going to have to be part of this new normal," said Neil Newhouse, a Republican pollster.

Referring to Biden's relatively staid Twitter feed, Newhouse joked, "Are we still waiting for his first tweet? Many Americans are used to right now communication by Twitter. I think some people actually miss that."
Neil, a founding partner of the most important Republican polling firm, was my late first wife's employer and remains a friend of the family. And I'll certainly defer to his expertise as to the pulse of the 47 percent of the electorate who preferred another Trump term.
I can't imagine most Americans care much one way or the other about process per se. But, certainly, they care about what policies are made and how it affects their lives. To the extent that elites are acting as puppetmasters without regard for its impact on regular people, it'll obviously backfire.
Granting that my social circles are elite* by this standard, most of the Trump supporters I know did so despite the tweets rather than because of them. While some enjoyed Trump's pugnaciousness, most cringed at the volume and, especially, the crassness.
Beyond that, I can't imagine many are longing for a President and administration that constantly feeds them lies and misinformation. It's one thing to shoot from the hip, saying what you mean, and occasionally getting out over your skis as a result. It's quite another to actively mislead the public that you're elected to serve.
Moreover, while Trump himself engaged the public—or, more accurately, his core supporters—via Twitter on a constant basis, the administration as a whole largely did not. The Pentagon and State Department, in particular, all but stopped their daily press briefings. For that matter, while Trump was quick with a tweet, he essentially stopped giving press conferences.
As for me, a policy wonk, it's not surprising that I like a return to professionalism. In contrast to all the attention given to Elizabeth Warren's "I have a plan for everything" approach, this was wildly underreported:
Biden tapped former senator Ted Kaufman of Delaware on April 22 to run his transition. He pulled in several others, and what started as handful of trusted Biden advisers ballooned to a staff of more than 400 paid transition employees by Jan. 20.

An additional 1,000 volunteers also helped in a number of ways, including vetting potential hires — a mammoth task that involved more than 8,000 interviews.

Guided by Biden's speeches and remarks on the campaign trail, they turned the candidate's public decrees and promises into legislative language. When Biden delivered his major economic speeches over the summer, they took the text and broke it down into separate executive orders and tracked what he was promising on the first day, first week and first 100 days.

[…]

Proposals were drafted and then vetted by multiple rounds of attorneys, including career lawyers inside the Justice Department. Two major pieces of legislation were put together: one for coronavirus relief and another on immigration.

There was also an employee handbook for the transition. "There is no transition without a successful campaign" was one quote from the book. Another focused on tone: "No egos, no drama, no task too small for anyone. We have each other's backs."

Their work accelerated once Biden was elected, with transition officials contacting interest groups in key players in Washington, making over 3,500 calls to organizations, according to a transition official.

The groups included the typical constituencies that are part of the Democratic coalition including labor unions, civil rights organizations and women's groups. But they also targeted those more typically aligned with the GOP.

"Uniting America is not about just giving speeches — it's not even about announcing policies," Kaufman said. "It's about getting down, doing the hard work and talking to members of Congress, talking to governors and talking to people in normally Republican areas."

Bradley, whose group has commonly aligned with Republicans, called it "a highly organized, I would say very efficient process."

"It removes multiple layers of uncertainty or confusion," he said. "We may not always agree with the direction that they're going, but at least you have a sense of understanding it and that is exceptionally helpful to the business community — just knowing how policy is unfolding."
This is how governing is supposed to be done. Not only are the policy experts working on the details, but it's being vetted by lawyers and legislative staff for legality and viability. Otherwise, it's just pie-in-the-sky wishful thinking.
Contrast this with four years ago.
Not only had the Trump team done precious little transition work in the months ahead of his surprising victory, but he then blew it up entirely and started over in the weeks after. Indeed, there was never a point in his administration where things were as organized as Team Biden was from Day 1.
Now, competent execution of a policy vision that you hate is arguably worse than amateurish execution of one you favor. Except that, because of the sheer incompetence of the team he surrounded himself with, most of Trump's signature policies were slapped down in court precisely because of that incompetence. He could easily have gotten away with the travel ban, exclusion of illegal immigrants from the Census, and countless other policies his critics hated had his team simply done the work of jumping through the necessary legal hoops.
Beyond that, the combination of professional administration and his own natural instincts has me thinking it's possible—not likely, but more than sheer wishful thinking—that Biden can break through the long cycle of partisan gridlock.
Biden's nominees also have been making the rounds, such as a visit by treasury secretary nominee Janet Yellen with the National Association of Manufacturers executive committee.

It was "a very candid, open, frank conversation," said Jay Timmons, the group's president.

Timmons, who was once the head of the National Republican Senatorial Committee, said that Biden's approach has been "refreshing."

It helps that he's known Biden since he was a Senate aide two decades ago. "In Joe Biden, you have just a decent human being," Timmons said. "He's willing to listen to all points of view."

The outreach provided an early benefit when these right-leaning groups, including the Chamber, NAM and the Business Roundtable issued statements on Jan. 4 urging members of Congress and others to accept Biden's electoral college victory.

That happened in some cases after the Biden transition team reached out asking for the help, according to a business lobbyist familiar with the effort who spoke on the condition of anonymity to discuss private talks.

"They expressed their concerns about the road that we were going down and where that might lead, which were, frankly, concerns that a lot of people in the business community shared," the lobbyist said.

The Biden team's message was clear: "Folks speaking up would be helpful," the lobbyist recalled. "A lot of folks in the business community were happy to." Biden's transition team confirmed the outreach to business groups, but noted that in some cases business organizations proactively asked how they could help.

White House press secretary Jen Psaki has highlighted the support for Biden's coronavirus relief package from business groups, saying there has been an "outpouring of support" for various parts of the package "from everyone from Bernie Sanders to the Chamber of Commerce."
Aside from his sheer decency and his decades of relationships across the aisle, Biden is enough of a pro to understand the situation he's in. Yes, he won by more than 7 million votes; but, again, 47 percent preferred the other guy even despite more than a quarter-million dead from a pandemic under his watch by Election Day. Yes, his party took the Senate and retained the House. But the margins are razor thin and very likely to flip in two years.
So, rather than trying to ram everything down people's throats, he's building bridges ahead of his announcements. He's actually asking those who would be his most well-heeled critics for their input before announcing his agenda to see where there's common ground.
But the Biden team's concerted effort to revive some of the basic traditions of past White Houses also has its risks. Washington trying to work together can look an awful lot like elites palling around, or the overly clubby atmosphere that gave rise to the early enthusiasm for Trump's candidacy.
So, I think this misframes the problem.
There is, indeed, a sense that "elites" of both parties are looking out for their fellow elites, the wishes of the common folk be damned. Yes, it helped fuel Trump in the 2016 primaries but it was also the impetus for the rise of Bernie Sanders, one of the least natural politicians imaginable, as a serious challenger to Hillary Clinton on the Democratic side. It's the main appeal of Elizabeth Warren, too. Going further back, it was a major component of the Tea Party movement.
Elites in both parties—and, again, I include myself in this—spent decades extolling the virtues of "free trade" with too little attention to the impact on blue collar workers here. While I was an opponent to massive bailouts of the big banks, auto companies, and the like, there was bipartisan consensus that they were Too Big To Fail. And, while there were differences in approach, Democratic liberal interventionists and Republican neoconservatives got us in a lot of unpopular wars for thirty years, spending trillions of dollars of the taxpayers' money with little return on investment.
Still, while there was long an "elite consensus" on the big issues, the last four years have demonstrated rather clearly that "uncivil war" isn't the solution. If we assume the other side is evil, we can't even come together on matters—like a global pandemic—that should be completely above partisan politics.
Alas, competence, hard, work, and decency on one side won't overcome the inertia that has been built up over three decades overnight. This is still a thing:
And key Republican senators have already expressed skepticism, if not outright opposition, to Biden's $1.9 trillion coronavirus relief proposal.

"President Biden is talking like a centrist, he is using the words of the center, talking about unity, but he is governing like someone from the far left," Sen. Marco Rubio (R-Fla.) said in a video message Friday.

"He has ordered more executive fiats than anyone in such a short period of time — ever. More than Obama, more than Trump, more than anyone," Rubio said, referring to the flurry of executive actions Biden has signed.
I, too, have argued against governance by executive fiat. But I opposed it when Trump—and, indeed, when George W. Bush, for whom I twice voted—was doing it, too. If you only demand fealty to process—or to fiscal discipline—when the other side is in charge, it's not principle but tactic.
I welcome Biden's attempt to govern in a style we haven't seen since, arguably, George H.W. Bush. I would prefer a return to governance by compromise and persuasion rather than brute force. But I don't expect him to unilaterally disarm, either.
_________________
*"Elite" is damned near meaningless because different people mean different things by it. It's being used in subtlety different ways in the WaPo report. On the one hand, it's shorthand for "the rich." I'm not elite in that sense, even though I'm more affluent than most. Sometimes, it means "the powerful," which overlaps with but isn't the same as "the rich." I'm not in that group, either. Other times, it means "well-educated folks," particularly those with careers that are primarily intellectual. I'm in that latter group.