Trump On 'Peaceful Transition'
Whether the delusions of a madman or a deliberate scheme to poison the waters, there's cause for concern.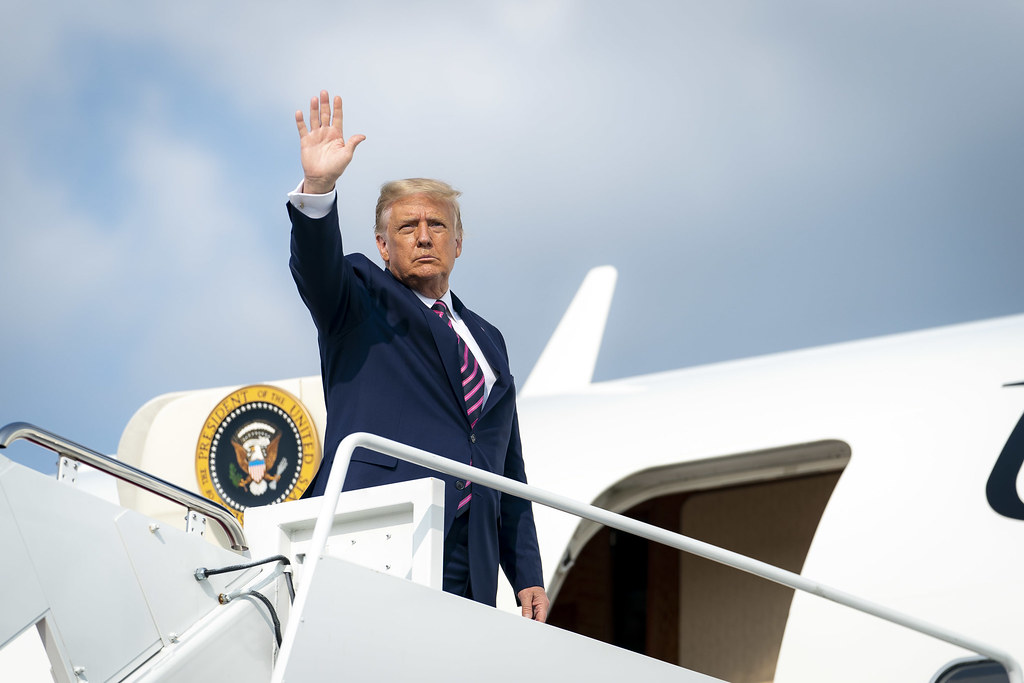 The President of the United States gave a confusing and discomforting answer to a simple question.
Jonathan Chait for New York's Intelligencer ("Trump: 'Get Rid of the Ballots … There Won't Be a Transfer' of Power"):
On Wednesday, a reporter asked President Trump a question no reporter would ever have bothered to ask a president before: "Win, lose, or draw in this election, will you commit here today for a peaceful transferal of power after the election?"

Trump would not commit. "We're going to have to see what happens," he said. "We want to get rid of the ballots, and we'll have a very peaceful — there won't be a transfer, frankly. There'll be a continuation."
On its surface, this is just garbed and nonsensical, further evidence that Trump is what he's accusing Joe Biden of: mentally unfit for the office. In the context of his longstanding refusal to abide by the norms of American politics—or, indeed, the law—it smacks of authoritarianism. Not surprisingly, most are emphasizing the second explanation.
Chait:
That is certainly true — get rid of the ballots, and there won't be a transfer of power. Most likely, Trump is using "ballots" as shorthand for mail-in ballots, which Democrats — generally more resistant to Trump's denial of the coronavirus — are employing in far greater numbers. The effect is the same: His plan is to quash the ballots and stay in power.

Like many Trumpian outrages, the president is smashing norms so frequently that each new offense blends into all the others, dulling the system's capacity for alarm. Earlier this summer, when Chris Wallace asked him if he would accept the result of the election, Trump demurred. "I have to see. Look … I have to see," he replied, "No, I'm not going to just say yes. I'm not going to say no, and I didn't last time either."

Recently he has been citing the need for a ninth Supreme Court justice to resolve a dispute in his favor. "I think it's better if you go before the election, because I think this scam that the Democrats are pulling — it's a scam — the scam will be before the United States Supreme Court," Trump told reporters at the White House. "I think having a 4-4 situation is not a good situation, if you get that. I don't know that you'd get that. I think it should be 8-0 or 9-0, but just in case it would be more political than it should be, I think it's very important to have a ninth justice."

Note that Republicans already have five seats on the Supreme Court. Trump believes the 5-3 conservative majority is not enough to uphold whatever maneuvers he has in mind.

The Atlantic's Barton Gellman reports on the most concerning possibility: that Trump will first claim victory before mail ballots are tabulated, and then prevail on Republican-controlled state legislatures to appoint their state's Electoral College votes to Trump, circumventing the votes altogether.

Viewing this scenario as a probability would be hysterical. But the odds are far too high for comfort. The brewing crisis has several components. First, the Republican Party has been evolving toward authoritarianism for decades, driven by a combination of beliefs that demographic change will consign them to minority status forever, and that allowing the majority to redistribute the income of the rich to itself is a dire threat to liberty.

Second, Republican voters and elites have believed for years that urban Democrats routinely engage in mass voter fraud, and refuse to accept any falsification. (The George W. Bush administration ordered prosecutors to bring charges of voter fraud, and fired them when they couldn't turn up any.)

And third, the rickety constitutional structure is poorly suited to handle a disputed election. One of its massive loopholes allows state legislatures to ignore voters altogether and appoint any electors they want to the Electoral College. Respecting the results of the election is merely optional, a norm. And norms have been falling by the wayside.

Into this mix has dropped a narcissistic, aspirational authoritarian who has no respect for the greater good and has spent years drinking deeply from the conspiratorial well of Fox News. Trump is the driver of the crisis, but he has demonstrated the capacity to bring Republicans along with his most unhinged positions. It is not merely a fear of alienating the voting base that adores his bullying style that disciplines them.
On the one hand, this is a seriously strained reading of tea leaves. On the other, he's not wrong: that we're even asking the question means there's serious reason to doubt he'd go peacefully.
Chuck Todd, Mark Murray, Carrie Dann and Melissa Holzberg pile on for NBC News ("Trump is challenging a peaceful transition of power. We should take him at his word"):
We're back to the old 2016 question about Donald Trump: Just how seriously and literally should you take him?

Our advice now — after witnessing his Muslim/travel ban, the wall and that vote-fraud commission (remember that?): Prepare for him to follow through — whether or not he's successful.

[…]

Trump thrives on taking advantage of ambiguities in the law. And guess what — there are plenty of ambiguities in our election laws.

As Gellman writes, "We are accustomed to choosing electors by popular vote, but nothing in the Constitution says it has to be that way. Article II provides that each state shall appoint electors 'in such Manner as the Legislature thereof may direct.' Since the late 19th century, every state has ceded the decision to its voters. Even so, the Supreme Court affirmed in Bush v. Gore that a state 'can take back the power to appoint electors.'"

So the political world should be taking Trump seriously. Mitt Romney is. Sen. Marco Rubio and Reps. Steve Stivers and Liz Cheney also are out with tweets.

But what about the rest of the GOP?

As Jonathan Last asks in The Bulwark: Who's willing to bet that Trump will simply walk away if he loses?

"Maybe he won't be able to pull it off. Maybe Roberts and Gorsuch will stand in the breach. Maybe he'll wimp out in the end because he's more of a man-baby than a strongman."

"But just how much are you willing to bet on that? Because if the answer isn't 'everything,' then it's time to take this man at his word."
Stephen Collinson goes further at CNN ("Trump's comments send a signal to his supporters about how to react if Biden prevails"):
The President's comments risked not only dealing another blow to an election in which he has been trailing and has incessantly tarnished, but could send a signal to his supporters about how to react if the Democratic nominee prevails in 41 days. That possibility is especially dangerous given this past summer's racial and social unrest — which burst forth again on Wednesday evening after police said two officers were shot in Louisville, Kentucky, amid protests about the failure to charge officers in the death of Breonna Taylor, an unarmed Black woman.Trump's near simultaneous warning on Wednesday that he thinks the election will end up being decided by the Supreme Court also raises the risk of a constitutional imbroglio likely to be worse than the disputed 2000 election.His rhetoric escalated as he yet again politicized the effort to quell the pandemic by threatening to override regulators on the question of whether a newly developed vaccine would be safe in a highly irregular move. Taken together, his anti-democratic instincts and prioritization of his own political goals amid a national emergency show he plans to allow nothing — not the health of Americans, the sanctity of US elections or the reputation of the Supreme Court — to prevent him from winning a second term.

And his comments poured gasoline on an already inflamed nominating battle to fill the seat of the late Justice Ruth Bader Ginsburg while threatening to drag the court further into politics in a way that could shred its legitimacy among millions of Americans.On Thursday morning, Trump deflected when asked about his refusal to commit to a peaceful transition of power, saying it's a "double standard" pointing to comments by Hillary Clinton that Joe Biden should not concede if the election is close.Trump was led into the question by Fox News host Brian Kilmeade that he didn't "mean" he would never leave office but would wait until the Supreme Court ruled on the election, if needed. Trump then replied: "That I would agree with but I think we have a long way before we get there. These ballots are a horror story."The President's latest attempts to create uproar came amid new efforts to subvert the traditional mechanisms of government for his own gain — in what has become an almost daily ritual.
I'm leery of treating off-the-cuff remarks by this President as though they're well-thought-out, much less evidence of some sinister plot. I think they're more likely the ravings of a madman. But the impact may well be the same: a clear signal to supporters that any outcome other than a Trump victory would be a sign that the election had been stolen.
As Kevin Liptak notes ("A list of the times Trump has said he won't accept the election results or leave office if he loses") it's hardly the first time:
Trump won't commit to facilitating a peaceful transition of power

September 23 news conference: "Well, we're going to have to see what happens. You know that. I've been complaining very strongly about the ballots. And the ballots are a disaster … We want to have — get rid of the ballots and you'll have a very trans- — we'll have a very peaceful — there won't be a transfer, frankly; there'll be a continuation. The ballots are out of control. You know it," he said.

Trump says the election will be decided at the Supreme Court

September 23 Oval Office: "But in terms of time, we go to January 20th. But I think it's better if you go before the election because I think this — this scam that the Democrats are pulling — it's a scam — this scam will be before the United States Supreme Court. And I think having a 4-4 situation is not a good situation, if you get that," he said.

Trump says the way Biden wins is through rigged election

September 13 rally: "The Democrats are trying to rig this election because that's the only way they're going to win," he said.

August 20 rally: "So this is just a way they're trying to steal the election, and everybody knows that. Because the only way they're going to win is by a rigged election," he said.

Trump floats remaining in office even after two terms

August 17 rally: "We are going to win four more years. And then after that, we'll go for another four years because they spied on my campaign. We should get a redo of four years," he said.

September 13 rally: "And 52 days from now we're going to win Nevada, and we're going to win four more years in the White House. And then after that, we'll negotiate, right? Because we're probably — based on the way we were treated — we are probably entitled to another four after that," he said.

Trump won't commit to accepting election results

July 19 "Fox News Sunday" interview: "No. I have to see. Look you — I have to see. No, I'm not going to just say 'yes.' I'm not going to say 'no.' And I didn't last time, either," he said.

Trump floats delaying the election

July 30 tweet: "With Universal Mail-In Voting (not Absentee Voting, which is good), 2020 will be the most INACCURATE & FRAUDULENT Election in history," Trump tweeted. "It will be a great embarrassment to the USA. Delay the Election until people can properly, securely and safely vote???"
I'm pretty sure there are more where that came from. Indeed, he said much the same thing about the 2016 election.
For now, at least, Republican Party leaders are saying the right thing—although the Axios headline "Republicans condemn Trump's refusal to commit to peaceful transfer of power" overstates matters.
A number of prominent Republican lawmakers addressed President Trump's refusal on Wednesday to commit to a peaceful transfer of power if he loses November's presidential election.

Driving the news: Senate Majority Leader Mitch McConnell tweeted, "The winner of the November 3rd election will be inaugurated on January 20th. There will be an orderly transition just as there has been every four years since 1792."

Other prominent Republicans who spoke out against Trump's statement:

Sen. Mitt Romney (Utah): "Fundamental to democracy is the peaceful transition of power; without that, there is Belarus. Any suggestion that a president might not respect this Constitutional guarantee is both unthinkable and unacceptable."

Sen. Marco Rubio (Fla.): "As we have done for over two centuries we will have a legitimate & fair election It may take longer than usual to know the outcome, but it will be a valid one And at noon on Jan 20, 2021 we will peacefully swear in the President."

Sen. Rob Portman (Ohio): "Throughout America's history, the peaceful transition of power has been a hallmark of our democracy. This year, both candidates must commit to abiding by the results, no matter the outcome."

Rep. Liz Cheney (Wyo.), the House's No. 3 Republican: "The peaceful transfer of power is enshrined in our Constitution and fundamental to the survival of our Republic. America's leaders swear an oath to the Constitution. We will uphold that oath."

Sen. Susan Collins (Maine): "I don't know what his thinking was, but we have always had a controlled transition between administrations. And I'm certain that if there's a change in administrations, that we have the calmness as well. It's fundamental to our democracy," she said, after admitting she had concerns on Trump not committing to a peaceful transfer of power.

Rep. Steve Stivers (Ohio), the former chair of the National Republican Congressional Committee: "Nothing defines our Constitutional Republic more than the peaceful transition of power. I've taken an oath to support and defend the Constitution, and I will uphold that oath."

Rep. John Katko (N.Y.): "[T]he importance of the transition of power to our democracy is larger than any one President and any one election. I will not hesitate to fulfill my responsibility in upholding my oath to the Constitution and protecting our democracy."

Worth noting: None of the statements issued so far directly mention Trump by name — or why they're speaking out on the issue now.
Worth noting, indeed. It's bizarre to suggest otherwise in the headline. And a number of Republicans are bothsidesing the matter, or worse:
The other side: Other Republicans also stepped in to dismiss the president's comments — or deflect them, occasionally by referencing Hillary Clinton's comments in August that Joe Biden "should not concede under any circumstances."

Sen. Chuck Grassley (Iowa), the Senate's most senior Republican, told reporters: "I would have the same concern when Hillary Clinton advised Biden not to concede the election."

Sen. Lindsey Graham (S.C.) told "Fox & Friends" that he "can assure" there will be a peaceful transition of power, adding that "if the Republicans lose we will accept that result" — without directly addressing Trump's statements.

Sen. Ben Sasse (Neb.),per Politico's Andrew Desiderio: "He says crazy stuff. We've always had a peaceful transition of power. It's not going to change."

Sen. Thom Tillis (N.C.), via CNN's Manu Raju: "[G]o ask every Democrat member and ask them if they stand with Hillary Clinton who says that Biden shouldn't accept the result under any circumstances if he doesn't win."

Rep. Matt Gaetz (Fla.) responded to Cheney's tweet: "Now do the Russia hoax."
Clinton's words were poorly chosen but the meaning of them is obvious in context:
"Joe Biden should not concede under any circumstances, because I think this is going to drag out, and eventually I do believe he will win if we don't give an inch, and if we are as focused and relentless as the other side is,
Rather clearly, she meant that Biden shouldn't concede until he's absolutely sure the result was on the up-and-up.
I would like to think McConnell and company are sincere in their opposition to stealing an election or peacefully handing over the reins of power if Trump loses the election. Alas, their refusal to hold him to account for his previous crimes against the Constitution don't inspire much confidence.