Rick Santorum Will Not be the 2016 Republican Nominee
It may be Rick Santorum's "turn" but he's too harsh and extreme to win the nomination.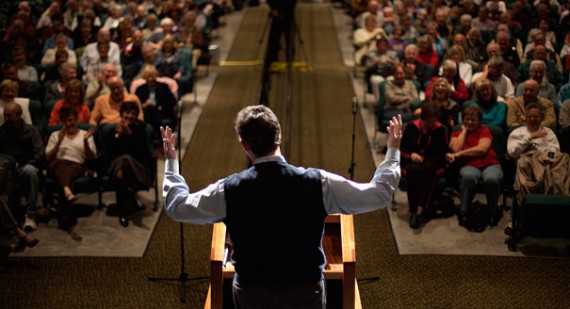 Rick Santorum may be "open" to running for president again but he's not the front-runner. Indeed, he's simply not going to be the nominee.
Byron York wonders "Why isn't Rick Santorum the GOP 2016 frontrunner?"
In 2012, he won 11 primaries and caucuses, making him the solid second-place finisher in a party that has a long history of nominating the candidate who finished second the last time around. (See Ronald Reagan, Bob Dole, John McCain, and Mitt Romney.) And yet now, no one — no one — is suggesting Santorum will be the frontrunner in 2016, should he choose to run. As far as the political handicapping goes, Santorum's 2012 victories don't seem to count for much.

There are reasons for that. A significant number of people, including moderate Republicans, think of Santorum as a sort of religious politician, obsessed with social issues and motivated largely by his pro-life convictions and Catholic faith. Santorum certainly fed that perception at a few crucial points in the 2012 race with comments on contraception and the role of religion in politics. But anyone who watched his campaign for more than a few minutes saw a candidate with a wide-ranging agenda, one who spoke at far greater length about the economy and national security than about social issues.
But Daniel Larison correctly notes that Santorum doesn't have much credibility on those issues.
It's certainly true that Republican donors tend to see Santorum primarily as a social conservative, and a very vocal one at that, and most of them aren't interested in backing that kind of candidate. Many of them don't agree with Santorum on these issues, and even some that do see Santorum's attention to these issues as a general election weakness. That's an important factor that will severely limit Santorum's fundraising if he wants to run again, but it doesn't tell the whole story. York presents Santorum's message on economic issues as one of the strengths of the campaign, and to some extent it was, but what goes unmentioned here is how allergic many in the GOP are to anything that sounds like economic populism. His voting record is littered with all of the major blunders of the Bush years, so he can't very credibly pose as a champion of limited government, and he has been denouncing libertarians for the better part of a decade. Santorum also comes across as abrasive, and when he speaks it usually feels as if he is lecturing and dictating to the audience rather than trying to appeal to them. If you wanted to invent a politician who could alienate several different parts of the Republican coalition all at once, you would design someone like Santorum.
There was a brief moment—the evening of his surprise win in the Iowa Caucuses—that Santorum seemed like a plausible nominee. His victory speech was humble and did a good job connecting with the best instincts of blue collar America. But he quickly revealed himself to be an angry nut trying to tap into petty resentments. The weird "What a snob!" rant solidly established him as out of touch.
I'm less sure Larison is right on this:
Probably Santorum's biggest vulnerability is something that York only mentions in passing: his extremely aggressive foreign policy views. It's not just that Santorum is a vocal hawk, which by itself wouldn't be a problem in the contest for the nomination, but that he is fanatically hawkish in a party that is moving gradually in the other direction. He specializes in threat inflation and alarmism, which he takes to comical extremes, and was so uncompromising as an Iraq war supporter that he voted against Gates' confirmation as Secretary of Defense under Bush because he thought Gates was not hawkish enough.
While I firmly believe Republicans need to get back to a Realist foreign policy vision (see my post-election essays for The Atlantic  "The Future of Conservative Foreign Policy" and "No Longer the 'Party of Eisenhower and Reagan'") I'm not yet convinced that the nominating electorate will punish candidates advocating American Greatness hawkishness.
Still, I concur with Larison's larger point: Santorum simply comes across as harsh and extreme, even to die-hard Republicans. While it's true that the GOP has a tradition of nominating the guy whose "turn" it is, my strong guess is that, as when George W. Bush was nominated in 2000, none of the candidates from last time around will be relevant. Mitt Romney almost certainly won't run again. Santorum hit his ceiling in 2012. Ron Paul and Newt Gingrich, who barely mattered, are has-beens.
I don't have any sense who the 2016 nominee will be this far out. The party is still sorting out its identity, which the 2014 midterms may or may not contribute to solving. But I'd bet good money that it won't be Rick Santorum.