Romney, And The GOP, Still Haunted By The Legacy Of George W. Bush
The GOP still hasn't dealt with the legacy of George W. Bush.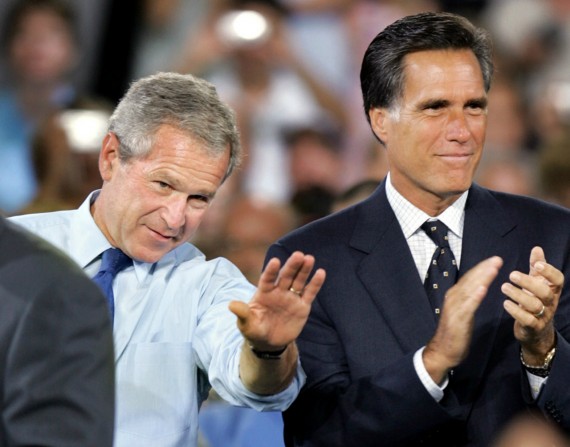 The Daily Beast's Peter Beinart sees a spectre haunting Mitt Romney's bid for the Presidency, the spectre of George W. Bush:
Conventional wisdom holds that elections are about the future. Or about the personalities of the candidates. Or at least about voters' perceptions of the last four years. But a quick glance at history shows that's not always so. Republicans won every election between 1868 and 1880—not because Ulysses S. Grant, Rutherford B. Hayes, and James Garfield were such fabulous candidates, and not because their Democratic opponents were so awful. Nor did they win because of the conditions in the country at the time. They won because when Americans thought about the Republican Party, they thought about Abraham Lincoln. And when they thought about the Democrats, they thought about Jefferson Davis

The same thing happened after the New Deal. In 1948, Harry Truman was personally unpopular and Americans were in a foul mood. But Truman won in large measure because of the way Americans felt about the Democratic and Republican parties, impressions created less by him or his GOP opponent, Thomas Dewey, than by two guys named Roosevelt and Hoover, who had faced off in 1932. The same was true in 1988, when George H.W. Bush, a weak candidate in his own right, made his race versus Michael Dukakis another referendum on Ronald Reagan versus Jimmy Carter.
Beinart's recitation of history is, of course, correct. From the period starting in 1860, and ending in 1913 when Woodrow Wilson took office, Republicans controlled the White House for all but the 12 years representing the single term of Andrew Johnson and the non-consecutive terms of Grover Cleveland and, throughout that time, the rallying cry of "Rum, Romanism, and Rebellion" were strong Republican rallying points in election after election. Similarly, national resentments against the GOP that started with the Hoover Administration proved to be an effective rallying cry for quite some time, although Democrats clearly didn't have quite the same success in that regard as post-Civil War Republicans did. Democrats captured the White House in 1976 thanks in no small part to a guy named Richard Milhouse Nixon. Four years later, the failed Carter Administration proved an effective Republican whipping boy for several election cycles until another southern Governor named Bill Clinton found a way to lead his party out of the wilderness. Now, Democrats are doing the same to the GOP with the Presidency of George W. Bush which, outside of Republican Party stalwarts, most Americans clearly consider to be a period in time that they'd rather forget.
On some level, one has to believe that Republican party insiders realize just how poisonous the Bush 43 legacy is to the party's future prospects.  Unlike the Democrats, neither of the living former Republican Presidents spoke live to the Republican convention. Instead, both Presidents Bush appeared in a video that was really more of a tribute to the legacy of George H.W. Bush than an acknowledgement of anything that happened between January 20, 2001 and January 20, 2009. Indeed, under normal circumstances I would have expected President Bush 41 to have appeared in person at the convention in Tampa if only because there's a good chance it may be the last Republican Convention that he is around for, and he is a man whose legacy of service to his country deserves to be acknowledged. While it was apparently health that kept the former President from appearing in person, one still has to wonder if the legacy of his son also played a role in the party's failure to give him the same farewell that Ronald Reagan received in 1992.
In the specific case of President Bush 43, though, it's really rather obvious why the Republican Party would want to distance itself as much as possible from its most recent former President. After all, George W. Bush left office with some of the lowest job approval ratings in modern American history. His Vice-President had disapproval ratings that would make Satan himself embarrassed. Beyond the polls, though, he left office with an economic legacy that included eight years of tax cuts combined with increased entitlement spending and two wars of unknown duration. In other words, the very definition of insanity itself. On some level, everyone who observed the Republican primary fight in 2008 seemed to realize that what we were really looking at is a race to pick the guy who would end up losing to whoever the Democratic nominee ending up being.  Four years later, the reputation of the  former President has by now means improved.
The problem for contemporary Republicans like Romney is that, while they do not mention George W. Bush's name, they have not repudiated George W. Bush's legacy.  In the domestic arena , they continue to embrace the illusions of a world where we can cut taxes while making ultimately modest cuts in spending on the non-defense side, and proposing massive increases in defense spending for no rational reason. Internationally, the legacy of George W. Bush stands largely for a war built upon fault intelligence and incredibly bad planning that has left us, in the end, with little more than a fatally wounded Iraq that has, inevitably, become an ally of Iraq and Syria. Additionally, the legacy of George W. Bush includes a fiscal policy that can be summarized as the utterly insane idea that you can cut taxes while simultaneously massively increasing entitlement spending and fighting two wars.
Republicans say that they have learned from the Bush years, but when you look at the proposals they put forward, it's pretty clear that they have not. Taking a lead from Congressional Republicans that include the supposedly fiscally conservative Tea Party, Mitt Romney has effectively taken a stand against the idea of cutting the Federal Budget, largely because of  the fact that it includes cuts to the defense budget. Adding on to that, Romney has proposed increasing the defense budget by two trillion dollars over the course of ten years to fight threats that don't really exist. Not surprisingly, of course, there are few people on the right who are either uncomfortable with, or even acknowledging the obvious similarities between Romney and Bush 43.
Beinart closes:
One day, a Republican presidential candidate will exorcise Bush's ghost. But most likely, he or she will do so by bluntly telling Americans where Bush's presidency went wrong, and how their presidency will be different. Until that happens, George W. Bush will be present at every Republican and Democratic convention for years to come, whether anyone invites him or not.
It took Democrats 20 years to exorcise the ghost of George McGovern and that bizarre New Left turn the party took in the early 70s. Will it take the GOP that long?