Romney Running Out Of Time In Ohio And Elsewhere
Mitt Romney has ground to make up if he's going to catch the President and there's not much time left to do it.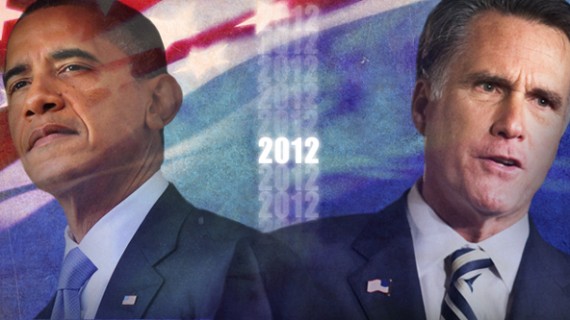 A new poll from CBS News, The New York Times, and Quinnipiac University shows President Obama with a five point lead in the bellwether state of Ohio with only six days left before Election Day:
President Obama has maintained a five-point lead in the crucial swing state of Ohio, according to a new Quinnipiac University/CBS News/New York Times poll of likely voters. The survey found that Mitt Romney has gained ground in Florida and Virginia, where the race is now effectively tied.

Mr. Obama now leads Romney 50 percent to 45 percent among likely voters in Ohio – exactly where the race stood on Oct. 22. His lead in Florida, however, has shrunk from nine points in September to just one point in the new survey, which shows Mr. Obama with 48 percent support and Romney with 47 percent. The president's lead in Virginia has shrunk from five points in early October to two points in the new survey, which shows him with a 49 percent to 47 percent advantage.

The margin of error in the poll is plus or minus three percentage points. The survey was taken from Oct. 23 to 28 and completed before the onset of the "superstorm" Sandy.
This comes on top of a whole series of polls over the past several days, all of which show the President continuing to maintain a lead in the Buckeye State. It's worth noting that only two of them them, Public Policy Polling and CNN/Opinion Research, shows Obama with a lead beyond the margin of error, and many of them like the just-released University of Cincinnati have the President with a one point lead. However, except for Rasmussen, none of them show Mitt Romney leading in Ohio In fact, nearly every single Ohio poll in the month of October has shown the President leading there, suggesting that even with his post-debate surge Mitt Romney has been unable to break through in the state, likely thanks in no small part to the campaign of negative ads that the Obama campaign and its supporting SuperPACs were running all summer. Currently, the President has a +2.3 point lead in the RealClearPolitics polling average, and the trend in the state has been very clear for quite awhile: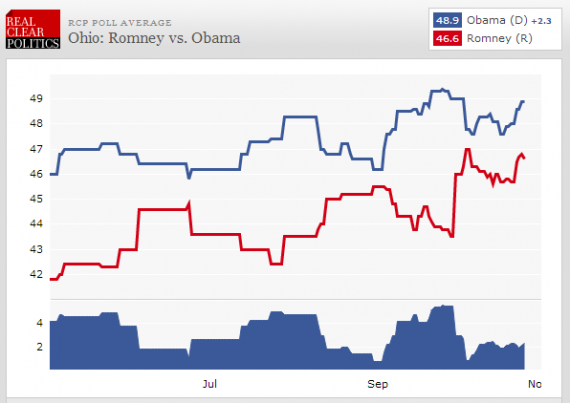 Looking at the Electoral Map, and the various projections that James Joyner discusses in his post, it's hard to see how Mitt Romney can get to 270 Electoral Votes without winning Ohio. Indeed, there are several scenarios under which Romney wins Ohio (along with Florida and Virginia) and still ends up losing the election, but there are almost no plausible scenarios under which Romney loses Ohio and still wins the election. For example, there are some scenarios under which Romney could make up for a win in Ohio by winning Wisconsin or Michigan, but if he's going to win one of those states it's hard to see him losing the Buckeye State. So, it all comes down to the Buckeye State and, as Nate Cohn notes, Romney may have run out of time:
If there was more time between now and November 6, perhaps Romney would stand a chance of mounting a comeback. But the space between Obama's share of the vote and 49 percent isn't the only window that's closing; Romney is nearly out of time. More than 20 percent of the expected vote has already been cast in Ohio, and the polls suggest that Obama might lead among early voters by as much as 20 points. And Romney can't count on a flood of undecided voters, either. Obama has always held the lead in the Buckeye State, and Romney hasn't even exceeded 47 percent of the vote in the RealClearPolitics average, suggesting that there isn't a pool of latent Romney supporters that will probably flock back to his side on Election Day. The polls have also been remarkably consistent, with Romney leading in just a handful of automated surveys over the last few months.

Absent a possible but unlikely last-minute shift in the polls between now and Election Day, Romney's chances will come down to the low but existent risk that the polls are and have been completely wrong. As Senators Harry Reid and Michael Bennet can attest, the polls have been wrong before and could be wrong again. But the Romney campaign's revival of August's welfare attack and their recent Jeep outsourcing antics suggest that Boston's numbers don't show something too different, while Chicago has unwaveringly maintained that they hold a modest and clear lead in Ohio. With Obama near 49 percent and just six days to go before the polls close, Romney's window for a comeback is getting vanishingly narrow.
That's how it looks on my end. Like James, I'll be posting my own projections for the Election sometime before Election Day. Right now, though, this looks to me like a close election, but one where the President has a decided edge in the Electoral College and where the polls don't seem to be indicating any significant shift to Romney in the states that matter (Colorado, Ohio, New Hampshire being the most important of those in these closing days.) It's possible that either the polls are wrong, or that there is going to be a massive shift of public opinion over the coming days, but shifts of mood like that are rather uncommon and wouldn't be consistent with the way this election has gone from the very beginning. Moreover, I would suggest that Hurricane Sandy may marginally help the President in that it shows him being well, Presidential, and even getting a significant boost from a Republican Governor who also happens to be a chief Romney surrogate. Things like that might not necessarily increase the President's vote total in places like Ohio or Virginia, but I would argue that the do tend to undercut the Romney campaign's efforts to push their arguments against the President, and that may be just enough to prevent Mitt Romney from crossing the finish line.