Presidential Race 'Tight' in Meaningless National Polls [UPDATED]
A week out from the election, President Obama is a heavy favorite to win re-election. But the major press continues to pretend otherwise.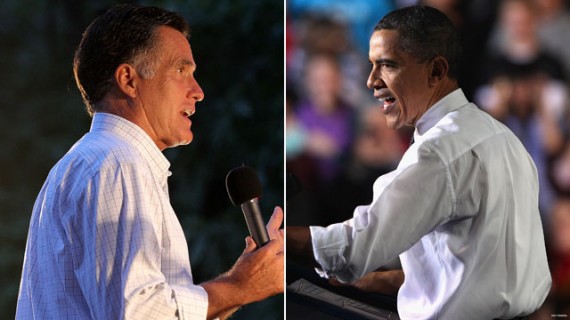 A week out from the election, President Obama is a heavy favorite to win re-election. But the major press continues to pretend otherwise. The New York Times headline "Obama and Romney in Exceedingly Close Race, Poll Finds" is but the latest example.
President Obama and Mitt Romney enter the closing week of the campaign in an exceedingly narrow race, according to the latest poll by The New York Times and CBS News, with more voters now viewing Mr. Romney as a stronger leader on the economy and Mr. Obama as a better guardian of the middle class.

The president is holding his coalition together with strong support from women and minority voters and is supported by 48 percent of likely voters nationwide, the poll found, while Mr. Romney holds a wide advantage among independents and men and is the choice of 47 percent.

The race for the White House, which has been interrupted by the aftermath of Hurricane Sandy's deadly assault on the East Coast, is heading toward an uncertain conclusion. The president was set to stay off the campaign trail for a third straight day to tour storm damage on Wednesday with Gov. Chris Christie of New Jersey, a Republican. Mr. Romney was set to resume a full schedule in Florida.

In the final days, the most intense competition between Mr. Obama and Mr. Romney has narrowed to seven states, but the national poll illustrates why the Romney campaign is working to expand the battleground and seize upon the deep concern in the electorate about whether the president should win a second term.
Not a single person covering politics for the New York Times believes this nonsense. The national horserace numbers have zero bearing on the race; what matters is the disposition of a handful of swing states, with Ohio almost decisive among them. And not a single reputable poll has shown Romney ahead in Ohio this cycle.
It would be as if the New York Times sports page reported on last Sunday's game between the New York Giants and Dallas Cowboys and focused on the fact that the Cowboys had 28 1st downs to the Giants' 11, dominated total yards 434 to 293, and were two-and-a-half times more efficient on 3rd down and neglected to point out that the Giants scored 29 points to the Cowboys 24. To be sure, all of those statistics are interesting in understanding the game. But the object of the contest, as Herm Edwards reminded us a decade ago, is to win the game. And you do that by outscoring your opponent, not by amassing more total yardage.
Amusingly, WaPo both acknowledges this yet ignores it in reporting on their latest poll:
 Most likely voters — including both Democrats and Republicans — say the winner of the presidential election should be decided by popular vote, not the electoral college, according to the latest release of the Washington Post-ABC News tracking poll.

In the new national poll, 49 percent of likely voters back Republican Mitt Romney, while 48 percent support President Obama. It's the fifth straight day that a single percentage point (or less) has separated the two candidates.

The presidency, of course, will be decided at the state level — with the overwhelming focus on a small set of swing states where polls also point to an extraordinarily competitive contest next week. But most voters wish that weren't so: 56 percent of all likely voters say they would prefer the one who gets the most votes across the country to be the next president; 37 percent would want the one with more electoral votes to prevail.
But we're not going to have the election people wish we were having. So why bother at this late stage of the race with a survey based on a non-existent contest to see who would get more votes if we put them all in a single bucket?
There are enough state polls out there showing close races in key states—including states that one would think would be locked up by now—to give Republicans some hope of pulling off a victory and to make Democrats worry. And, as I noted in a comment thread yesterday, it's possible that polling as we know it doesn't work anymore in an era of cell phones, call screening, and frustration over constant interruptions at home. But, if we're going to assume polling is accurate for the purposes of the story—and it's perfectly reasonable to do that until we have a 1948-like failure—we shouldn't pretend that they state-level polls are all wrong.
UPDATE:  To further drive home my point, here's today's PollTracker electoral map at TPM: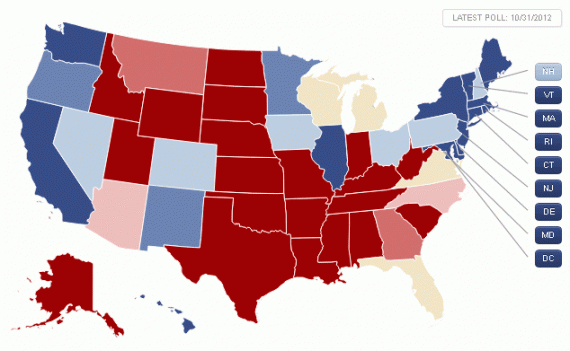 With four toss-up states, Obama is leading 264 to 206. The toss-up states are Wisconsin, Michigan, Virginia, and Florida. Obama has a slight lead in all four of them. If Obama takes only Wisconsin, he gets to the magic 270 threshold. If he takes only Michigan, he gets to 276. If he takes Wisconsin and Michigan and Romney takes Ohio—currently in Obama's column—he gets 272.
The latest AP analysis (29 October) at Time's Swampland Electoral Calculator has Obama with 271 Electors to Romney's 206 on a map that doesn't assign Florida, Virginia, Colorado, Nevada, or New Hampshire. If Romney were to somehow sweep all of those, he'd finish with 269. And nobody seriously thinks Nevada is in play, do they?
RealClearPolitics currently has it at 281 to 257 for Obama. And that's giving Romney Florida, Virginia, and Colorado. For Romney to win, he'd need to take 12 electoral votes out of Obama's column, with Ohio being the most probable scenario for doing that.  Of the 9 polls on Ohio in RCP's average, only Republican-biased Rasmussen has Romney ahead. And even Rasmussen only has Romney up by 2.
Similarly, Scott Elliot's Election Projection projects Obama getting 290 Electoral Votes to Romney's 248.
And, yes, Nate Silver's FiveThirtyEight has it 299 for Obama to 239 for Romney. That's with Obama taking Ohio, Virginia, and Colorado along with Ohio.
At some point before the election, I'll put up my Electoral College prediction. Right now, I'd give Romney Florida and probably Virginia but would give Obama Ohio and Colorado.  That would be a comfortable 290 to 248 win.  Shifting Ohio to Romney's column takes it to a slim 272 to 266 win. So, Romney would need to also take either New Hampshire or Colorado.
Could any of those scenarios play out? They could! But they seem damn unlikely to me less than a week away. And with a lot of votes already banked.