Romney/Ryan Close The Gap In Wisconsin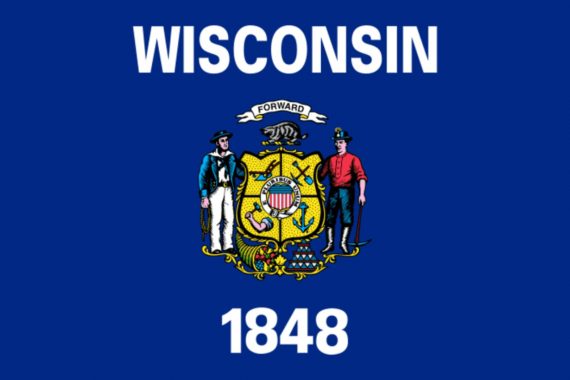 Another poll seems to indicate that Wisconsin has indeed become more competitive since Paul Ryan was added to the Republican ticket:
PPP's first Wisconsin poll since Mitt Romney announced Paul Ryan as his running mate finds him taking a small lead over Barack Obama in the state, 48-47. That represents a 7 point shift from PPP's last look at the state in early July, which found Obama ahead 50-44.

The biggest change Ryan's selection seems to have brought about is the unification of the GOP. Romney's gone from a 78 point lead with Republicans on our last poll (87-9) to now an 88 point lead with them (93-5). There's also been a tightening with independents. Obama still has a 4 point lead with them at 47-43, but that's down from a 14 point advantage at 53-39 six weeks ago. Democrats are unchanged from the previous poll.

Ryan isn't exactly a universally popular figure in his home state. 49% of voters have a favorable opinion of him to 45% with a negative one. But that does give him the best numbers of anybody on either ticket in the state. Obama has a 46% approval rating with 50% of voters disapproving of him, Romney has a 45/48 favorability rating, and Joe Biden stands at 41/48.

A big reason Wisconsin remains so competitive for the GOP is that the electorate looks like it will be considerably more Republican leaning than it was in 2008, reflecting the continued high energy level of the party's voters after its victory in June's recall election. We find an electorate that's 34% Republican and 32% Democratic. Exit polls in 2008 showed Democrats with a 6 point turnout advantage, 39% to 33%. Although the enthusiasm gap that plagued Democrats nationally in 2010 has dissipated some places, it appears to still be a real issue for them in Wisconsin.
This is the same margin that the Rasmussen poll that I wrote about last week showed, and it still leaves Obama with a +2.6 lead in the RealClearPolitics poll average.However, Romney is closing in: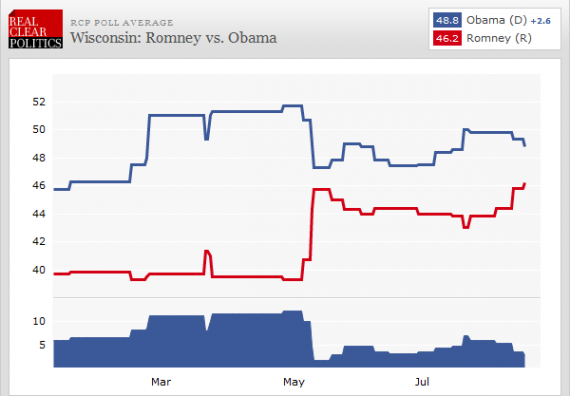 Right now, neither side appears to be spending much money in the state, but that's likely to change soon, and if Wisconsin is still competitive in October then this could be a very interesting election.