Romney's Post-Debate Surge Continuing, But Will It Last Past Tuesday?
Mitt Romney continues to benefit from the first Presidential Debate, but will that last past the second debate?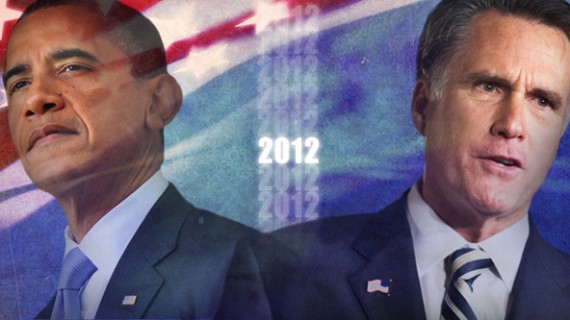 Nate Silver observes that the poll surge  that Mitt Romney received after his October 3rd debate with the President appears to be continuing and possibly getting stronger:
Mitt Romney continues to surge in the FiveThirtyEight forecast, and Friday may have featured his best set of polls all year.

The best way to track a change in the polls is to look for instances in which the same firm has surveyed the same state (or the national race) multiple times. The FiveThirtyEight forecast model relies on a procedure very much like this to calculate the overall trend in the race.

Fifteen polls were released on Friday that provided a comparison with another survey conducted between the Democratic convention and last week's debate in Denver. Mr. Romney gained an average of 4.6 percentage points in these surveys.

That is actually a bit larger than we were showing earlier in the week, when the same exercise put Mr. Romney's postdebate bounce more in the range of three or four percentage points.

It is not clear whether Mr. Romney is still gaining ground — or whether he benefited from a couple of outlying results. The median change in the polls, which will be less sensitive to potential outliers, was a three-point gain for Mr. Romney, more like earlier in the week.

But unlike earlier, Mr. Romney is now seeing some of his best results in swing state polls. Six of the seven polls published on Friday from such states had him ahead.

Thus, just as the hypothesis of a fading Romney bounce was damaged on Friday, so was the idea (which we critiqued in an earlier post) that his gains would be more modest in the swing states.
This observation comes a day after Silver observed that the President's lead in the swing states wasn't as solid as some analysts seem to believe it is:
[A]lthough we do perceive some advantage for Mr. Obama in the Electoral College relative to the popular vote, I would caution our readers against thinking that it's all that robust.

The Florida poll, which was conducted by Mason-Dixon, a good polling firm, showed Mr. Romney with a lead and was a helpful reminder of this. Mr. Obama probably does not trail in Florida by seven points. Some other polls published this week showed him with a small lead there. But there is reason to think that he has become the underdog, since Mr. Obama led in Florida by two or three points before the debates and because Mr. Romney's bounce since then has been a little larger than that. In fact, the FiveThirtyEight forecast had flipped to calling Mr. Romney a slight favorite in Florida a couple of days ago.

There is stronger evidence that Mr. Obama still leads in Ohio, since that state has been polled quite richly. But while recent polls that use traditional methodologies have shown Mr. Obama with leads of four and six points in Ohio, a series of automated polls have shown the race in Ohio as a near-tie instead. The FiveThirtyEight "now-cast" estimates that Mr. Obama would have a two-in-three chance of winning an election in Ohio held today.

Even if one grants Ohio to Mr. Obama, however, that would not seal victory for him. He would still need to win some other combination of states; his path of least resistance probably flows through Wisconsin, and then either Iowa or Nevada.

Iowa, in particular, is a crucial state that has been thinly polled all year. (The FiveThirtyEight model, in fact, calculates that Iowa is slightly more essential to the Electoral College than Florida, despite having many fewer electoral votes.) There has been just one poll of Iowa since the debates, and while it gave Mr. Obama the lead, it was an automated poll that probably does not merit too much weight.
So where does the race stand at this point? According to RealClearPolitcs, the national polls continue to move in Mitt Romney's favor. He's got a +1.3 lead in their poll average, and he's led or scored a tie in every poll RCP considers since October 4th. Since it seems unlikely that the Vice-Presidential Debate is going to end up having much of an impact on the polls, we can expect things to continue in this positive direction at least up through Tuesday's debate in Hempstead, New York. The same is likely to be true in the swing states, where we've seen Romney pick up ground in state like Ohio, Virginia, and Florida and, most surprisingly, in Michigan, Wisconsin, and Pennsylvania. Now, obviously, the trend isn't going to continue for Romney in this manner forever. The debate on Tuesday could very well end up having the same impact on the race that the Denver debate did, for one thing, which means we'd at least end up seeing some of these traditionally Democratic states back into Obama's column. At this point, I find it unlikely that Romney really is competitive in Michigan or Pennsylvania, for example. However, if I'm proven wrong that he continues to gain in these states then the Obama campaign could have a problem on its hands.
In the Electoral College, things certainly do look much better for Romney than they did at the start of the month: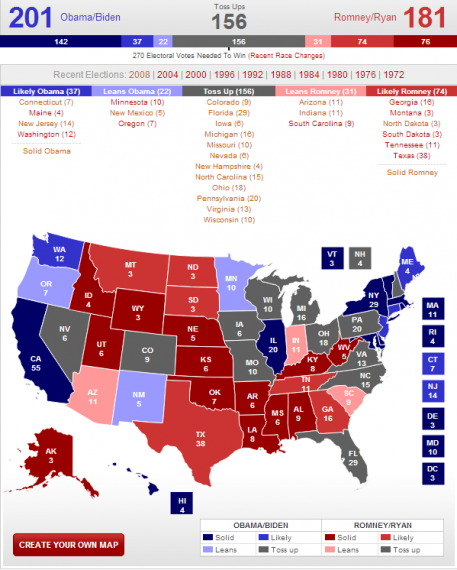 This is the largest number of toss-up states that we've seen in quite some time, but as I noted above I question whether Michigan and Pennsylvania actually belong there at this point. Giving those two states to Obama raises his projected take to 237 and reduces the number of toss-up votes to 128. This requires Romney to win some 69% of the remaining electoral votes, while Obama would only need to win 26% of the remaining votes. Absent a major collapse in the polls by the President, then, it still strikes me that he is in a far better position than Romney in the Electoral College. Under this scenario, the President could lose Florida, North Carolina, and Ohio and still be in good position to win given his strengths in states like Iowa and Nevada. If he wins both of those states, he'd only need to pick up either Wisconsin or Colorado, both states he won in 2008. Romney, on the other hand, would have to win Virginia and then either Colorado, Wisconsin, or New Hampshire, all states that the GOP lost in 2008. Given that path, I'd still rather be in President's position than Mitt Romney's at the moment.
There's no question that the October 3rd debate changed the dynamics of this race significantly. Without that debate performance, we'd likely be writing some variation on the "Mitt Romney is doomed" story and we'd be seeing down ballot Republicans distancing themselves from the national ticket. If Romney does end up pulling off a victory, then we'll be able to point to that debate as the point at which his campaign began to turn around and head to victory. There are, however, still 24 days until the election and two more debates left. After the panic that his debate performance last week caused, I am certain that we're going to see a far different Barack Obama in these next two debates, and that could end up having a major impact on the race. Indeed, a week from today we could all be talking about the "Obama Comeback." Mitt Romney's been given an opportunity here, whether he can make anything out of it remains to be seen.