Ronald Reagan Helped Pass The 1994 Assault Weapons Ban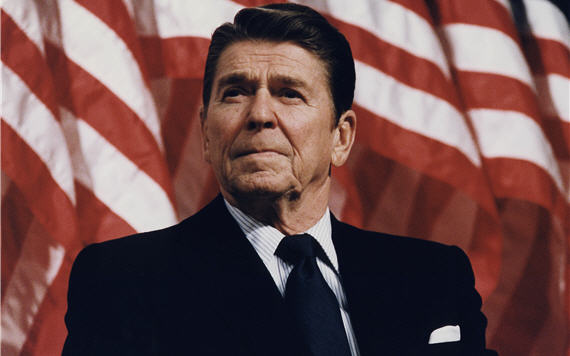 Buzzfeed's Andrew Kaczinski brings to light something I was previously unaware of, namely the role that Ronald Reagan played in passing the 1994 Assault Weapons Ban:
As the assault weapon ban vote neared, Reagan — who as president had signed 1986 legislation loosening restrictions on guns — wrote a letter with former Presidents Ford and Carter to the House of Representatives urging them to vote in favor of the ban.

"We are writing to urge your support for a ban on the domestic manufacture of military-style assault weapons. This is a matter of vital importance to the public safety," the letter said.

"While we recognize that assault weapon legislation will not stop all assault weapon crime, statistics prove that we can dry up the supply of these guns, making them less accessible to criminals. We urge you to listen to the American public and to the law enforcement community and support a ban on the further manufacture of these weapons," the letter said concluding.
More substantially, though, Reagan apparently persuaded at least two Republican Members of Congress to change their vote:
Congressman Scott Klug, a Republican from Wisconsin was an opponent of the assault weapon ban and the day before the vote stated his opposition to the ban. Klug only changed his voted after "a last minute plea from President Reagan" in the form of a handwritten note.

"Dear Scott: As a longtime gun owner and supporter of the right to bear arms, I, too, have carefully thought about this issue. I am convinced that the limitations imposed in this bill are absolutely necessary," Reagan wrote Klug. "I know there is heavy pressure on you to go the other way, but I strongly urge you to join me in supporting this bill. It must be passed. Sincerely, Ronald Reagan."

"I can think of no one who has been a stronger supporter of law and order and a stronger supporter of the Second Amendment," Klug said in a statement regarding Reagan's note announcing his support for the ban.

Another former Congressman, New Hampshire Democrat Dick Swett, also credited the former President with influencing his voting. Swett was unsure of how to vote on the ban, but made up his made after direct lobbying from Reagan.
The bill ended up passing the House by two votes, 216-214.
This wasn't the first time that Reagan had come out against the Republican position on gun rights. In 1991, he authored a New York Times Op-Ed in which he called for passage of The Brady Bill:
Named for Jim Brady, this legislation would establish a national seven-day waiting period before a handgun purchaser could take delivery. It would allow local law enforcement officials to do background checks for criminal records or known histories of mental disturbances. Those with such records would be prohibited from buying the handguns.

While there has been a Federal law on the books for more than 20 years that prohibits the sale of firearms to felons, fugitives, drug addicts and the mentally ill, it has no enforcement mechanism and basically works on the honor system, with the purchaser filling out a statement that the gun dealer sticks in a drawer.

The Brady bill would require the handgun dealer to provide a copy of the prospective purchaser's sworn statement to local law enforcement authorities so that background checks could be made. Based upon the evidence in states that already have handgun purchase waiting periods, this bill — on a nationwide scale — can't help but stop thousands of illegal handgun purchases.

And, since many handguns are acquired in the heat of passion (to settle a quarrel, for example) or at times of depression brought on by potential suicide, the Brady bill would provide a cooling-off period that would certainly have the effect of reducing the number of handgun deaths.

Critics claim that "waiting period" legislation in the states that have it doesn't work, that criminals just go to nearby states that lack such laws to buy their weapons. True enough, and all the more reason to have a Federal law that fills the gaps. While the Brady bill would not apply to states that already have waiting periods of at least seven days or that already require background checks, it would automatically cover the states that don't. The effect would be a uniform standard across the country.
Today, nobody seriously challenges the idea of pre-purchase background checks. Indeed, thanks to computer systems, they are largely instantaneous in most cases (unless the computer system itself happens to be down). What we've learned in recent years, though, is that the background check system is incomplete. For example, it doesn't necessarily catch people who have been adjudicated mentally ill or other problem areas. When the the Brady bill was first proposed, though, opponents characterized it as one step on the road to tyranny. I'd argue that they were wrong. The Gipper certainly thought so.