Sane Republican Minority Prevails
Nearly two-thirds of House Republicans voted for default. They lost.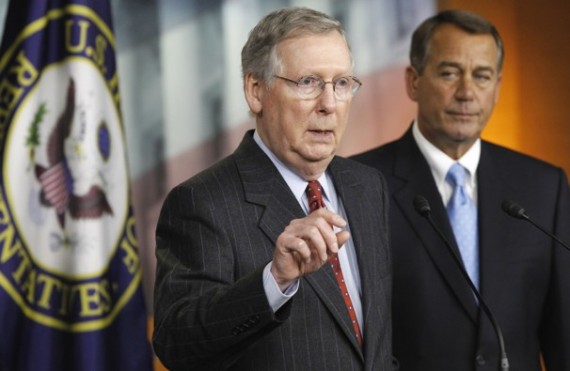 The sane wing of the Republican Party prevailed last night, reopening the federal government and putting off until at least February a default on the nation's debt. Mitch McConnell stared down the Ted Cruz faction in the Senate and John Boehner put the country ahead of the demands of the Tea Party, passing the bill mostly with Democratic votes.
While adult leadership ultimately saved the day, they did so only after a stupid and dangerous standoff that caused enormous destruction. (I have a longish piece on the effects in the Defense Department, ostensibly one of the least impacted departments, coming out later today.) McConnell and Boehner are savvy enough to know this was bad for their country and bad for their party and were either unwilling or unable to rein in the zealots until they got to the brink of disaster.
Those of us in the Jon Huntsman-Chuck Hagel-Brent Scowcroft wing of the GOP, once considered solidly conservative but now effectively marginalized, have been arguing for some time that we need to take the party back from the crazies. Louisiana Rep. Charles Boustany, with whom I'm not familiar, encapsulates the thought nicely:
"There are members with a different agenda," Boustany said Wednesday in an interview in his office. "And I'm not sure they're Republicans and I'm not sure they're conservative."

His comments came a day after rank-and-file House Republicans rejected a package to reopen the government authored by their own leader, Speaker John Boehner. The result is that a bipartisan Senate-authored deal to end the two-week government shutdown appears poised to pass with almost nothing of substance gained by House conservatives for the shutdown they precipitated.

"The speaker has said consistently unless we can put 218 votes up, and preferably more than that, our ability to negotiate is pretty much undermined and that's the problem we've repeatedly found ourselves in," said Boustany, who has served since 2005 and is a senior member of the Ways and Means Committee. "Look at payroll tax. Look at fiscal cliff. You can go on and on. There are a handful of members – the numbers sort of vary, it's in the 20-30 range – that are enough to derail a Republican conservative agenda in the House."

Boustany said those lawmakers are so obsessed with opposing any compromise that they end up driving the final legislative result further from the broader GOP goals. "I think there are members who are in complete denial about their responsibility to govern and to try to use conservative principles to get the best possible legislative package we can get," he said.
The problem, sadly, is we're no longer talking about "a handful of members" in "the 20-30 range." A majority of the House Republican caucus, 144 Members, effectively voted for a catastrophic default last night; only 87 voted to stop it.
Being charitable and understanding how politics work, I'll presume some large chunk of that 144 would have voted on the side of sanity if necessary but instead cast a symbolic vote to look tough/conservative/whatever back home knowing that the Democrats would save the day. But that's not exactly good news, either. For a variety of reasons, with the polarized media environment that allows people to select which version of the facts to surround themselves with high on the list,  a huge chunk of the electorate that thinks the shutdown was perfectly reasonable and default on the debt a good first step.
This is uncharted territory, at least in the modern age. Newt Gingrich was a horribly ineffective speaker and led two government shutdowns in the 1990s, one longer than the one we just went through. But they were at least over principled disagreements about the direction of government and done at a time when his party had majorities in both houses of Congress. And, while ultimately damaging to the GOP and helpful in securing Bill Clinton's 1996 re-election, real and significant deals were achieved that helped advance an actual conservative agenda.
By contrast, the fight that just ended was over something absurdly minor in the grand scheme of things and obviously unwinnable from the get-go. Fox's Brit Hume, whom I've long admired as a sober analyst, offers the most cogent explanation that I've encountered:
Veteran political observers on both the left and right are still trying to figure out what the House Tea Party caucus and its Senate pied piper Ted Cruz were thinking when they insisted on using the threat of a government shutdown to defund ObamaCare.

It was a hopeless strategy that has not only failed in its stated goal, but helped send the Republican Party to its lowest favorability ratings ever.

In conventional terms, it seems inexplicable, but Senator Cruz and his adherents do not view things in conventional terms. They look back over the past half-century, including the supposedly golden era of Ronald Reagan, and see the uninterrupted forward march of the American left. Entitlement spending never stopped growing. The regulatory state continued to expand. The national debt grew and grew and finally in the Obama years, exploded. They see an American population becoming unrecognizable from the free and self-reliant people they thought they knew. And they see the Republican Party as having utterly failed to stop the drift toward an unfree nation supervised by an overweening and bloated bureaucracy. They are not interested in Republican policies that merely slow the growth of this leviathan. They want to stop it and reverse it. And they want to show their supporters they'll try anything to bring that about.

And if some of those things turn out to be reckless and doomed, well so be it.
Essentially, we've got a large faction of the minority party that, on one level, realizes they've lost the fight but, on another level, thinks they represent something like Nixon's "silent majority." Pretty much everyone they know, read, and hear thinks exactly like they do and they see their country being taken over by big city elites who hold a completely different set of values. They see this fight, then, as something akin to a civil war.
David Frum sees them as modern day Dixiecrats and urges the GOP to kick them out to save the party:
Right now, tea party extremism contaminates the whole Republican brand. It's a very interesting question whether a tea party bolt from the GOP might not just liberate the party to slide back to the political center — and liberate Republicans from identification with the Sarah Palins and the Ted Cruzes who have done so much harm to their hopes over the past three election cycles.

It's worth repeating over and over again. Add Todd Akin in Missouri and Richard Mourdock in Indiana, Sharron Angle in Nevada and Ken Buck in Colorado, Christine O'Donnell in Delaware and Joe Miller in Alaska — and you have half a dozen Senate races lost to the GOP by extremist nominations.
Like Frum, I'd be thrilled to see the party quit nominating so many extreme, unappealing, and unqualified candidates. At the state level, where most of the problem exists, it might even be possible for a Sane Republican party to win elections in a three-way race with Democrats and the Tea Party. At the national level, though, I don't see how the party ever wins another election without Tea Party voters in the big tent. But I haven't the slightest idea how to appeal to people who fundamentally don't understand that they represent a minority of the country and that they will therefore get outvoted with some frequency and their elected representatives will virtually always have to compromise and take the best deal available.
Indeed, the tragic irony of the standoff that just ended is that Boehner and company had managed to craft an absolutely fantastic deal given that all they had was a small minority in one half of one of three branches of government. Despite a Democratic president and Senate, they got their budget numbers. But that victory was seen by the radicals as not good enough because it didn't also contain a repeal of the president's signature achievement, which was an absurd demand given the outcome of the last election. So, they turned a surprising win into a devastating loss for no apparent reason.