Santorum Supports PA EC Plan
Rick Santorum: naked partisan. (Although, really, this is more a post about the EC than it is about Santorum).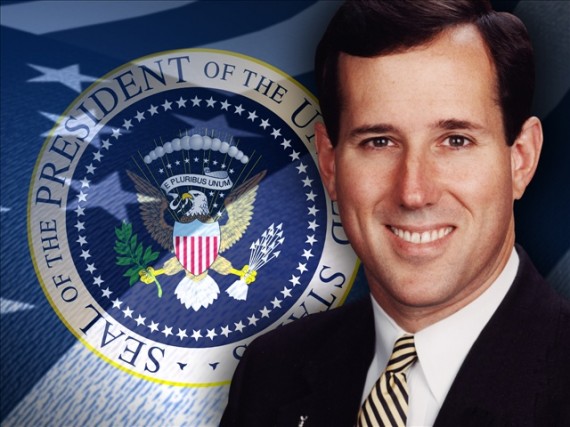 Via Weigel:  Santorum: Maybe Republicans Should Game the Electoral College Vote in Pennsylvania.
Money quote:
"Certainly, from the standpoint of a Republican, it's a winner," Santorum said. "Republicans will come out ahead in Pennsylvania in every election. The way Democrats win, they have two big cities with huge concentrations of voters — and then overwhelm the rest of the state."

[…]

"All of a sudden, a Republican can win — and would probably routinely win — all but three or four congressional districts in Pennsylvania," he said. "It would turn it from a state Democrats rely on, as part of the base, to a state that they're gonna lose under almost any scenario."
So, in other words, yes, there are more Democrats in the state, but if you slice up the population into smaller, politically delineated districts, that fact can be overcome.
This is, of course, understandable from a pure power politics point of view.   However, from a democratic perspective it is a fairly indefensible proposition.  (But, yes, I know, some do not find that troubling).
For reference, here is the PA spread in recent elections:
2010:  51% R, 49% D (Senate)
2010:  54% R, 46% D (Gov)
2008:  55% D, 44% R (Pres)
2006:  60% D, 40% R (Gov)
2006:  59% D, 41% R (Senate)
2004:  51% D, 49% R (Pres)
2004:  53% R, 42% S (Senate)  (Note:  Specter was re-elected and later changed parties)
2000:  51% D, 46% R (Pres)
2000:  52% R,  46% D (Senate) (Santorum re-elected)
Clearly, the state is, especially in presidential years (which normally have the highest rates of turnout), a majority Democratic state (and when it isn't, it is still quite competitive).  As such, the only rationale for changing the way its ECs are allocated is power politics (not that this isn't obvious).  I see no principled argument for the shift.
I could be more supportive of a district-based allocation of electoral votes if the districts were not drawn in partisan ways (since as it is there are a number of safe Republican and safe Democratic districts—hardly the height of competition) .  As problematic (in my opinion) as the electoral college is, creating a system wherein the minority of the state can beat the majority makes it even more problematic.  Again:  the only reason to support such a move is partisan preference (i.e., because it helps the side one prefers). The notion that one is countering the power of the cities is ridiculous because of the simple fact that more people live in the cities.  So to say that one is countering the cities is to say that the less populous parts of the state are more important than the more populated portions.  This makes sense only if what ones wants is some sort of nondemocratic system (and, indeed, more fundamentally, against the notion that all people are politically equal).
I would note that the problem of congressional districts is bipartisan.  For example, in District 1, the Democrat was unopposed and in District 2, the Democrat won with 89% of the vote. Likewise, District 9 was a 73% Republican district.  Of Pennsylvania's 19 House districts, only two (4 and 12) were truly competitive (both were 2 point races).  District 8 was the only other contest that was less than a 10 point differential (it went 54-46 to the Rs).
And yes (just to be clear), I do understand that it would be a wholly legal and constitutional move.
I would note for the record:  my objections to this proposal have nothing to do with considerations as to how an election would turn out.  I believe that all citizens should be treated as political equals (which I think is how we ought to view individuals*).  And, further, with political equality of all citizens faced with what boils down (essentially) to a binary choice (R or D) for a single office (the presidency) that the only fair and just decision rule is an absolute majority.  As such, I believe that a popular vote with a majority requirement is a far superior method to the electoral college (even using the district system, especially with noncompetitive districts).
As I noted in a previous post:  if competition in sports and business is supposed to help produce the best results, why shouldn't we apply the same logic to politics, especially for this type of choice?   If PA moves to allocating seats based on the currently drawn electoral districts, then this would clearly be a move to diminish the competitive nature of PA elections.  Indeed, the only competition would be for the two seats allocated to the winner of the state and to two or three congressional districts (and maybe a few more in any given year).  And this is a good and defensible thing how?
—–
*Indeed, the more I think about it, the more I find any libertarian-oriented support for the electoral college to be baffling.  If individual liberty and freedom is key to libertarian philosophy, then I can see no philosophical justification for supporting a decision rule for selecting an office holder, especially the POTUS, that would treat some citizens differently than other citizens.