Senator Elizabeth Warren Silenced By Senate During Debate On Sessions Nomination
There were fireworks on the floor of the Senate last night, but it was really just politics as usual.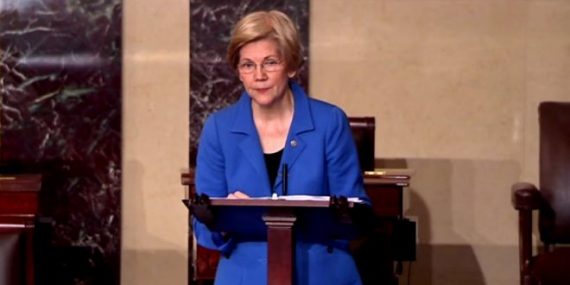 The Senate's consideration of Jeff Sessions to be the next Attorney General was interrupted last night when Senate Majority Leader Mitch McConnell moved to rebuke Massachusetts Senator Elizabeth Warren  for reading from a letter that Coretta Scott King, the wife of Rev. Dr. Martin Luther King Jr., sent to the late Senator Edward Kennedy and several other Senators back in 1986 when Sessions was up for a seat on the 11th Circuit Court of Appeals during the Reagan Administration:
WASHINGTON — Republican senators voted on Tuesday to formally silence a Democratic colleague for impugning a peer, Senator Jeff Sessions of Alabama, by condemning his nomination for attorney general while reading a letter from Coretta Scott King.

Senator Elizabeth Warren, Democrat of Massachusetts, had been holding forth on the Senate floor on the eve of Mr. Sessions's expected confirmation vote, reciting a 1986 letter from Mrs. King that criticized Mr. Sessions's record on civil rights.

Sensing a stirring beside her a short while later, Ms. Warren stopped herself and scanned the chamber.

Across the room, Senator Mitch McConnell, the majority leader, had stepped forward with an objection, setting off an extraordinary confrontation in the Capitol and silencing a colleague, procedurally, in the throes of a contentious debate over President Trump's cabinet nominee.

"The senator has impugned the motives and conduct of our colleague from Alabama, as warned by the chair," Mr. McConnell began, alluding to Mrs. King's letter, which accused Mr. Sessions of using "the awesome powers of his office in a shabby attempt to intimidate and frighten elderly black voters."

Mr. McConnell called the Senate to order under what is known as Rule XIX, which prohibits debating senators from ascribing "to another senator or to other senators any conduct or motive unworthy or unbecoming a senator."

When Mr. McConnell concluded, Ms. Warren said she was "surprised that the words of Coretta Scott King are not suitable for debate in the United States Senate." She asked to continue her remarks.

Mr. McConnell objected.

"Objection is heard," said Senator Steve Daines, Republican of Montana, who was presiding in the chamber at the time. "The senator will take her seat."

The debate appeared to center, in part, on whether the rule allowed exemptions for quoted remarks — Ms. Warren had been reading directly from the letter from Mrs. King, the widow of the Rev. Dr. Martin Luther King Jr. — to demean a sitting senator.

In a party-line vote, 49 to 43, senators upheld Mr. Daines's decision, forcing Ms. Warren into silence, at least on the Senate floor, until the showdown over Mr. Sessions's nomination is complete. He is expected to be confirmed on Wednesday.

Immediately, Democrats took up Ms. Warren's cause, urging on social media for Republicans to "#LetLizSpeak." Ms. Warren said on Twitter that Mr. McConnell had "silenced Mrs. King's voice" on the Senate floor, to say nothing of "millions who are afraid & appalled by what's happening in our country." Within hours of being shut down on the Senate floor, Ms. Warren read the letter from Mrs. King on Facebook, attracting more than two million views — an audience she would have been unlikely to match on C-Span, if she had been permitted to continue speaking in the chamber.

Democrats argued that Mr. McConnell was enforcing the rule selectively, citing examples of Republicans appearing to test the boundaries of Rule XIX. In one instance from 2015, Senator Ted Cruz of Texas accused Mr. McConnell of lying "over and over and over again." In another, last year, Senator Tom Cotton of Arkansas described the "cancerous leadership" of Senator Harry Reid, the former Democratic leader.

Republicans accused Ms. Warren of violating the rule repeatedly, saying she had been warned before Mr. McConnell's objection. Senator John Cornyn, Republican of Texas, suggested that Ms. Warren had been rebuked over "a quotation from Senator Ted Kennedy that called the nominee a disgrace to the Justice Department."

"Our colleagues want to try to make this all about Coretta Scott King, and it is not," he said.

But when Senator Chuck Schumer, the Democratic leader, sought clarification, he was informed that while a warning was issued over the letter from Mr. Kennedy, the ruling itself hinged on Mrs. King's letter. That judgment came from Senator Mike Rounds, Republican of South Dakota, who had taken over as the presiding officer.
The rule in question is part of the Standing Rules of the Senate and Rule 19 in general sets certain rules regarding debate in the Senate and how Senators must conduct themselves as well as the rules that govern when debate on a given matter shall begin and end during the course of an ordinary legislative day. Other provisions of Rule 19 include a rule that no Senator shall refer "offensively" to any state in the Union, which I suppose means that Senators from Ohio and Michigan are forbidden from making reference to any of the many jokes that are traded back and forth leading up to the annual Ohio State-Michigan football game. The relevant part of the rule reads as follows:
No Senator in debate shall, directly or indirectly, by any form of words impute to another Senator or to other Senators any conduct or motive unworthy or unbecoming a Senator.
As with many of the Senate's standing rules, there is no commentary or other guide to lead to an understanding of what the intention behind the rule is, or what it means to "impute…….any conduct or motive unworthy or unbecoming a Senator." According to some reports, the rule developed after the infamous incident in 1856 when Senator Charles Sumner was hit repeatedly with a cane by Congressman Preston Brooks of South Carolina, an attack that left Sumner suffering from injuries that plagued him for the rest of his life but also made him a hero of the abolitionist movement. Brooks had apparently been motivated by a speech Sumner made on the Senate floor in which he spoke in disparaging terms about several Democratic Senators from the South during a debate over the admission of Kansas and Nebraska as states, a debate that turned on the question of the expansion of slavery into the territories. Whatever the motivation, though, there does not appear to be much of a record of the rule being enforced over the past 166 years, at least not one that would provide a guide for determining whether Warren's comment really did cross the line that the rule attempts to draw. Additionally, as Amber Phillips points out in The Washington Post, there are many examples of Senators saying things about other Senators during floor speeches that arguably fall within the provisions of what the rule was meant to prohibit. Additionally, the immediate response to what happened on the floor lends credence to the idea that the rule is, at best, selectively enforced. Soon after she was silenced, Warren was posting a Facebook Live video of her reading the letter from a corridor just outside the doors that lead to the Senate floor, and Oregon Senator Jeff Merkley and several other Democratic Senators read the full text of Mrs. King's letter into the record, an action for which none of them were rebuked in the manner that Warren was.
CNN's Eric Bradner suggests in his report on the incident that the GOP's plan to silence Warren ended up backfiring on them:
"They can shut me up, but they can't change the truth," Warren later told CNN's Don Lemon.

The moment immediately galvanized the Democratic base. Weeks after the women's marches around the country turned out droves of anti-Trump protesters, Warren — silenced by male senators for attempting to read a letter from a civil rights icon — had given those women a new rallying point.

Adding fuel to the backlash, supporters noted the apparent hypocrisy that Warren's male colleagues were able to read from the letter uninterrupted. Sen. Mark Udall read the letter to enter it into the congressional record Wednesday morning and Sen. Jeff Merkley was allowed to read from King's letter Tuesday night, though he couched his remarks as only reading portions of the letter and with the context to be in line with Senate rules.

Warren is now forbidden from participating in the floor debate over Sessions' nomination ahead of a confirmation vote expected Wednesday.

"I literally can't be recognized on the floor of the Senate," she told Lemon. "I have become a nonperson during the discussion of Jeff Sessions."

(…)

By Tuesday night, the hashtag #LetLizSpeak was trending on Twitter. Millions of people had also watched on Facebook as Warren read the letter outside the Senate chamber.

MoveOn members contributed $250,000 to Warren's re-election campaign in about 12 hours.

Warren used Twitter to attack Sessions and McConnell.

"I will not be silent about a nominee for AG who has made derogatory & racist comments that have no place in our justice system," she wrote.

In a follow-up tweet, she said: "I will not be silent while the Republicans rubber stamp an AG who will never stand up to the @POTUS when he breaks the law."

And then: "Tonight @SenateMajLdr silenced Mrs King's voice on the Sen floor – & millions who are afraid & appalled by what's happening in our country."
From a political point of view, I'm not so sure that the conclusion that this will backfire on the GOP is really all that accurate. To the Republican base, there are few Democrats of national stature that are disliked as Elizabeth Warren, so McConnell taking this action against her is likely to rally them as much as it is likely to rally the Democrats around Warren, and that will only inure to McConnell's benefit. Additionally, Republicans seem to believe that Warren doesn't play very well outside the progressive wing of the Democratic Party and that they can win a victory by making her the most prominent critic of the Republicans on Capitol Hill and the Trump Administration. Whether or not this is true, of course, is part of the gamble that Republicans would be taking here, but as the standoff over a replacement for Justice Scalia showed, Senator McConnell is not above using the Senate rules to gamble a bit so the fact that they chose to target her over something that will enhance her stature among Democrats but which most Americans aren't going to care about one way or the other then it's worth whatever short-term price they might pay. Whether or not that turns out to be true is something only time will tell.
In any case, here's the video of what happened on the Senate floor last night:
And here's the text of Mrs. King's 1986 letter:
Coretta Scott King 1986 Letter and Testimony Signed by Doug Mataconis on Scribd