Sherrod Brown 2020?
Sherrod Brown pulled off the only statewide Democratic victory in Ohio on November 6th. Because of that, he's being looked at as a potential 2020 candidate for President.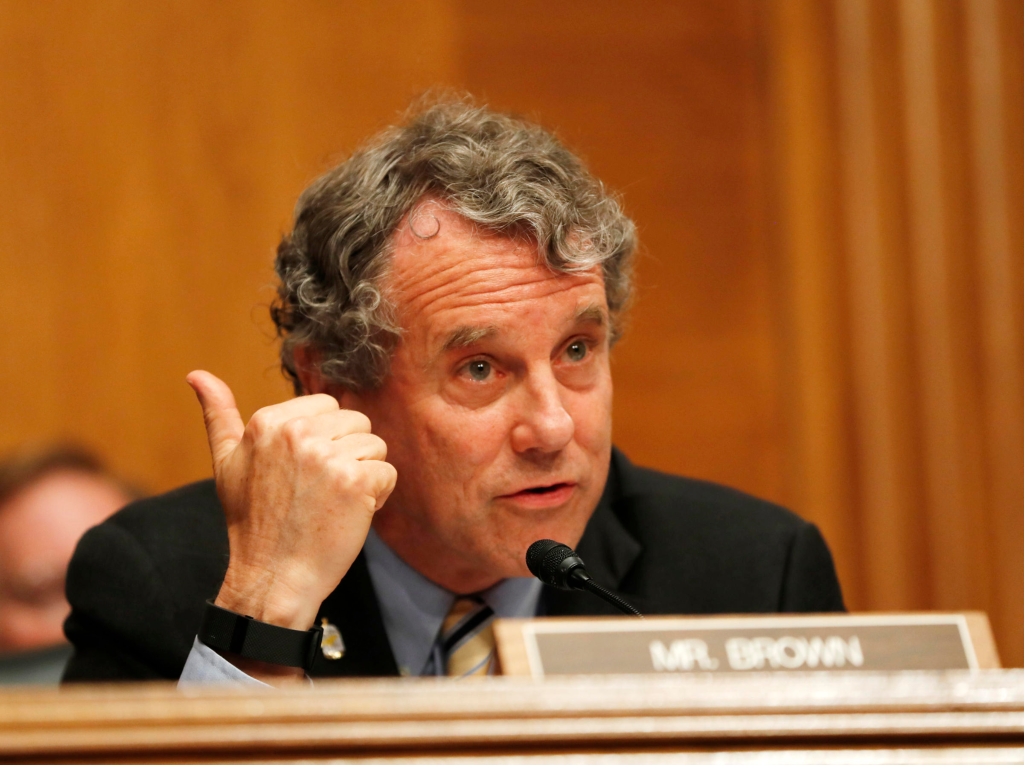 Fresh off a win for a third term in office, Ohio Senator Sherrod Brown finds himself the somewhat unlikely focus of Presidential speculation:
COLUMBUS, Ohio — One after another, the Democratic candidates in Ohio fell.

But there was Senator Sherrod Brown celebrating his re-election last Tuesday night at a hotel ballroom before a crowd of anxious revelers.

Almost immediately, some Democrats began to wonder if Mr. Brown possessed the secret to retaking a state that seemed to be steadily slipping from their grasp."Let our country — let our nation's citizens, our Democratic Party, my fellow elected officials all over the country — let them all cast their eyes towards the heartland," Mr. Brown said from the stage, dispelling the sense of disappointment that had begun to descend.

Then, his gravelly voice rasping out a crescendo, he made it clear where he thought his party could forge its path to success: his triumphant campaign, he said, was the "blueprint for America for 2020." The revelers roared.

If his victory speech seemed to double as a calling card for a possible presidential run, there was good reason. Not only had Mr. Brown won his third term in this crucial battleground that President Trump claimed by eight points, he was the only major Democrat to win a statewide seat in Ohio.

A week later — after insisting for years that a run for president was far off his radar — Mr. Brown has begun wondering aloud if he should have the world's most important job after all.

Since the election, Mr. Brown said in a telephone interview this week, he and his wife, the journalist Connie Schultz, have "been overwhelmed by the number of people that have come forward and said, 'You've got to run. You have the right message. You come from the right state.'"

So is he running?

"We're thinking about it," he said.

Rumpled and unvarnished — with a fondness for sweatshirts, less so for ties — Mr. Brown would in some ways seem uniquely positioned in a party hoping to win back the Midwestern states that flipped to Mr. Trump. Throughout his political career, he has championed populist platitudes like the "dignity of work" that have resonated with working-class voters in all corners of Ohio while also supporting liberal social causes like women's reproductive rights and L.G.B.T.Q. rights.

Though he disagrees with Mr. Trump on nearly every policy issue, he is aligned with him on trade, opposing the North American Free Trade Agreement long before the president made that a central part of his own campaign.

Perhaps more important, Mr. Brown projects a grizzled authenticity that endears his brand of progressivism to even some conservative voters. He talks about how his suits are made just miles from his home in Cleveland and cites scripture at rallies. He wears on his lapel a canary pin that a steelworker gave him years ago and has an enduring passion for the Cleveland Indians. His dog, Franklin, appears frequently on social media and had a starring role in one of the senator's campaign ads.

Yet at a time when Mr. Trump has stoked a fire-breathing liberalism among some Democrats, Mr. Brown has not embraced some key progressive issues, including Medicare for All. And after a midterm season that swept women and minority candidates into office and crowned new progressive superstars, he is a white male career politician from the Midwest.

"Democrats win the White House when we have a new, fresh face who's inspiring and talking a lot about the future," said Rebecca Katz, a Democratic strategist from the party's progressive wing.

"He's a traditional Democrat," she continued, "and I think in the post-Bernie era, it seems that Democratic voters want more than that."

Steve Elmendorf, a Washington political strategist and longtime Hillary Clinton supporter, said Mr. Brown would have to outshine higher-wattage candidates in the primaries, but that he has the kind of political bona fides that could appeal to a broad swath of voters.

"Having that combination of authenticity, the ability to talk to working people, and the progressive credentials make him a very attractive candidate," he said.
Yesterday, Brown said that beating Trump in 2020 was the most important political decision of his lifetime:
Sen. Sherrod Brown (D-Ohio), who is considering a White House bid in 2020, said Monday that possibly replacing President Trump would be the "most important political decision" of his life.

"I don't really want to judge other candidates, what they're doing, what they're saying," Brown told BuzzFeed News after a rally in Ohio. "But I'm concerned. … I think the most important political decision in my lifetime will be replacing Donald Trump in 2020."

Brown also told BuzzFeed that he will ask himself whether there is "somebody else that can carry this message" when he decides whether to run. He added that the speech he gave following his Senate reelection victory earlier this month, which focused on the "dignity of work," would serve as a potential "blueprint" for 2020.

"My election night speech was really about the message, whether I run or not, that I'm hopeful that … honoring and respecting the dignity of work will become part of the narrative in other races. If that's done and done well, I would be less likely to run," he said.
In a year in which Republican Mike DeWine easily defeated Democratic nominee Richard Cordray, Brown's re-election was one of the few highlights for Democrats in the Buckeye State this year, and the fact that Brown has managed to win three statewide elections to the Senate in 2006, 2012, and, of course, this year. Prior to that, Brown had served for 14 years as a Congressman, representing an area generally to the east of Cleveland that includes Akron and the surrounding area, as Secretary of State of Ohio, and as a member of the Ohio House of Representatives in a political career that began with his first election in 1974. Given the extent to which Brown has managed to do this notwithstanding the fact that the Buckeye State has generally stayed Republican at other levels is one of the reasons why some Democrats, who recognize the extent to which President Trump's victory two years ago can be attributed to the extent to which he was able to attract the same white, working-class voters that Brown has attracted in each of his three runs for the Senate.
Prior to this year, Brown had not really been mentioned as a potential candidate for President and, quite honestly, he does not exactly come across as Presidential material. With a gravelly voice that often makes it seems like he's suffering from permanent laryngitis and somewhat of a "frumpy" look, he doesn't exactly make for the polished candidate look that Americans seem to prefer in a candidate. Additionally, it's difficult to see how exactly he would differentiate himself from older candidates like Joe Biden, Bernie Sanders, and Elizabeth Warren or younger candidates such as Cory Booker and Kamala Harris. At the same time, though, Brown is presently the only seemingly viable candidate from the Midwest at the moment, and it's hard to see how Democrats put together a winning Electoral College majority without winning back at least some of the Midwestern states that Trump managed to win two years ago, which includes not just Ohio, but also Iowa, Wisconsin, Michigan, and Pennsylvania. Because of that, it seems as though Democrats at least ought to look to Brown to figure out how he managed to win again in Ohio in a year when Republicans there managed to win all the other statewide elections, including a Governor's race where Mike DeWine easily disposed of Richard Cordray, who many Democrats had hoped would pull off a win. If they can figure out how Brown did that, even if they don't nominate him, then Democrats will have a chance of unseating Trump in 2020.