Silly Story Of The Weekend: Rand Paul Gets Donation From Porn Queen
Rand Paul is apparently taking heat from some of his more socially conservative supporters after FEC reports indicate he received a donation from the owner of an Adult web site. People need to get a life.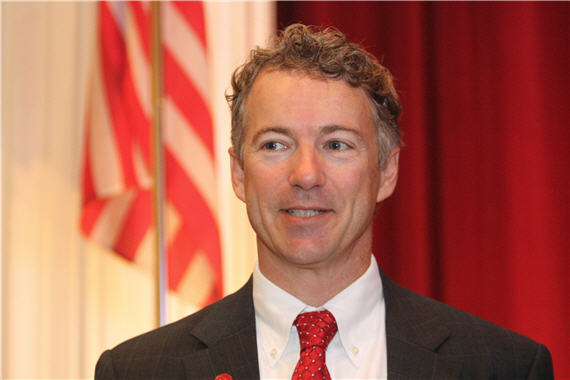 Rand Paul is apparently making headlines in Kentucky this weekend because Federal Election Commission reports indicate he took a campaign donation from the co-founder of an adult Internet site:
LOUISVILLE, Ky. (AP) — Republican Rand Paul's campaign for Senate in conservative Kentucky wouldn't say Friday whether it will return money from a donor who runs an adult website featuring photos of lingerie-clad and nude women.

Federal Election Commission records show that Cyan Banister, who founded California-based Zivity.com with her husband, contributed $4,800 to Paul earlier this year.

Banister told The Associated Press in an e-mail Thursday that she sees Paul's limited government views as appealing, and said she likes his "strong values that resonate with mine."

Zivity.com's photos show women posing in little – or nothing – and are described by the website as works of art.

Paul is relying on solid support from conservative voters in his hotly contested race against Democrat Jack Conway.

"A lot of Kentuckians would have a problem with a candidate accepting money from organizations that are tearing down the culture," said Martin Cothran, a policy analyst for The Family Foundation of Kentucky. "And we assume that the Paul campaign understands that."

Cothran said candidates have very little control over who supports them, but added: "You do have control over who you accept money from. We assume that when the Paul campaign finds out about this, they'll return that money."

Paul's campaign issued a statement saying the Republican candidate – a father of three boys and husband of a church deacon – condemns pornography and considers it degrading to women. The campaign said it "cannot be expected to run background checks on all 25,000 donors who share his stances on issues like balanced budgets, reduced federal spending, opposition to `Obamacare' and the reckless behavior in Washington."

Conway's campaign declined comment.

(…)

Cyan Banister said in an e-mail that she was drawn to Paul's libertarian views, a philosophy shared by his father, U.S. Rep. Ron Paul, whom Banister also supported financially during his unsuccessful presidential run as a Republican in 2008.

"My point of view is that our country is in danger of losing some of its most valued freedoms," she said in the e-mail. "The Pauls have strong values that resonate with mine. I believe they support limited government, tax reform, are against nationalized health care."
This just strikes me as an incredibly silly story, but it appears to have already been picked up by a few Kentucky newspapers and television stations so the Paul campaign was obviously required to issue a statement. They're right, of course, that they cannot be expected to screen their donors, but even now that they know who this donor is the suggestion that he needs to return the money is just absurd.
Now, I hit Rand Paul's father pretty hard during the 2008 Presidential campaign when it was revealed that they had received an unsolicited endorsement and small donation from individuals affiliated with a neo-nazi website. More than a few Ron Paul supporters took me to task for saying that it would be better for the campaign to return the $ 500 it had received than to allow the campaign to become associated with truly despicable people. In this case, though, we're talking about someone engaged in a legal business in another state who wanted to contribute to the campaign, not a racist group that denies the Holocaust ever occurred. To suggest, as this blogger affiliated with a group called the Family Foundation has, that the campaign is under an obligation to return the money is absurd. To make this a story, as the media seems to be doing, is just silly.
But, then, this is the silly season.
H/T: Marion County Line