So What Did Trump And Putin Agree To That We Don't Know About?
We still don't know what President Trump and Vladimir Putin talked about or agreed to during their two-hour meeting on Monday.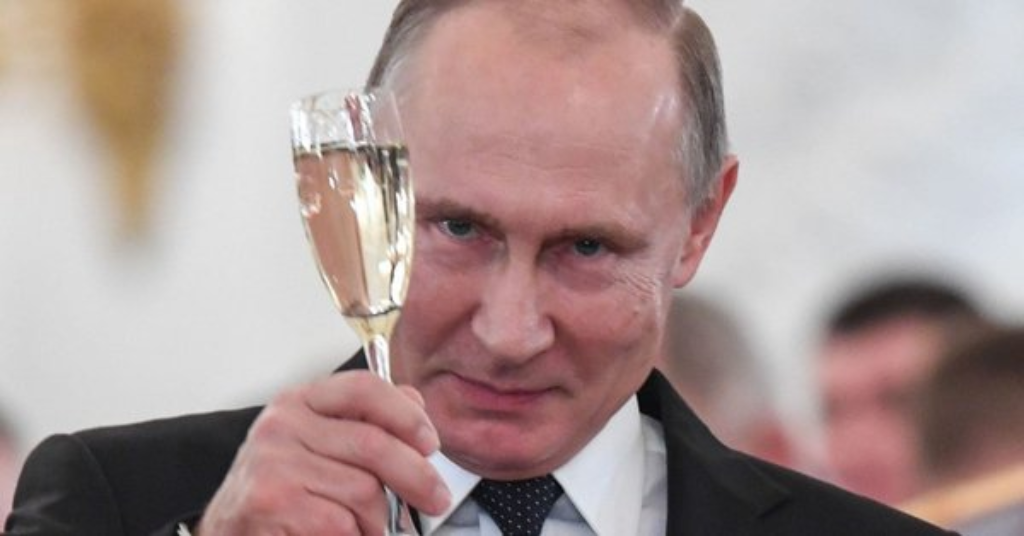 As I noted yesterday, one of the enduring issues still left unresolved in the wake of President Trump's disastrous summit meeting with Russian President Vladimir Putin is what, if anything, may have been discussed between the two men or agreed to that we are, as of yet, unaware of. This has led some members of the House and Senate on the Democratic side to demand that they be given access to the translator who was the sole person in the room other than Trump, Putin, and Putin's translator. While that move strikes me as unwise and potentially barred by Executive Privilege, it certainly goes without saying that we need to know what may have been agreed to, and that was made even more apparent today when the Russian Ambassador to the United States hinted at unspecified agreements that the two men had reached during their two-hour meeting earlier this week:
Russia's ambassador to the United States on Wednesday said President Trump made "important verbal agreements" with Russian President Vladimir Putin during their private conversation in Helsinki on Monday.

Russian envoy Anatoly Antonov listed cooperation in Syria and arms control as two issues the world leaders had agreed on, according to The Washington Post.

But the Post reported that the highest-level Trump administration officials still do not know what Trump promised Putin during their one-on-one meeting, which lasted more than two hours.

White House press secretary Sarah Huckabee Sanders and State Department spokeswoman Heather Nauert on Wednesday both listed general topics that the two discussed, but neither provided much detail.

Nauert said the State Department is assessing "three takeaways," which include a working group of American and Russian business leaders, an expert council with thought leaders from both countries, and follow-up meetings with Russian national security council staff.

"These are certainly all modest proposals," Nauert said. "The president had said going into this that we wouldn't solve all the world's problems in one meeting."

Sanders was vague as well, telling reporters during Wednesday's press briefing that Trump and Putin discussed "Syrian ­humanitarian aid, Iran's nuclear ambition, Israeli security, North Korean denuclearization, Ukraine and the occupation of Crimea, reducing Russian and U.S. nuclear arsenals, and of course your favorite topic, Russia's interference in our elections."

The Post reported that officials are scrambling to figure out what Trump agreed to.

Russian Foreign Ministry spokeswoman Marina Zakharova said on Wednesday that the Kremlin is already working to implement agreements from the summit, according to the Post.

"A lot of what the president of the Russian Federation talked about is now being worked through," she said, according to the Post. "Relevant instructions are being carried out, and diplomats are beginning to work on the outcomes."

Putin during Monday's controversial press conference said the conflict in Syria could present a starting point for bilateral agreements. He also claimed he and Trump agreed on securing Israel's border with Syria, eliciting praise from Israeli Prime Minister Benjamin Netanyahu.

Antonov on Wednesday said Moscow is "a hostage to the domestic political battle" in the U.S.

"When I return from Moscow, I will have the very clear-cut and lucid determination to go knock on every door at the State Department and the National Security Council to understand what we can do together in order to realize the agreements, the ideas, that the two presidents supported," Antonov said.

"Even in talking with you now, I am afraid to say something positive about the American president," he said, "because when American journalists or policymakers read my interview, they'll say Russia is again meddling and helping Donald Trump."
The Washington Post has more:
Two days after President Trump's summit with Russian President Vladi­mir Putin, Russian officials offered a string of assertions about what the two leaders had achieved.

"Important verbal agreements" were reached at the Helsinki meeting, Russia's ambassador to the United States, Anatoly Antonov, told reporters in Moscow Wednesday, including preservation of the New START and INF agreements, major bilateral arms control treaties whose futures have been in question. Antonov also said Putin had made "specific and interesting proposals to Washington" on how the two countries could cooperate on Syria.

But officials at the most senior levels across the U.S. military, scrambling since Monday to determine what Trump may have agreed to on national security issues in Helsinki, had little to no information Wednesday.

At the Pentagon, as press officers remained unable to answer media questions about how the summit might impact the military, the paucity of information exposed an awkward gap in internal administration communications. The uncertainty surrounding Moscow's suggestion of some sort of new arrangement or proposal regarding Syria, in particular, was striking because Gen. Joseph Votel, who heads U.S. Central Command, is scheduled to brief reporters on Syria and other matters Thursday.

Defense Secretary Jim Mattis did not attend Wednesday's Cabinet meeting with Trump and has not appeared in public this week or commented on the summit.

"When we are able to provide more details, we will, but rest assured, the U.S. Department of Defense remains laser focused on the defense of our nation," Pentagon spokeswoman Dana White said.

(…)

One idea under consideration, Antonov said, was a joint U.S.-Russian fight against terrorism in Syria. "It seemed to me, my impression was that the U.S. side listened . . . with interest," he said. Russia has, like Syrian President Bashar al-Assad, defined all opponents of the Syrian government as "terrorists" and made similar proposals throughout the seven-year Syrian civil war.

The leaders also discussed an earlier agreement Russia had reached with Israel — based on a 1974 United Nations agreement — to keep all Iranian and proxy forces fighting on behalf of ­Assad's military at least 50 miles from Syria's border with the ­Israeli-occupied Golan Heights, and not to contest Israeli strikes against perceived threats from Iranian proxies inside Syria.

At the Russian Foreign Ministry, spokeswoman Marina Zakharova said implementation of summit agreements had already begun. "A lot of what the president of the Russian Federation talked about is now being worked through," she said. "Relevant instructions are being carried out, and diplomats are beginning to work on the outcomes."
The President also hinted at certain "agreements" in a series of morning Tweets, but did not provide any details about those agreements:
The Fake News Media wants so badly to see a major confrontation with Russia, even a confrontation that could lead to war. They are pushing so recklessly hard and hate the fact that I'll probably have a good relationship with Putin. We are doing MUCH better than any other country!

— Donald J. Trump (@realDonaldTrump) July 19, 2018
The Summit with Russia was a great success, except with the real enemy of the people, the Fake News Media. I look forward to our second meeting so that we can start implementing some of the many things discussed, including stopping terrorism, security for Israel, nuclear……..

— Donald J. Trump (@realDonaldTrump) July 19, 2018
….proliferation, cyber attacks, trade, Ukraine, Middle East peace, North Korea and more. There are many answers, some easy and some hard, to these problems…but they can ALL be solved!

— Donald J. Trump (@realDonaldTrump) July 19, 2018
Taking both the statements of the Russian Ambassador and the President into account, there are obviously numerous questions left hanging that need to be answered as soon as possible. This includes not only what if anything, the two men may have agreed to but also what else was discussed and what that might mean for the future. The comments from the Ambassador and the President both indicate that the subjects that were touched upon were wide-ranging and touched on many areas that implicate American national interests on a wide variety of levels. For example, the United States and Russia are both currently involved in the civil war in Syria in varying and often conflicting ways. On at least one occasion over the past year, this has resulted in American and Russian troops being involved in direct combat with each other for the first time since the end of the Cold War more than twenty years ago. Given that, it's important to know what the two Presidents may have discussed and agreed to with regard to the future of Syria. Similarly, the Russians have taken an increasingly active role with respect to the situation on the Korean Peninsula at the same time that the United States continues to attempt to negotiate with the Kim regime. This is just the beginning of the list, of course, and lord only knows what else the two Presidents could have discussed alone, and what the President may have foolishly agreed to.
News like this, of course, precisely why the kind of extended, one-on-one meetings between world leaders, especially leaders of adversarial nations such as the United States and Russia. Normally, those types of meetings take place after lower-level aides have met, often for months if not longer, and hammered out both an agenda and the terms of whatever will be agreed to at the summit have already been largely ironed out. At the actual summit meeting, the leaders would be accompanied by aides, including someone whose sole responsibility is to take notes regarding what is discussed, what may end up being the topic of future discussions, and what, if anything, was actually agreed to. This is how summit meetings were done during the Cold War, and it's how nearly every normal nation on the planet handles these types of meetings. Unfortunately, we are no longer a normal nation led by a normal President, we are a chaos nation led by a man who thrives on chaos, uncertainty, and the inflation of his own pathetic ego. Given that, who knows what he might have agreed to?