Some Republicans Already Looking Ahead To 2020
The 2016 Republican Convention is barely halfway over, but some Republicans are already looking ahead to 2020.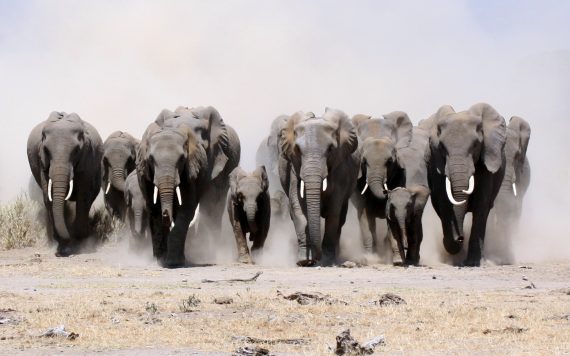 Republicans in Cleveland aren't done revving up for the 2016 election, but some candidates and potential candidates are already looking ahead to 2020:
Speaking to Iowa Republicans here on Monday, Gov. Scott Walker of Wisconsin repeatedly reminded them of his childhood in the state that kicks off the presidential nominating process. Before the same crowd on Tuesday, Senator Tom Cotton of Arkansas had his own boast. "I'm the only politician here this week that married a girl born in Iowa," said Mr. Cotton, admitting it was a "pander."

Bruised by their indecorous primary, which left some of the party's brightest stars reduced to wounded pets on the side of the road and pessimistic about taking over the White House in November, many Republicans are quietly turning their focus to 2020.

Jockeying for future presidential campaigns is a feature of every party convention, and the Republican meeting in Cleveland this week is no exception. But the subtle wooing and chit collecting have taken on a new air of urgency this year, with many party leaders openly skeptical about whether Donald J. Trump can defeat Hillary Clinton.

Mr. Trump's ascendance has shown that Republican voters craved alternatives to conventional candidates from governor's mansions and Congress.

But that is not stopping a conventional array of aspirants from lining up once again. The roster of potential 2020 candidates includes several of this year's primary losers, including SenatorsTed Cruz of Texas and Marco Rubio of Florida, Gov. John Kasich of Ohio and Mr. Walker, as well as younger hopefuls like Mr. Cotton.

They calculate that the experiment with Mr. Trump, if he loses, will trigger buyer's remorse within the party. The next nominee will be well positioned, they estimate, because the electorate will be ready for change after three consecutive Democratic terms in the White House.

"If you thought this year was an attractive race on our side, imagine 2020," said Phil Cox, a former executive director at the Republican Governors Association. "You'll have 30 people running."
The article goes on to note the extent to which several Republican politicians who seem likely to be potential candidates in four years are already taking steps to maneuver themselves into position as potential candidates in the event that Donald Trump falls short this year, and while it seems like it might just be a bit pre-mature the reality is that these conventions are a natural place for such candidates to start the long process of introducing themselves to top-level activists in early primary states since it is the one time that so many power brokers, party leaders, and activists are going to be gathered in one place at a given period of time. Obviously, candidates undertaking this process need to be careful not to be seen as deliberately trying to undermine the party nominee, but given the divisions that are evidence even as the Republican nominates Donald Trump, but given the stakes it's rather inevitable that potential candidates thinking ahead to 2020 or 2024 would at least begin the process of networking and introducing themselves to people whose support they would likely be soliciting support from in the not so distant future if the GOP ends up losing the race for the White House in November. You can expect to see similar moves from Democratic candidates who may anticipate a need to begin preparing themselves for a primary fight in four or eight years, especially given the fact that the one thing the 2016 race revealed just how weak a bench the Democratic Party has right now thanks in no small part to losses at the Senate and Gubernatorial level in 2010 and 2014. One can voice complaints about the fact that the process for the next election, or the one after that, is already in play, but this has been nature of American politics for some time now and it's unlikely to change any time soon. Part of it is due to the size of the nation itself, of course, and part of it is due to the manner in which the Presidential primary system works and the fact that it requires candidates to have networks ready to go in all fifty states relatively early in the process if their campaigns are going to be considered viable.
As for potential candidates in 2020, there are some names on the list that should be obvious to anyone who paid attention to the 2016 race for the Republican nomination. Even as he was nearing the end of his doomed campaign to deny Donald Trump the nomination, for example, Texas Senator Ted Cruz was positioning himself as a conservative alternative who could come back four years later essentially saying "I told you so." Indeed, many of the that Cruz took toward the end of his campaign, such as the early naming of a running mate, mirrored Ronald Reagan's 1976 campaign, which served as the launching pad for his ultimately successful bid for the nomination of his party in 1980. Barring the unforeseeable, one can expect Cruz to be a candidate again in four or eight years. Among the 2016 candidates, it's also likely that we'll hear again from Marco Rubio, Rand Paul, and John Kasich. Indiana's Mike Pence, who would be running as an incumbent Vice-President in 2024 in the best of circumstances, is also likely to see this campaign as his best chance of boosting himself into national prominence, especially among conservatives. One name that would be a new addition to the list is Arkansas Senator Tom Cotton, who has sought to differentiate himself as a top GOP voice on foreign policy. Finally, several current Governors who will see their terms expire during the course of the next four years, including Nikki Haley, Susana Martinez, John Kasich, and Scott Walker, could be considered potential contenders in 2020 or beyond. Beyond this list, there are likely others out there that nobody is considering who will sprint into national prominence in the coming years and consider themselves as potential nominees. After all, if Donald Trump can do it, why can't they, right?