SOTU 2023: Normal vs Crazy
The state of the union is . . . not good.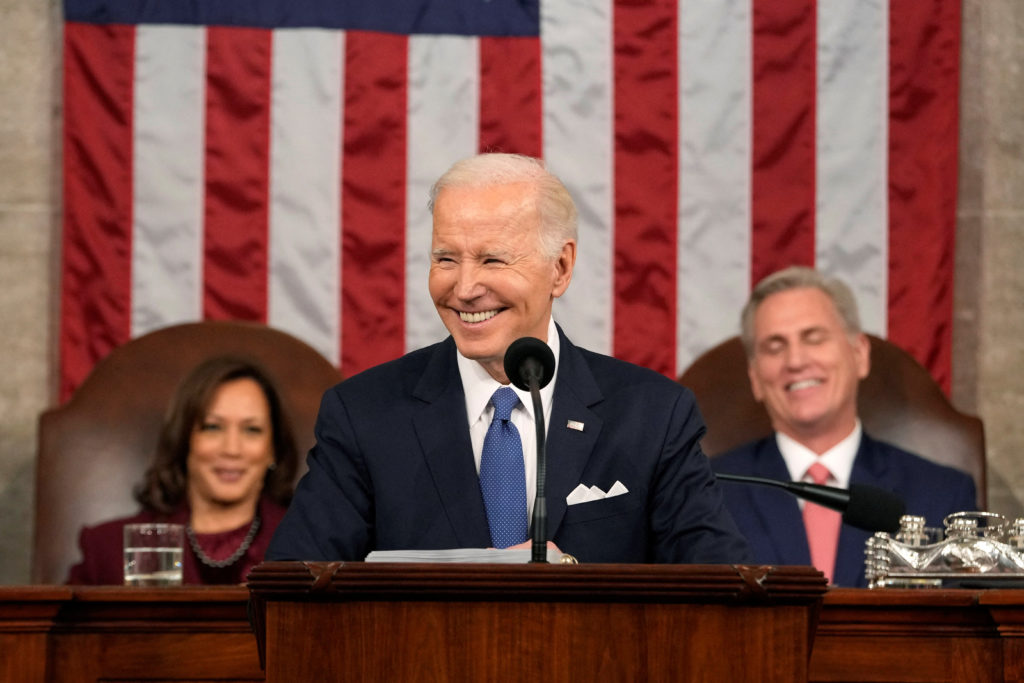 As has been the norm in recent years, I did not stay up to watch President Biden's State of the Union address, so am reacting this morning to the press reaction. And it seems unanimous: Biden gave a fairly typical post-midterm SOTU, serving a dual purpose as a case for his own re-election, while Republicans behaved like drug-addled lunatics.
WaPo ("Biden, in State of the Union, mixes bipartisanship with defiance"):
President Biden, facing a vocal and divided Congress, used his second* State of the Union address Tuesday to emphasize popular ideas from job creation to health care, aiming to throw Republicans on the defensive and pitch himself as a friend of ordinary Americans.

In a speech that foreshadowed his potential 2024 campaign message, Biden defended his record, made a direct appeal to blue-collar workers and sought to shift voter attitudes about the economy by touting his administration's massive investment in the nation's infrastructure.

Alternating between calls for Republicans to unify with Democrats and condemnation of the GOP's least popular policies, Biden showcased both the potential for future cooperation and the likelihood of nasty partisan fights over the next two years.

"To my Republican friends, if we could work together in the last Congress, there is no reason we can't work together and find consensus on important things in this Congress as well," Biden said. "The people sent us a clear message. Fighting for the sake of fighting, power for the sake of power, conflict for the sake of conflict gets us nowhere."

That remark was met with applause, but the comity quickly gave way to acrimony as GOP lawmakers began interrupting the president with shouts of opposition. The break in decorum came as Republicans took exception to Biden's remarks on issues ranging from the fentanyl crisis to the national debt — and he often fired back.

The speech, taking place just weeks before Biden's expected announcement that he will seek reelection, was widely viewed as a soft launch for a campaign for a second term. Adding to the tension of the moment was a looming partisan fight over the debt limit and the approach of the one-year mark of Russia's war against Ukraine.

Biden presented himself as an elder statesman capable of working across the aisle while also cutting the figure of a shrewd politician with strongly held beliefs. He outlined areas for potential bipartisanship including technology, health care and foreign policy, but sharply rejected Republican proposals on issues ranging from immigration to taxes to Social Security and Medicare.

He adopted "Let's finish the job" as a mantra, a phrase that seemed designed to temper his triumphant declarations with a recognition that many Americans remain anxious and are far from feeling secure or prosperous.
NYT ("Biden Calls on Republicans to Help Him 'Finish the Job' and Build the Economy"):
President Biden challenged the new House Republican majority on Tuesday night to work together with him to "finish the job" of repairing America's unsettled economy and fragile democracy even as the emboldened opposition geared up to try to force him to change course.

In the first State of the Union address of a new era of divided government that at times turned strikingly rowdy, Mr. Biden vowed to cooperate with the other party but offered no concessions to it. Instead, he called on Republicans to embrace his program of raising taxes on the wealthy and extending social aid to the needy, citing bipartisan legislation passed when Democrats were in charge.

[…]

The president's first major encounter with the newly empowered House Republicans featured stark moments of unscripted drama the likes of which were rarely seen during State of the Union addresses of the past. When he mentioned the fentanyl crisis, introducing a father who lost a daughter to an overdose, some Republicans heckled him over drugs entering the country. "The border! The border!" some shouted. "It's your fault!"

At another point, Mr. Biden engaged in a remarkable spontaneous colloquy with Republicans when he accused them of threatening Social Security and Medicare, an assertion that drew some of them to their feet as they rejected the assertion loudly and angrily. At least one of them shouted, "Bullshit!"

"Liar!" screamed Representative Marjorie Taylor Greene, Republican of Georgia.

"Contact my office," the president responded, offering to give her proof of his point.

When Republicans continued to deny they planned to cut the social programs, the president extended the dialogue, pronouncing himself happy that Republicans were committing to leave the programs alone. "I'm glad to see — no, I tell you, I enjoy conversion," said Mr. Biden, who often refers to his Catholic faith.

He sought to lock in the moment. "So, folks, as we all apparently agree, Social Security and Medicare is off the books now, right?" he said. "All right. We've got unanimity." Then he exhorted the lawmakers. "Let's stand up for seniors!" he commanded, one of the few times Republicans did join Democrats in jumping to their feet to applaud.

But there was little sense that the two sides would agree on much else. He was left to shout at Republicans to pass what he could not in the last two years. "Ban assault weapons now!" he yelled. "Ban them now!"

[…]

The 80-year-old president seemed to draw energy from the feisty exchanges, speaking for 73 minutes to an audience watching to see how he met the test. Mr. Biden, whose age is a source of anxiety for Democrats, at first raced through the early pages of his text, occasionally stumbling over words and flubbing some of his lines. He demoted Senator Chuck Schumer, Democrat of New York, from majority leader to minority leader.

But after a shaky start, he appeared to gather momentum in the longest speech to Congress of his presidency and gave the impression that he enjoyed the back-and-forth with Republican hecklers. Afterward, he lingered for more than 45 minutes to work the crowd, glad-handing members and posing for selfies. A forgiving Mr. Schumer exulted that Mr. Biden showed "vigor," and White House aides told reporters that they were charged up by the confrontation over social programs.
NPR ("Biden makes a pitch to 'finish the job' in his State of the Union address"):
In his State of the Union address on Tuesday, President Biden touted the economic progress and legislative achievements made under his watch, repeatedly saying "Let's finish the job" – a refrain likely to be heard as his unofficial pitch for reelection.

It was his first address to Congress since Republicans gained control of the House of Representatives in the November midterms. With newly-elected GOP House Speaker Kevin McCarthy sitting over his shoulder, Biden urged Congress to pass a lengthy list of his unfinished priorities.

"There's so much more to do," he said, calling on lawmakers to pass policing reform and immigration legislation; codify abortion rights, and cap the price of insulin for all at $35 a month.

Biden, the oldest president in U.S. history at 80 years old, has said it his intention to run again in the 2024 presidential election. He's expected to make an official announcement in the near future.
While there are still some adults in the party, including Senator Mitt Romney, who rightly admonished serial fabulist George Santos for showing his face at the event, the GOP caucus as a whole has devolved into an utter embarrassment. We've come a long way from the days when it was a major scandal when Joe Wilson shouted "You lie!" at President Obama, for which the embarrassed South Carolina Congressman swiftly and rightly apologized.
Hell, they even trotted out former Trump press secretary and current joke of a governor Sarah Huckabee Sanders out to give the opposition party response speech.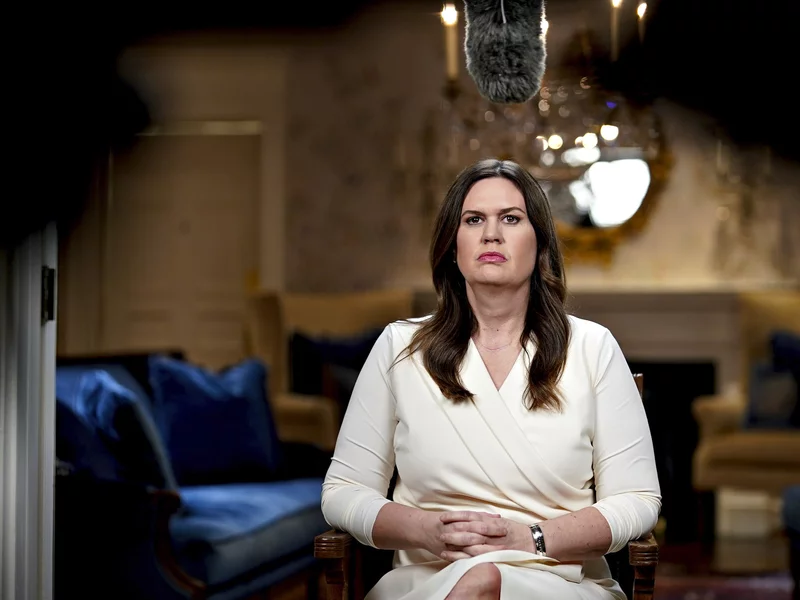 Arkansas' newly elected governor, Sarah Huckabee Sanders, delivered the Republican Party's response to President Biden's State of the Union address, telling Americans: "Biden and the Democrats have failed you."

"They know it and you know it and it's time for a change," she said.

She drew a sharp contrast between the two parties, especially with respect to what she called the "left-wing culture war."

"The dividing line in America is no longer between right and left — it's between normal or crazy," Sanders said in her rebuttal to President Biden's State of the Union address.
She's not wrong. Alas, she's on the side of the crazy.
_____________
*It was, of course, his third but we have adopted the very strange pretense for many years now that a President's first State of the Union address is not actually a State of the Union address but a mere presidential speech before a Joint Session of Congress that it in every respects a State of the Union address except in name.