Start the Steal?
Cries that American democracy is in jeopardy are not hyperbole.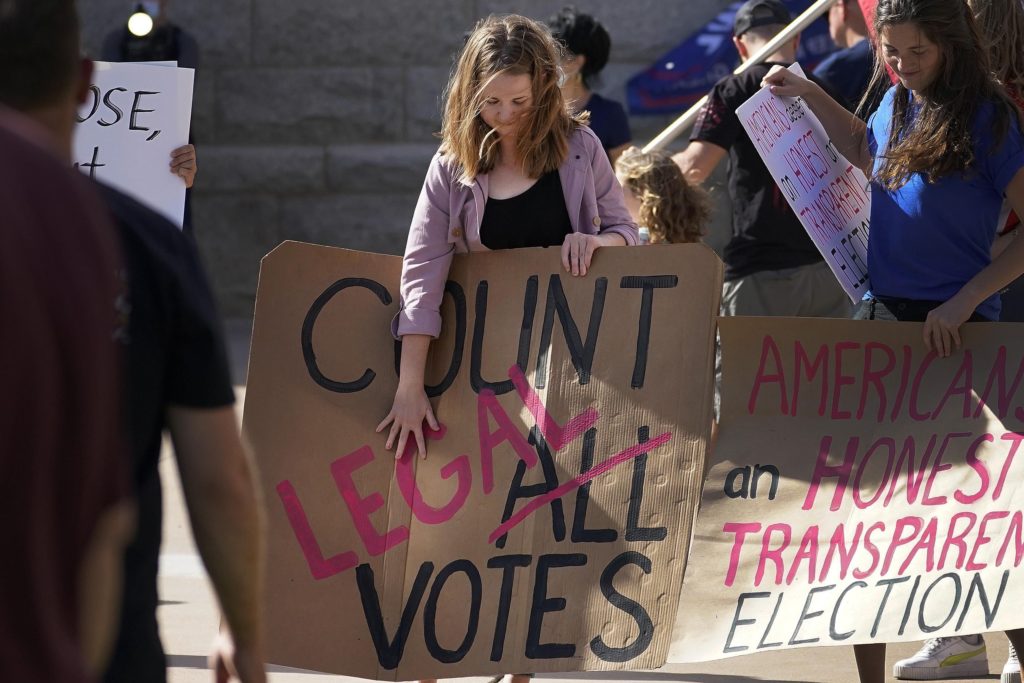 Erstwhile Republican Max Boot warns about "The Republican plot to steal the 2024 election."
Republicans have spent nearly seven months making bogus charges of fraud in the 2020 election under the banner of "stop the steal." Now they have segued into a "start the steal" offensive to ensure that they will win the 2022 and 2024 elections — even if most voters once again support the Democratic Party.

The Brennan Center for Justice reports that "between January 1 and May 14, 2021, at least 14 states enacted 22 new laws that restrict access to the vote" and "at least 61 bills with restrictive provisions are moving through 18 state legislatures." Those bills are designed not to avert nonexistent voter fraud but to avert another election defeat for Republicans — and they are drawing perilously close to that goal.

In Georgia, for example, a new law stipulates that mobile voting stations "shall only be used in emergencies declared by the Governor," who is a Republican. That will put out of business two "mobile voting units" — a.k.a. buses — that collected 11,200 ballots in Atlanta's Fulton County in November. Also, under the new law, provisional ballots will no longer be accepted from voters who go to the wrong polling place; 11,120 provisional ballots were counted in November. "Combined," writes my Post colleague David Weigel, "the ballots cast by both methods are nearly double the margin by which [Joe] Biden won Georgia."

A new election law in Texas, which has been temporarily blocked by a walkout of Democrats from the state House, would outlaw many of the methods used to increase minority turnout, such as drive-through voting and early voting before 1 p.m. on Sundays (crimping "souls to the polls" events after church services). But the most alarming element of the bill is that it makes it easier to overturn election results even if there is no evidence that fraud affected the outcome.

The Georgia law, for its part, includes a pernicious provision giving the Republican-controlled state legislature the right to suspend county election officials and to name the chair of the State Election Board. Previously, Secretary of State Brad Raffensperger had chaired the board, but he incurred Republican wrath by certifying Biden's victory. Raffensperger is being challenged next year by a Donald Trump-endorsed opponent, Rep. Jody Hice (R-Ga.), who insists that Trump would have won in Georgia if the election had been "fair."

Meanwhile, in Arizona — another state Trump narrowly lost — Republicans are trying to strip Secretary of State Katie Hobbs (D) of her power to defend election lawsuits. They want to vest that authority in the Republican attorney general. If she runs again, Hobbs, like Raffensperger, will face an election challenge from an advocate of the "big lie." Trump die-hards are also running for the secretary of state posts in Nevada and Michigan.If the challengers win, pro-Trump conspiracy theorists will be supervising elections in key swing states.
Meanwhile, a collection of respected scholars have signed a "Statement of Concern: The Threats to American Democracy and the Need for National Voting and Election Administration Standards." While it's posted under the auspices of the Democratic-leaning New America Foundation, several names that I recognize as traditionally conservative or libertarian, including some from the Republican-leaning Hoover Foundation.
We, the undersigned, are scholars of democracy who have watched the recent deterioration of U.S. elections and liberal democracy with growing alarm. Specifically, we have watched with deep concern as Republican-led state legislatures across the country have in recent months proposed or implemented what we consider radical changes to core electoral procedures in response to unproven and intentionally destructive allegations of a stolen election. Collectively, these initiatives are transforming several states into political systems that no longer meet the minimum conditions for free and fair elections. Hence, our entire democracy is now at risk.

When democracy breaks down, it typically takes many years, often decades, to reverse the downward spiral. In the process, violence and corruption typically flourish, and talent and wealth flee to more stable countries, undermining national prosperity. It is not just our venerated institutions and norms that are at risk—it is our future national standing, strength, and ability to compete globally.

Statutory changes in large key electoral battleground states are dangerously politicizing the process of electoral administration, with Republican-controlled legislatures giving themselves the power to override electoral outcomes on unproven allegations should Democrats win more votes. They are seeking to restrict access to the ballot, the most basic principle underlying the right of all adult American citizens to participate in our democracy. They are also putting in place criminal sentences and fines meant to intimidate and scare away poll workers and nonpartisan administrators. State legislatures have advanced initiatives that curtail voting methods now preferred by Democratic-leaning constituencies, such as early voting and mail voting. Republican lawmakers have openly talked about ensuring the "purity" and "quality" of the vote, echoing arguments widely used across the Jim Crow South as reasons for restricting the Black vote.

State legislators supporting these changes have cited the urgency of "electoral integrity" and the need to ensure that elections are secure and free of fraud. But by multiple expert judgments, the 2020 election was extremely secure and free of fraud. The reason that Republican voters have concerns is because many Republican officials, led by former President Donald Trump, have manufactured false claims of fraud, claims that have been repeatedly rejected by courts of law, and which Trump's own lawyers have acknowledged were mere speculation when they testified about them before judges.

In future elections, these laws politicizing the administration and certification of elections could enable some state legislatures or partisan election officials to do what they failed to do in 2020: reverse the outcome of a free and fair election. Further, these laws could entrench extended minority rule, violating the basic and longstanding democratic principle that parties that get the most votes should win elections.

Democracy rests on certain elemental institutional and normative conditions. Elections must be neutrally and fairly administered. They must be free of manipulation. Every citizen who is qualified must have an equal right to vote, unhindered by obstruction. And when they lose elections, political parties and their candidates and supporters must be willing to accept defeat and acknowledge the legitimacy of the outcome. The refusal of prominent Republicans to accept the outcome of the 2020 election, and the anti-democratic laws adopted (or approaching adoption) in Arizona, Arkansas, Florida, Georgia, Iowa, Montana and Texas—and under serious consideration in other Republican-controlled states—violate these principles. More profoundly, these actions call into question whether the United States will remain a democracy. As scholars of democracy, we condemn these actions in the strongest possible terms as a betrayal of our precious democratic heritage.
Looking at most of the electoral changes in isolation, one might be tempted to dismiss this all as partisan hyperbole. Many of the provisions in question were emergency responses to the COVID-19 pandemic and were never intended to be permanent. And experiments with changes to make voting easier in some fashion don't necessarily have to be sustained; there could well be valid reasons, including cost, for repealing them. Indeed, since I still think of "polls are open from 7am to 7pm on Election Day with modest provisions for absentee voting for those who are out of town on Election Day" as the default standard, I'm more-or-less fine with states going in that direction.
But, of course, these changes aren't happening in isolation. They're part of a longstanding but escalating pattern by Republican-controlled legislatures to make it harder for constituencies who tend to vote Democratic to do so. Given that pattern—and, frankly, quite often without much attempt to disguise what's going on and occasionally outright bragging about it—benefit of the doubt is no longer in order.
Standardization of voting laws at the national level is part of the solution proposed by both pieces but, alas, Senate Republicans will surely filibuster it. The Statement of Concern signatories urge the repeal of the filibuster if necessary to pass this particular law and, while several Democratic Senators (not just Joe Manchin and Kyrsten Sinema) have made it rather clear they oppose doing so, protecting the integrity of our democracy itself is sufficiently urgent that doing so is justified.
But, frankly, I'm not sure even that would enough. Boot outlines a possibility that would have struck me as absurd as recently as January 5:
This brings us to a nightmare scenario: a Republican-controlled Congress overturning the 2024 presidential election results to install Trump or a Trump mini-me in the White House. In January, 139 House Republicans and eight Senate Republicans voted not to certify electoral college results in at least one state. Since then, the most prominent GOP opponent of the "big lie," Rep. Liz Cheney (Wyo.), has been purged from the House leadership. Willingness to lie about election fraud has become a litmus test for Republicans, with the implicit threat of mob violence if they don't go along. Republicans are so scared of Trump and his fanatical followers that most of them just voted against a bipartisan investigation of the Jan. 6 attack on the Capitol.

Many congressional Republicans will refuse to certify a 2024 Democratic win in swing states. If Republicans control Congress, they could deny the Democrats an electoral college majority and throw the election to the House — where each state delegation, regardless of population, would cast one ballot. Given that Republicans already control a majority of state delegations, they could override the election outcome. If that happens, it would spell the end of American democracy.
It is, frankly, a distinct possibility. Our system depends on state legislatures, state election officials, and Members of Congress acting in good faith.
This cycle, despite the unconscionable conduct of the sitting President of the United States, elected politicians of his own party at the state and local level acted honorably, putting the integrity of the election over their own self-interest and, indeed, their personal safety. Far too many Members of Congress did not but, thankfully, not enough to reach a critical mass necessary to change the election outcome. Given that the Big Lie now seems to be a prerequisite for winning Republican primaries, though, there's not much reason to hope for integrity to win out the next time.
So, we have the minority party in the country—but one that controls the state legislatures in a majority of states—trying to rig the voting system so they win at the ballot box. And, if they lose anyway, to give themselves an opportunity to reject that outcome.
For a variety of reasons, we have roughly half the country believing the system is rigged against them when in fact the opposite is true. And they're willing to protect their perceived interests by any means necessary. A democracy simply can't function under those circumstances.