Stop Trying To Intimidate People Into Voting
There's nothing wrong with choosing not to vote.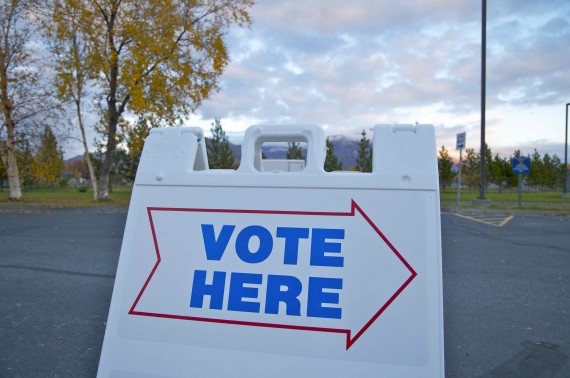 In recent years, outside groups, most of them apparently not directly affiliated with any particular campaign or supporting any particular candidate, but which generally seem to be coming from groups supportive of the Democratic Party,  have gotten into the habit of sending out mailers to voters that seem essentially designed to scare them into voting:
New York voters have been receiving very sinister letters from their state's Democratic Party. The tone is vaguely Orwellian: We'll be watching whether you go to the ballot box.

"Who you vote for is your secret," the letter, posted by some recipients on Twitter, says. "But whether or not you vote is public record. Many organizations monitor turnout in your neighborhood and are disappointed by the inconsistent voting of many of your neighbors."

It then provides a quick reminder of when and where one can vote.

"We will be reviewing … official voting records after the upcoming election to determine whether you joined your neighbors who voted in 2014," the mailer concludes. "If you do not vote this year, we will be interested to hear why not."'

Spooky, right?

"This flyer is part of the nationwide Democratic response to traditional Republican voter suppression efforts," a party spokesperson told The Gothamist, "because Democrats believe our democracy works better when more people vote, not less."

So they aren't the only ones and this isn't new. In Alaska, voters have complained about receiving a similar kind of letter from a group that received a hefty contribution from a charter-school supporter who wants to elect a GOP Senate (though he disavowed the mailers).

"Why do so many people fail to vote? We've been talking about the problem for years, but it only seems to get worse," the Alaska letter says. "This year, we're taking a new approach. We're sending this mailing to you, your friends, your neighbors, your colleagues at work, and your community members to publicize who does and does not vote."

In Florida, a St. Petersburg blog reported earlier this week on a letter sent by a group funded by the state and national realtors association. "Your neighbors will know," the letter warns. "It's public record."

Yet another reported vote-shaming letter in North Carolina, sent by the state Democratic Party, contains some of the exact same wording as the New York letter.

"Public records will tell the community at-large whether you vote or not. As a service, our organization monitors turnout in your community," the letter says, according to WRAL in Raleigh. "It would be an understatement to say that we are disappointed by the inconsistent voting of many of your neighbors."

Just like the New York Democratic Party's letter, the North Carolina mailer concludes: "If you do not vote this year, we will be interested to hear why not."
One person of such a letter in New York posted in on Twitter, and here it is in a slightly more readable format: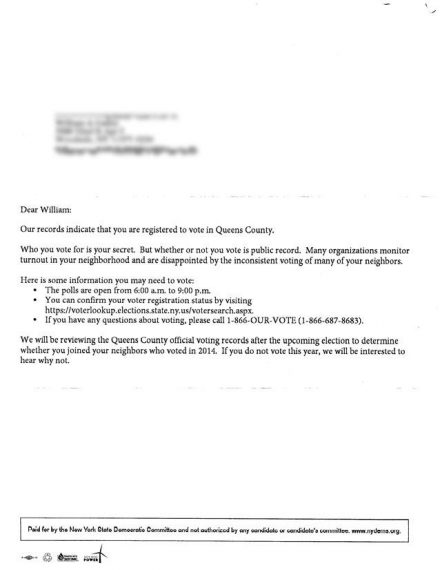 There's nothing illegal here. While the record of who you may have voted for is legally protected, and in many states those records aren't even kept after the outcome of an election is certified and the time for challenging results has passed, the fact of whether or not you did vote and, in the case of primaries what party primary you voted in, is a matter of public record. Most political parties and campaigns use that information at some point to target their direct mail and phone banking to people most likely to vote in a particular election, although my understanding is that they typically pay a fee of some kind to obtain those records. In general, though, anyone willing to cover the cost and invest the time can obtain a record of whether or not a particular person is registered to vote, how often they have voted, and will be able to tell whether they tend to vote in Republican or Democratic primary elections, and this is obviously what the groups behind these letters, which seem to have first started appearing about five or ten years ago when such things started being stored electronically, which made the task of assembling mailings like this much easier.
Talking Points Memo's Dylan Scott explains the logic behind these mailers:
[T]his isn't just a scare tactic thought up by desperate political operatives. Academic researchers have studied and proven that voter-shaming mailers do lead to increased turnout.

In a paper published in 2008, researchers from Yale University and the University of Northern Iowa reported that they had sent letters to voters with a variety of messages — voting is public record, your neighbors will know if you don't vote, etc. — and what they found is that among people who received the mailers "substantially higher turnout was observed."

"These findings demonstrate the profound importance of social pressure as an inducement to political participation," the researchers wrote. In other words, nobody wants to be embarrassed in front of their neighbors.

That experiment has more recently been cited by academics defending the Stanford and Dartmouth researchers who sent controversial mailers this month to Montana voters as part of a different turnout experiment. But the 2008 experiment is still the standard for those groups who want to shame voters to the polls: The Alaska letter's line that asked "Why do so many people fail to vote?" was pulled directly from the researchers' material.

It dates back multiple cycles — one could argue at least as far back as the 2004 presidential election's "Vote or Die" campaign by hip hop mogul Sean Combs and others. In 2012, the influential liberal group MoveOn.org sent voters report cards, which noted if they were "below average" voters compared to their peers, as Slate reported.

During the same cycle, the Toledo Blade reported on letters received by Ohio voters from a group called Americans for Limited Government. It presented itself as a "voter audit" and reminded the recipient that it would be made known if they voted or not.

"We will then send an updated vote history audit to you and your neighbors with the results," it said.
Whether or not it works, and leaving aside the fact that it is legal, there's something about this that just strikes me as exceedingly creepy. First, there's the idea that most people are likely to be none too thrilled with the idea that the idea that someone is accessing their voting records and sending them mail based upon what they find. They're likely to be less thrilled by the idea that this information might be shared with their neighbors, especially in a community where people might not necessarily be close to their neighbors or at the very least might not be comfortable with, or interested in, talking politics with them. On some level, even though we're talking about public information here, there is a violation of what I think most people would consider a sense of privacy at the heart of these levels, and I don't think that it's unintentional all. The message that letters like this sends is get out and vote or else…… what that "or else" is left implied, but the threat is still there, and there's just something wrong about it. If you want to persuade people who might not vote in every election to vote, you should find a better way to do it than the intimidation, private violating, social pressure that these types of letters represent. The fact that they may or not "work" in some sense strikes me as irrelevant. It is an underhanded, sleazy political practice that should be avoided.
The other point, of course, is that letters like this, while they are typically motivated by the desire to get people who might not otherwise vote to the polls because you believe it will help the candidate or party you support, are at their heart based in the idea that there is something wrong with abstaining from voting. The most common way this is expressed, of course, is in the old canard that if you don't vote, you don't have a right to complain about how things are run in Washington or elsewhere. As Jason Brennan points out quite well, this is a false premise and there is nothing wrong at all with someone who consciously chooses not to participated in a given election:
why would you forfeit your right to complain if you don't vote?

The most obvious explanation is that if you don't vote, you didn't do something that could influence government in the way you want it to go. You didn't put in even minimal effort into making  a change. If you can't be bothered to act on your discomfort with politics, then you should shut up.

By analogy, suppose I complain to my wife: "It's too damn cold in this house. Damn, I hate how cold it is." She asks, "Well, did you turn the heat on?" I respond, "No, I can't be bothered to get up, walk over to the hall, and turn up the thermostat." She asks, "Did you at least put on a sweater?" I respond, "No, I can't be bothered to go to my closet and fetch a sweater." She would justifiably respond, "If you can't be bothered to put in this minimal effort, you shouldn't complain. I don't want to hear any more out of you."

But voting isn't like that! The problem is that individual votes don't make any difference.On the most optimistic assessment of the efficacy of individual votes, votes in, say, the US presidential election can have as high as a 1 in 10 million chance of breaking a tie, but only if you vote in a swing state and vote for one of the two major candidates. Otherwise, the chances of breaking a tie or having any impact are vanishingly small. (Reich votes in California, and even on the Edlin-Gelman-Kaplan model, his vote doesn't matter.) On less optimistic  but more widely accepted estimates of the efficacy of individual votes, individual votes have a snowball's chance in hell of making a difference in any major election. (Even then, keep in mind: This applies only to voting for candidates from the two major parties, candidates who appeal to the mass of ignorantand irrational voters. If you're voting third party, your vote generally matters even less than that.*)

So, the analogy of a person complaining about the cold but being unwilling to turn on the heat or put on a sweater doesn't apply.

(…)

[T]he more pressing problem is the view that citizens have a duty to vote. In The Ethics of Voting, I systematically refute all of the best arguments on behalf of a duty to vote. The very best arguments on behalf of a duty to vote hold that you have a duty to vote because you 1) should contribute to the common good, 2) shouldn't free ride on the provision of public goods provided for you by your fellow citizens, or 3) have a duty to promote your fellow citizens' welfare. But, as I point out in that book, if any of these duties exist, these are all very general duties that can be discharged any number of ways besides voting. Voting isn't necessary; it's just one of many possible ways to promote the common good, avoid free riding, or promote citizens' welfare. Further, voting isn't sufficient to discharge those duties, because many people vote badly, in ways that on a collective level tend to undermine the common good and harm their fellow citizens.
As Ilya Somin points out, there are other reasons where not voting is a perfectly acceptable option. One obvious example would be if the potential voter feels that they don't have sufficient information to make a decision in a given race. There is little value, after all, in an uninformed voter making the effort to go to a polling place if they have no idea what or whom they are voting for, what the issues in the race have been, or even very much about who might be running beyond what their names might be. Given that many people actually spend very little time following the news even in our seemingly news and politics obsessed culture, I suspect that this is quite common and that it was even more common before the rise of cable "news" and the Internet. Typically, of course, such voters would typically reflexively vote for whatever political party they support, placing their trust, naively I would submit, in the judgment of party elites and leaders to choose the "right" candidate, or they would vote based on the name of a candidate or something as trivial as what road signs they've seen most frequently. Those seem like an irrational basis for voting for anyone, for what I think would be obvious reasons, and it would be better if people in that situation decided that it would be better if they didn't vote at all rather than risk voting for someone who might not belong in office for such trivial and unimportant reasons. Personally speaking, there have been situations, most often in the case of very poorly worded ballot initiatives or bond referendums, where I've done just that. Better to not vote at all rather than voting to authorize something that is a bad idea, especially when I don't have sufficient information to make a judgment.
Another reason one might choose not to vote that is perfectly acceptable, of course, is if one is faced with inherently unacceptable choices. We're often told that, in the end, voting in a two party system like ours means having to choose between the "lesser of two evils." Usually, that means that neither candidate in a given race is going to perfectly match your values and beliefs, but that you should vote for the one that is closest to those values. It's an idea makes sense, and its something I've practiced in the past myself, because it usually doesn't make sense to make the perfect the enemy of the good. However, sometimes its the case that a given voter will consider the candidates from the two major parties, one of which is the most likely to win most of the time. If there's a third party candidate on the ballot, then that might be an acceptable alternative, but ballot access laws in most states are rigged by the major parties in ways that often make it hard for third-party and independent to get on the ballot and, even if they are on the ballot, most people aren't going to pay attention to them or the votes they get unless they are having an impact on the race in the way that Robert Sarvis did in Virginia last year and candidates like Sean Haugh in North Carolina and Amanda Swafford in Georgia are having this year. In such situations, where someone feels strongly enough that the two major party candidates are so bad that neither one of them deserves his or her vote, then I don't think there's anything wrong with their decision not to vote at all if that's what they want to do. Finally, of course, there's the simply fact that in virtually all cases a single persons vote will have, at best, an incredibly minimal amount impact on a given election. A Republican in a heavily Democratic Congressional District, for example, or a Democrat in deep, deep red Wyoming, is going to be very frustrated by the minimal impact their vote will have. There are some reforms to voting that could potentially change this, of course, but under our current system, it's hard for me to argue with either of these two hypothetical voters if they decide it's not worth the bother of getting out to vote on November 4th.
So, yes, people don't vote sometimes, but they have both the right, and quite often very good reasons for not voting. Using what essentially intimidation tactics to try to get them to vote is not only creepy, but it implies, falsely, that there's something wrong with not voting. It's therefore wrong on two counts. There's nothing wrong with not voting, and there's something inherently wrong with trying to scare people away from doing something they have every right to do.