Swing State Voters Prefer Trump
Bidenomics is dragging Biden's approval.
With the usual caveats about polling more than a year out from the election, the latest Morning Consult/Bloomberg poll is disturbing.
Swing-State Voters Aren't Buying 'Bidenomics'

KEY TAKEAWAYS

In an aggregate of surveys from Arizona, Georgia, Michigan, Nevada, North Carolina, Pennsylvania and Wisconsin, former President Donald Trump leads President Joe Biden by 4 percentage points. Thirteen months from Election Day, Biden lacks the backing of 14% of voters who supported him three years ago, compared with a 9-point attrition rate among Trump's 2020 supporters.
Roughly 3 in 4 swing-state voters said the country's economy is headed down the wrong track and they are more likely than not to say their personal financial situation was better off under Trump than it is under Biden. It reveals that the president's "Bidenomics" pitch is not breaking through, as these voters are significantly more likely to trust his predecessor to handle their top voting issue.
Over the coming year, Biden's challenge will be to prove his economic successes and address concerns about everyday costs. The data suggests there's an opportunity here, given many swing-state voters — including those who backed his 2020 bid — said they don't know who to trust on the issue even while expressing some dissatisfaction with Biden.
Two graphics bring the point home: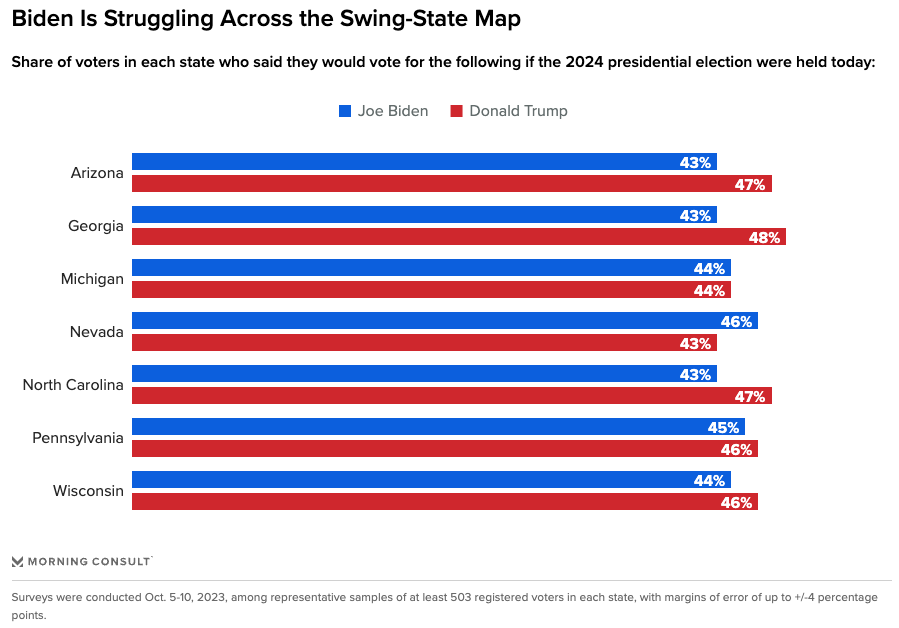 and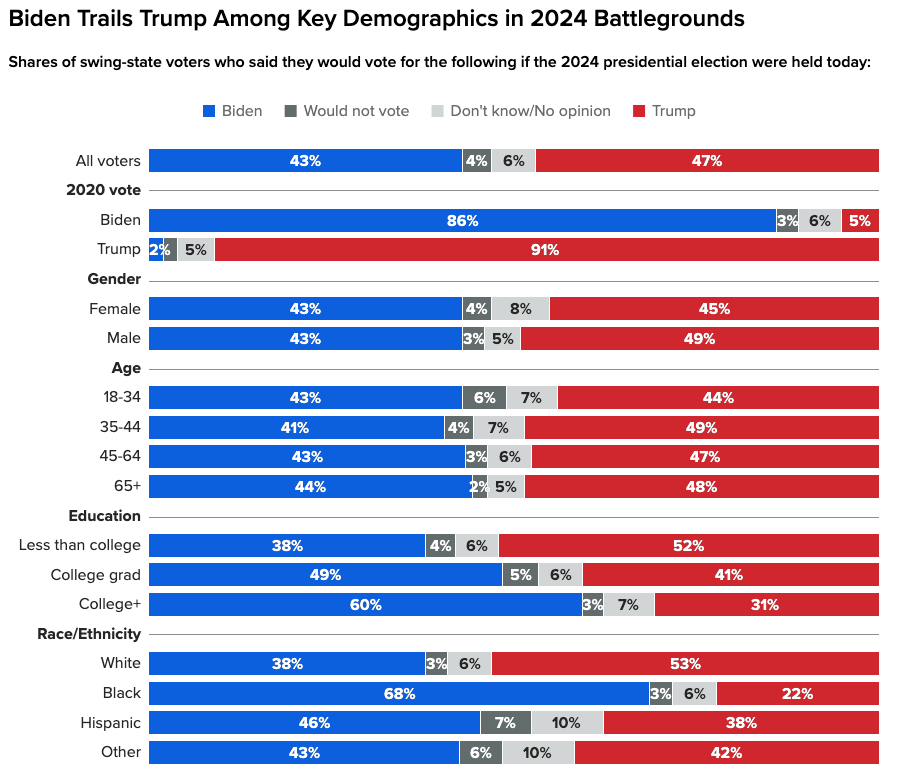 So, not only is Trump leading in 5 of 7 states and only trailing in one—granted, within the margin of error in most cases—but he's leading with women and every age cohort. He's running away with those with less than a college education. And he's doing better with Hispanic and, especially, Black voters than any Republican presidential nominee in a very long time.
With Biden leading on several major crises, Trump under multiple criminal indictments, and the House GOP imploding, how on earth can this be the case?
As James Carville would say, It's the economy, stupid.
The survey suggests the economy is weighing heavily on swing-state voters' minds, which partially explains these dynamics. Roughly 3 in 4 voters surveyed in these states said the country's economy is headed down the wrong track and respondents — regardless of age, gender or household earnings — were more likely than not to say their personal financial situation was better off under Trump than it is under Biden.

Whether the economy is actually failing is beside the point: Many voters don't think "Bidenomics," the phrase the president has used to brand his economic policies, has been good for America. 

Across the seven key swing states, 49% of voters said Bidenomics is bad for the economy — nearly twice the share who said it has been good. Even among swing-state voters who support his re-election bid, only 56% said Biden's economic policies have been positive for the country, compared with 86% of Trump supporters who said it's been negative.

Biden also faces a tough sell with undecided voters, only 2% of whom said Bidenomics has been good for the economy compared with 46% who said it has been bad. The only silver lining for the president among this key demographic is that a substantial share of undecided voters (41%) haven't made up their minds on Bidenomics.

Beyond the question of Bidenomics specifically, swing-state voters are 14 points less likely to say they trust Biden to handle the economy more than Trump (35% to 49%), a trust deficit that persists on a range of specific economic issues.
Here, the numbers are more staggering: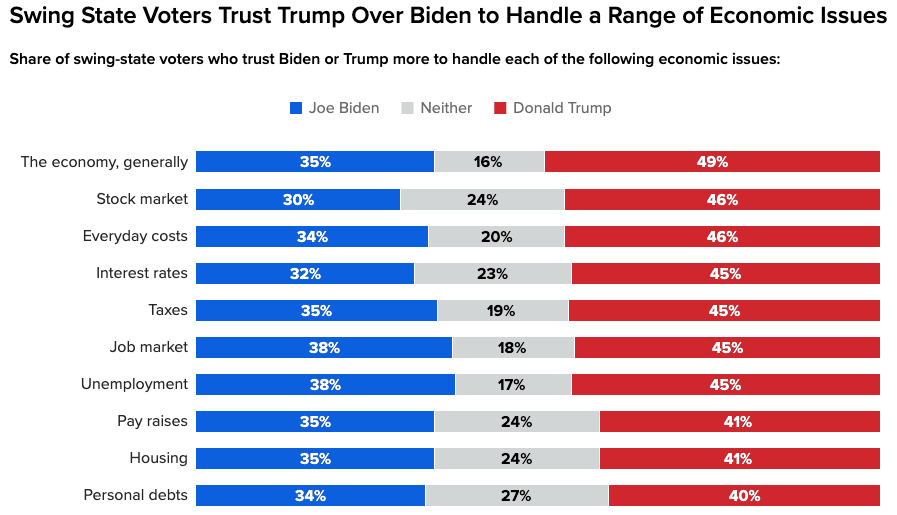 This isn't just one poll, although it's the first I've seen focusing on the so-called "swing states." Here's the FiveThirtyEight aggregate: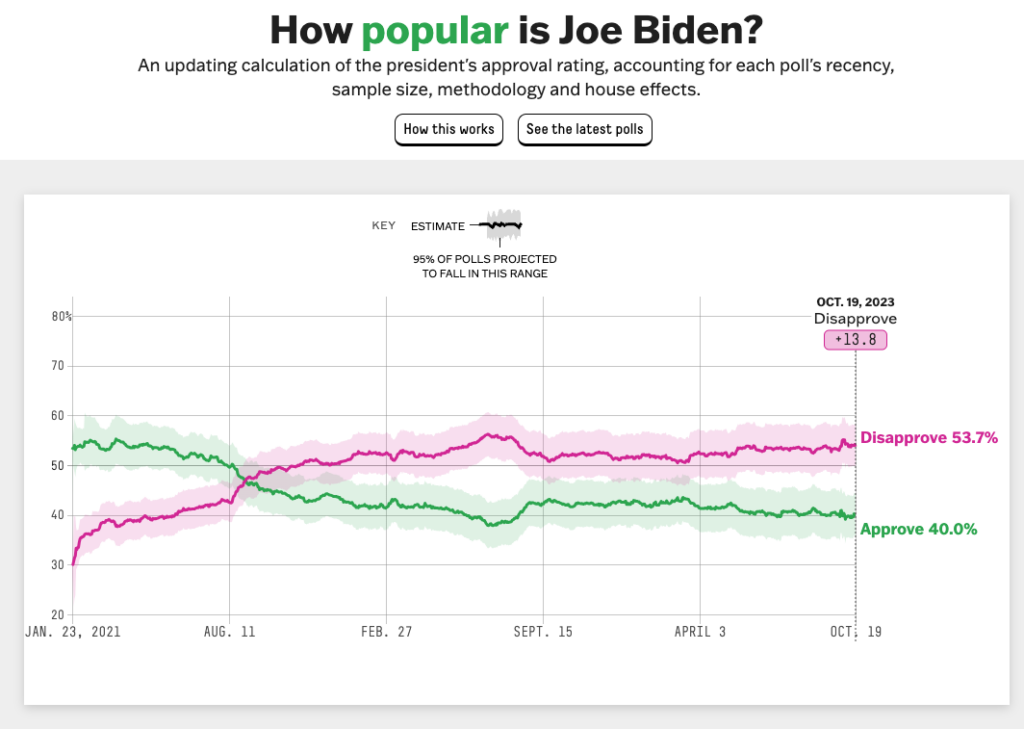 Analysis Eli Yokley offers some hope for Biden:
But the good news for Biden is this: He has some time.

Consumer confidence, albeit down since Biden took office, has improved nationally since a pre-midterm low and sizable shares of swing-state voters do not know who to trust more on core economic questions, leaving some room for Biden to potentially secure voters' trust in the year ahead. Furthermore, Biden's current predicament is exacerbated in swing states — at least partly — by a lack of enthusiasm among the Democratic base, a problem he could overcome given these voters are unlikely to back Trump.

Over the coming year, Biden faces the challenge of trying to revive his 2020 base and the dynamics that helped Democrats stave off losses in the midterm elections. Beyond selling voters on his economic performance, Biden's campaign could benefit by focusing on concerns among the electorate about the direction of abortion rights and democracy itself — issues where Biden has trust advantages over Trump. The former president is also likely to become less popular with the larger electorate once Democratic attacks against him ramp up next year should he win the Republican nomination.
Again, it's way early. But it's more likely than not that the economy will get worse rather than better between now and next November. That anyone who isn't a core Trumper would voter for him at this point is beyond me. But they're at least willing to tell pollsters that he's a better alternative than Biden.